Today in baseball unpredictability: Dioner Navarro hits three homers
Cubs backup catcher Dioner Navarro hit three homers Wednesday. Here are numbers to show how rare this performance was.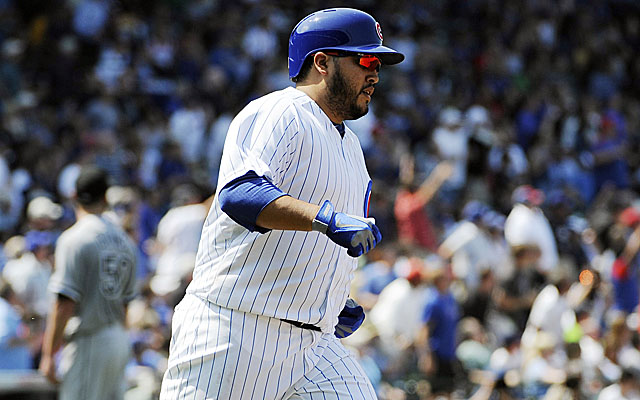 More MLB: Scoreboard | Standings | Probable Pitchers | Sortable Stats | Odds
Cubs backup catcher Dioner Navarro hit three home runs in Wednesday afternoon's 9-3 victory over the crosstown White Sox. It was a truly "you can't predict baseball" moment. Let us count 10 ways:
Navarro entered the game with 44 career home runs in 2,066 at-bats. That is, he had one homer for every 47 at-bats previously in his career. On Wedneday, Navarro homered in his only three at-bats.
Navarro had never even had a game with two home runs, let alone three.
His career high for homers in a season is nine. How about a third of that in one game?
Navarro's career slugging percentage is .357. His slugging percentage Wednesday was 4.000.
The last Cubs catcher to hit three homers in a game was George "Baron von" Mitterwald, who pulled off the feat April 17, 1974. 
The only two previous catchers in the past decade to hit three homers in a game were John Buck (4/29/10) and Victor Martinez (7/16/04). [NOTE: This only includes players who were actually catching, not catchers who were serving at a different position.]
Navarro also drove in six runs. His previous career high for RBI in a game was four.
Only 15 catchers in history have had at least three homers and six RBI in a game. Click here for the full list, prior to Wednesday's addition of Navarro. 
Navarro also scored four runs. If you pare the above list to catchers who had a game with at least three homers, four runs and six RBI, he's the third all-time to accomplish such a feat, after Walker Cooper (7/6/49) and Gene Oliver (7/30/66).
Finally, Navarro -- again, a backup catcher for a team that is now 21-30 -- hit more home runs Wednesday afternoon than the entire Royals team has collectively hit since May 15. 
Thank you once again for being awesome, baseball.
Several relievers have signed in the last two days

Several teams are interested in the switch-hitting first baseman

Neshek and the Phillies are closing on a two-year contract
And the team that first drafted Cole is interested

This scout was SUPER into Jeter

Stanton warned Marlins fans about the lean years that are forthcoming