Zack Greinke: Professional hitter
Pitcher Zack Greinke is hitting .406/.486/.469 right now. No pitcher has hit over .400 with at least 30 at-bats since Allen Watson did so in 1995.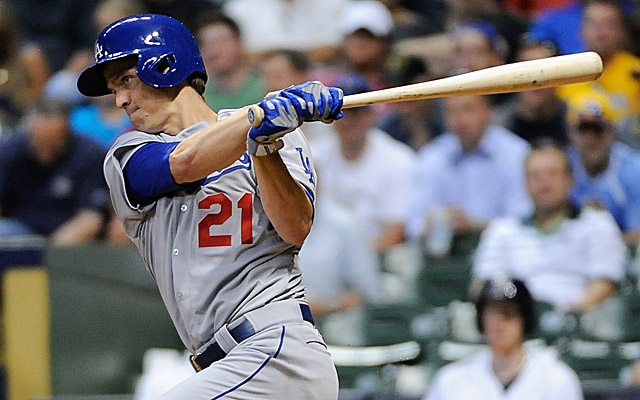 More MLB: Scoreboard | Standings | Probable Pitchers | Sortable Stats | Odds
Dodgers starting pitcher Zack Greinke went 2-for-2 with a double Saturday night against the Nationals, meaning he's now hitting a robust .406/.486/.469 on the season.
Greinke has only had 39 plate appearances this season, so obviously the likelihood of him continuing to put up these kinds of offensive numbers is very low -- he entered the season a career .170/.191/.302 hitter, after all -- but here's a look at the company he could join.
The following charts the only pitchers in baseball history -- or rather, since 1916, as that's the furthest back the data goes -- who hit over .400 in at least 30 at-bats. We'll throw in Greinke for comparison's sake.
Thanks to baseball-reference.com's outstanding play index, as usual.
Pitchers over .400 in a season
Pitcher
Year
At-bats
AVG
OBP
SLG
Jack Bentley
1923
89
.427
.446
.573
Walter Johnson
1925
97
.433
.455
.577
Carl Mays
1927
32
.406
.406
.594
Hal McKain
1930
31
.419
.486
.710
Jim Tobin
1937
34
.441
.500
.559
Luis Tiant
1970
32
.406
.424
.531
Allen Watson
1995
36
.417
.447
.528
Zack Greinke
2013
32
.406
.486
.469
Granderson heads north of the border for his age-37 season

What did the Pirates get in return for their franchise player?

Rivero could remain in Pittsburgh for some time to come
The White Sox, Angels, Athletics, Orioles and Marlins are the holdouts after Blue Jays fol...

The Pirates have several attractive trade chips if they decide to go into a full rebuild

Gerrit Cole was traded over the weekend and now McCutchen is on the move