2013 Offseason Report: Dallas Mavericks
CBSSports.com's Eye On Basketball is taking a team-by-team look at the 2013 NBA offseason. Today, we look at the Dallas Mavericks' offseason.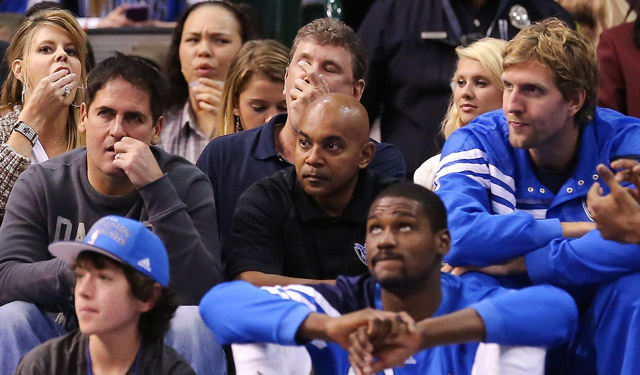 Over the next month, CBSSports.com's Eye On Basketball will take a team-by-team look at the 2013 NBA offseason. We continue with the Western Conference runners-up, the Dallas Mavericks. Check out the rest of the offseason reports here.
How they finished 2013
"No reason to re-hash last year. It sucked from every angle and was no fun for anyone." -- Mark Cuban on BlogMaverick.com.
As much as I'd like to heed Cuban's wishes, I kind of have to review how they finished last season. Much like the lockout-shortened 2011-12 season, the 2012-13 season was another campaign in limbo for the Mavericks. After breaking up the 2011 championship team (which I fully believe was the correct move, especially when you read Cuban's reasoning in the link above), the Mavericks were waiting for the next era in their franchise history. They wanted to maximize the twilight years of Dirk Nowitzki by bringing in a bigger star to take the brunt of the work load and allow Nowitzki to become a secondary player, saving him from the pounding a star player usually takes.
Unfortunately for the Mavs, they couldn't get this done in the 2012 offseason and decided to maintain flexibility with decent one-year contracts to guys like O.J. Mayo and Chris Kaman. In some respects, it was the right move. Mayo was really good for most of the season and helped carry their offensive attack at times. Kaman, on the other hand, put up decent per-minute numbers but never truly contributed to making them a winning team. He just sort of existed in his own basketball realm that was separate from the team's production.
The big problem for the Mavericks was their health. Dirk Nowitzki missed 29 games, Shawn Marion missed 15 games, and they had as many as 23 players play for them last season. Outside of arguably their two best players (Marion and Dirk) having injury issues, the point guard play was just abysmal. How bad was it, you ask? Darren Collison wasn't able to run their offense any better than anybody else on the team and he helped them give up a lot more points defensively.
At one point, the Mavs signed Mike James and he ended up starting 23 games and not due to injury. I'd like to reiterate that we're talking about the 2012-13 season. 
Dallas finished a very respectable 41-41 and missed the playoffs by four games.
Offseason needs
A star. The Mavericks needed a star. They also needed a starting backcourt and new depth at the point guard position. They needed depth just about everywhere on a roster that looked to be in flux.
Their biggest problems last season were rebounding (they ranked 28th in overall rebounding percentage and offensive rebounding percentage) and defense (ranked 20th). Finding a defensive-minded center who can crash the boards was going to be key for them and they needed a backcourt that could not only keep the 11th best offense in the league from falling down the ranks but also provide a little bit of defensive resistance. 
Dallas had O.J. Mayo, Chris Kaman, Darren Collison, Brandan Wright, Bernard James, Elton Brand, and Anthony Morrow as free agents.
The draft
The Mavs essentially traded the 13th pick in the draft for the 18th pick, picking up a couple of future second round picks and cash in the process. They also traded a 2014 second round pick for the draft rights to the 43rd pick in the 2013 pick.
They ended up with Shane Larkin, a point guard out of the University of Miami, with the 18th pick and Ricky Ledo, a wing scorer out of Providence they acquired in a trade with the Philadelphia 76ers.
With Larkin, the Mavericks gave themselves some depth at the point guard position (SPOILER ALERT: before they ended up giving themselves a lot of depth at the point). Larkin is a defensive pest that generates a lot of steals. He's a solid offensive player but is most likely hitting his ceiling as a backup point guard in this league.
The Ledo pick could end up being a steal if his red flags turn out to be nothing and his pre-college hype is something real. Going into his freshman year at Providence, Ledo was looked at as a real scoring talent who could possibly be a lottery pick. Then he was ruled academically ineligible to play last season and he eventually declared for the draft, despite his stock taking a huge hit in the process. The talent is certainly there to be an impact scorer but we have no clue if he'll end up realizing his potential.
Free agency and trades
Their plan was to acquire either Chris Paul or Dwight Howard. Chris Paul almost immediately re-signed with the Los Angeles Clippers when free agency opened and it left the Mavericks chasing Dwight Howard along with several other teams. The video above was released by Mark Cuban as a mere look into the 3-hour presentation they gave Howard when trying to convince him that Dallas was the place for him to become "epic."
But Howard didn't sign with the Mavs. He went to a different Texas team and it left the Mavs scrambling a bit. Technically, they filled needs this offseason. They brought in a defensive center who can rebound in Samuel Dalembert. They eventually brought in another rebounder in DeJuan Blair and re-signed both Brandan Wright and Bernard James.
For the backcourt depth, they let their free agent guards go and went out to sign Jose Calderon, Monta Ellis, Wayne Ellington, Devin Harris, and Gal Mekel. These players should all be able to contribute to an offense that was really quite good last season, despite Dirk Nowitzki's key injuries. However, finding guards that could keep that going while still providing some defensive resistance was not actualized. 
Overall grade and accomplishments: B-
It's hard to feel like the Mavericks were able to execute their plan for the offseason and the next era of Dallas basketball. And while it's easy to poke fun at a Mavericks team for breaking up a championship squad in order to eventually sign Monta Ellis, Jose Calderon, and Samuel Dalembert, these pieces do fit together pretty decently.
A rotation of Calderon, Ellis, Marion, Nowitzki, and Dalembert with Harris, Vince Carter, Jae Crowder, Brandan Wright, and DeJuan Blair is not really that bad. The Mavericks are good enough to contend for a playoff spot in the West and still have maintained relative flexibility. Ellis was given a three-year deal for about $25 million and Calderon was given a four-year deal at around $29 million. In two years, those might look like really bad contracts.
However, the Mavericks still managed to maintain cap flexibility down the road. They have Dirk Nowitzki coming off the books next summer and possibly willing to take a pay cut if it brings in other star quality players to help him out. Marion comes off the books along with Carter next summer as well. Wright, Dalembert, and Ellington all received two-year deals. The Mavericks have managed to reload their roster while still having some decent options to keep their roster evolving.
The Mavs struck out once again in free agency, but they managed to improve their team. It wasn't what they hoped to do, but it also isn't the end of the world.
The extent of Butler's meniscal injury isn't yet known, but there's reason for Wolves fans...

No timetable was provided for Butler's recovery

We've got all the scores, top plays and news from Saturday's NBA games
Galin Dragiev is on a 31-18 NBA run and just locked in a play for Thunder vs. Warriors on...

SportsLine's Mike McClure, a DFS pro with more than $1M in winnings, gives optimal lineup...

We've got all the scores, top plays and news from a busy NBA Friday