2013 Offseason Report: Denver Nuggets
After a first-round flameout and a summer of upheaval, what direction are the Nuggets going in? That's a tough question.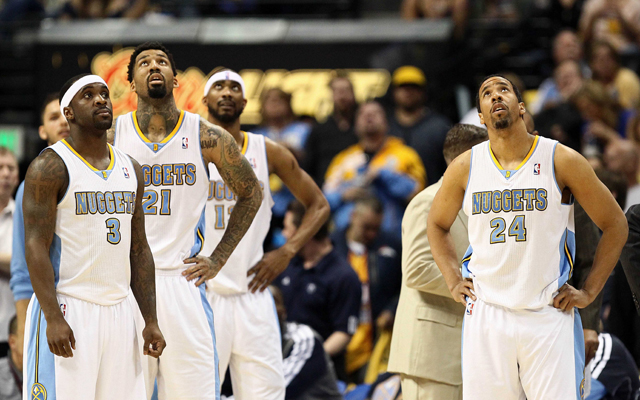 Over the next month, CBSSports.com's Eye On Basketball will take a team-by-team look at the 2013 NBA offseason. We continue with the Denver Nuggets. You can read all of our offseason reports here. 
How they finished 2013
The best laid plans of mice and men. And George Karl.
The Nuggets validated everyone last season. Their staunchest supporters found them winning 57 regular season games. They turned into a monstrous team in the second half of the season and finally found their defensive stride. It looked like this would finally be the season they broke out of the first round.
Whoops.
Enter the Stephen.
Steph Curry and the Warriors set fire to the Nuggets' nets and burned their season to the ground. The Warriors shot otherworldly percentages, which begat defensive desperation and led to worse and worse rotations. Combine all that with Danilo Gallinari suffering a late season ACL tear, and the Nuggets didn't have enough weapons to contend with the onslaught.
The result was a disaster of an end to their season which wound up, at least in some part, unraveling the organization.
Two months later, GM Masai Ujiri accepted his dream job in Toronto, and the Executive of the Year was gone. Faced with an uncertain future and a coach looking for an extension, Nuggets ownership took drastic measures and fired Karl, the Coach of the Year.
Just like that, the most promising non-contender in the Western Conference was dismantled.
A month later, Andre Iguodala , who the Nuggets had traded Arron Afflalo and Al Harrington to get, signed with the Golden State Warriors.
Needs entering the offseason
Let's see, let me get my checklist.
General manager, coach, re-sign Iguodala, re-sign Corey Brewer , re-sign Timofey Mozgov, find anyone who can hit a jump shot, find any big that can stretch the floor, and a better backup point guard would be nice.
Oh, hey, I guess they didn't need the GM because they had assistant GM Pete D'Alessandro. Oh, no, wait, he took the Kings job. Never mind. Assistant GM, too.
The Draft
Without a first round pick after trading Rudy Gobert to Utah, the Nuggets tried unsuccesfully to trade back into the late first round. Striking out, they were lucky enough to land Erick Green out of Virginia Tech who looked like just the kind of player they need.
Then Green signed in Italy because the Nuggets signed a fleet of guards in free agency. Which is where the real story begins.
Free Agency and Trades
The Nuggets landed Wizards alum and former Pelicans assistant GM Tim Connelly which garnered a positive reaction from the few people familiar with him.
They followed that up with a real coup, landing Brian Shaw, long sought as a head coach after his time with the Lakers. Shaw made it clear from the git-go he had no intention of implementing the Triangle, a wise choice as it has never been successful at the NBA level without Michael Jordan or Kobe Bryant and the Nuggets have neither.
They lost Iguodala, which was a crushing blow as they reportedly had offered more money. Whether it was never a good fit in Denver, the result of the first-round exit or the result of the front-office upheaval, Iguodala jetted. That leaves a huge hole because Iguodala was the Nuggets' best defender and second-best playmaker last season.
But a playoff team in a mid-size market should have no trouble beefing up the roster, right?
Whoops.
The Nuggets began their roster management by trading starting center Kosta Koufos for Darrell Arthur from the Grizzlies. Arthur definitively gives the Nuggets a stretch 4, something they needed desperately last year. But Arthur has injury issues and struggled with his shot last season. Koufos, on the other hand, was one of the best players in plus/minus for the Nuggets last season and there was a reason he started over JaVale McGee. Now Nuggets management is forcing McGee to be the guy, and that comes with a complicated set of consequences, including the unpleasant prospect of simply having to live with the defense of McGee and Kenneth Faried. That was something you didn't so much live with last year as died with.
From there, the Nuggets targeted their weak spot. They needed guards who could shoot, so they completed a sign-and-trade for Randy Foye to play combo guard. They also signed Nate Robinson. So the Nuggets now have Ty Lawson, Foye, Robinson, Evan Fournier, Jordan Hamilton, and oh, that's right, they didn't trade Andre Miller, either.
So things are going to be small and crowded next season. And the defense is not going to be great.
Denver had to add a center and while they re-signed Timofey Mozgov, Mozgov was a mess for most of last season. The Nuggets then went out and signed Portland center J.J. Hickson, who was Portland's weak spot. Hickson has strength and great motor. In a reserve role, he could be a real plus for Denver. The only question is whether McGee is ready for the big time.
Overall grade and accomplishments: D-minus
Robinson is entertaining. So he's got that going for him, but he's also a B.O.B. kind of player, a likely to hurt his team as the opponent. Foye shot 41 percent from 3-point range last season. He shot 40 percent overall.
Hickson's numbers are all positives, but it remains to be seen whether he was a bystander or active participant in the quality starting lineup for Portland last year. Arthur cannot catch a break when it comes to his health. The Nuggets let Brewer go but kept Miller.
So the Nuggets are looking to go young, clearing space for McGee, yet keep older players like Miller and Wilson Chandler. Then they add veterans like Robinson and Foye, and have a big salary total and a limited ceiling. Maybe Shaw unlocks everything and the team surprises, but a struggle to make the playoffs seems more likely, depending on when Gallo returns and what kind of shape he's in.
Denver seems to be headed in two directions at once, and after two years of nothing but promise, seems to have been flipped on its head for only two possible reasons: panic over being the unfortunate team to run into Hurricane Steph, or a basic resistance to committing big money by ownership.
Meanwhile, Lawson has played the good captain and watched Carmelo Anthony and Andre Iguodala leave him behind.
Did the Nuggets get notably worse in the offseason? Maybe not. Did they improve substantially in any area they needed to? Probably not. The most concerning element, judging by the first two months of the new regime, is there likely is no definitive pattern to suggest what direction the Nuggets are headed. Rebuild, retool, playoff push, tread water? You can't see the path because everything seems to be being done at once. 
We'll see if Lawson and McGee can come into their own enough to surprise in a season where suddenly the public confidence should be much lower, despite retaining most of the roster from a 57-win team. 
LeBron and Steph will be the captains for the 2018 NBA All-Star Game

We've got all the scores, highlights and news for Thursday night

Arron Afflalo was involved in an altercation with Timberwolves big man Nemanja Bjelica on...
Fergie and Canadian rock band The Barenaked Ladies will sing their respective national ant...

Based on Gentry's tongue-in-cheek price, Boston is highly unlikely to acquire the big man

Larry Hartstein is 22-11 in ATS picks for or against the Timberwolves and has a play for T...