Boris Diaw's comfort zone makes Spurs better than last year
The big man with the big skillset has taken his game to another level and set the Spurs on a path to outdo last year's Finals loss.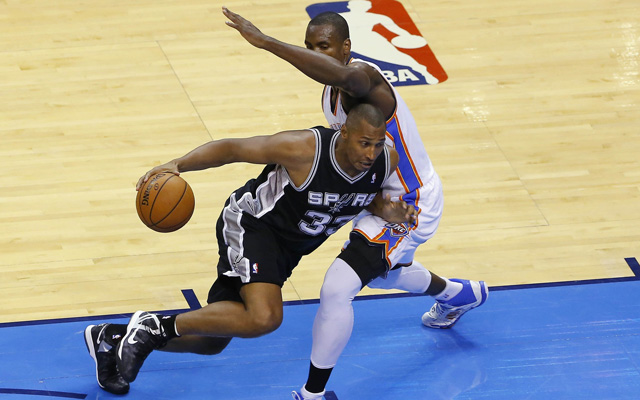 More postseason coverage: Playoff schedule, results | Latest news, notes
OKLAHOMA CITY -- If the San Antonio Spurs are indeed better than they were last season, it's not because of any offseason moves. Patty Mills taking over Gary Neal's spot as the heat check microwave off the bench is a lateral move, even if it signifies improvement on Mills' part. Marco Belinelli has been a disaster for San Antonio, and his short leash in the Western Conference Finals shows that. 
But the core is better. Manu Ginobili is healthier, Kawhi Leonard has improved, adding new things to his game. Danny Green is more confident. 
The biggest improvement, however, is Boris Diaw. Yes, the ex-Bobcat consistently mocked for his rolly-polly shape has become the difference maker for San Antonio. He certainly was in the Spurs' 112-107 win over the Thunder to return to the Finals. Diaw scored 26 points on 8-of-14 shooting to lead the Spurs. Lead them! In the clinching game for the West!
"Boris was amazing," Tim Duncan said after the game. "He's had an unbelievable series all around. He's played well and he's found away to be effective when they went small, against their small guys in the post. He's attacked Serge real well the entire series, shot the ball well, tried to pull Serge away from the basket.
"He made plays all around and I think he's just gotten into a comfort zone where he knew where shots were coming from. He knew how he could attack these guys and he did exactly that tonight. He made some shots, made some big ones for us and really carried us tonight." 
Thunder guard Nick Collison noticed Diaw's impact as well, also noting, like Duncan how Diaw was able to attack smaller players in the post. That seems a misnomer, the bigs should dominate with size in the post? But when you factor the quickness of defenders hands' deflecting and their ability to flop and draw calls vs. smaller opponents, this is a huge element. 
Meanwhile, Diaw buried the Thunder from distance, shooting 3-of-6 from downtown. 
Miami presents new match-ups, new challenges, but it's becoming increasingly clear that if the Heat Big 4 and Spurs' Big 4 (James-Wade-Bosh-Allen vs. Duncan-Parker-Ginobili-Leonard) are even, Diaw could wind up being the swing vote. 
Just ask Oklahoma City. 
LeBron and Durant both responded to a newswoman's recent comments, telling them to 'shut up...

Mitchell's Slam Dunk Contest win was the icing on the cake of an incredible run of success

Dennis Smith Jr. had a great dunk contest, but the judges didn't feel the same way
Mitchell was awesome, but Larry Nance Jr. and Dennis Smith Jr. had some serious moves of their...

Silver noted that there are many factors at play with the issue affecting both the NBA and...

Jazz rookie Donovan Mitchell came in as a replacement and ended up winning the whole thing