Dick Bavetta surpasses Cal Ripken's 'Iron Man' streak
Longtime official passes Cal Ripken in consecutive game appearances at 2,633 in a row.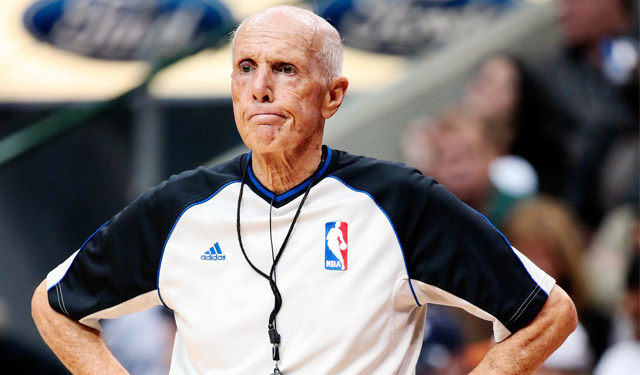 More NBA: Power Rankings | Expert Picks | Latest news, notes
NBA referee Dick Bavetta has gone past the Iron Man. The longtime official has appeared in more consecutive games than even Cal Ripken Jr. From the AP: 
NBA referee Dick Bavetta worked his 2,633rd consecutive game assignment Wednesday, an ironman streak even longer than the one compiled by baseball Hall of Famer Cal Ripken Jr.

Bavetta worked the game between the Knicks and Nets at Madison Square Garden, where he began his career in 1975, extending a streak during which he has never missed an assignment. He chalked up his streak to good health, a dedication he said all officials shared, and a fear of inconveniencing someone else if he had to take a day off.

"I tell you I don't think about it, in a sense that I guess it's a work ethic that I got from my mom and dad, and it's always been my way of thinking, that you get a fair day's wage for a fair day's work," Bavetta said before the game.

"And I can't think of any reason unless it's an act of God with weather problems and things like that, but I've been blessed by the good Lord above with good health, so that has enabled me to stay healthy over the years, and I think it's symbolic of our profession."
via NBA ref Bavetta's ironman streak hits 2,633 games.
It seems banal on the surface, but when you think about it, it's pretty incredible. An NBA official may not be sprinting full court, bursting through contact and dunking over seven-footers but they do have to move up and down the court constantly. That takes a lot out of you, and that's before the stress of tense games, standing up to hyped-up athletes to calm them down, and making snap decisions with huge ramifications. 
Tip of the cap to Bavetta for being so committed to the work he loves. 
Kevin Durant says he doesn't agree with what President Donald Trump agrees with

Evaluating where the future Hall of Famer might land up if he is freed from Chicago's rebuilding...

Adam Silver said his piece with the schedule out; we address that and what the slate looks...
The Hawks and Sharecare reportedly agreed to terms on a five-year deal

A look at the context of the schedule and who plays who when, and how far they travel during...

Durant took on rapper Lil Dicky and actually might have lost