Greg Oden to start for Heat again, could be a permanent move
Greg Oden's comeback with the Miami Heat will take another step with him starting his second consecutive game Tuesday night.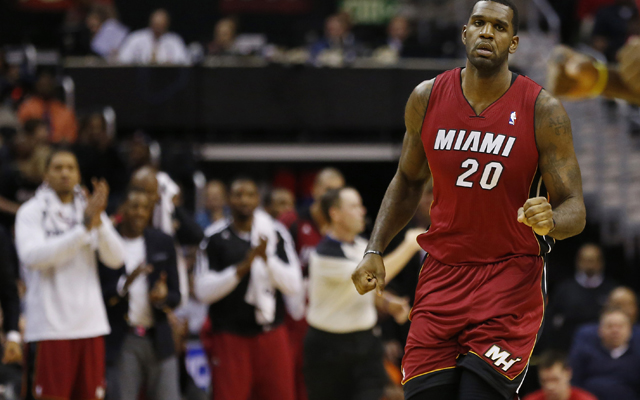 When Greg Oden signed with the Miami Heat this past summer, everybody was just hoping he'd find a way to get onto the court one more time and play some basketball. In the preseason, he made it on the court and dunked the ball right away. Then he made his first appearance in a regular season game in four-plus years and found a way to get a dunk immediately again. Sunday in a win over the Houston Rockets, Oden was given his second start of the season.
Tuesday night against the Cleveland Cavaliers, Oden will start his second consecutive game. It'll be the first time since December 1 and December 5 in 2009 in which he's started consecutive games. If all remains healthy with Oden, it sounds like Erik Spoelstra is interested in making this a permanent plan for starting Oden at center. From the Sun Sentinel:
Greg Oden's move into the Miami Heat's starting lineup is more than an experiment. Coach Erik Spoelstra said Tuesday he plans to move forward with the alignment that had Oden with the first team Sunday against the Houston Rockets and then again Tuesday against the Cleveland Cavaliers at Quicken Loans Arena.

"I've stressed that to our team, that last year's blueprint was for last year," Spoelstra said, "and the more we tried to pigeonhole ourselves into that blueprint, we might not be opening ourselves up to a more successful or necessary blueprint for this year, as the competition has changed. As it's gotten better, our team, our personnel has gotten better. It always changes."

Spoelstra said with Bosh extending his range to the 3-point line this season, playing a true center in his starting lineup does not compromise the Heat's ability to space the floor for Dwyane Wade's lane cuts or LeBron's James' post-up play.

"We've actually worked on Greg's spacing quite a bit," Spoelstra said. "And there's some elements, because of his size, that he adds to our spacing, in a different way that we haven't had before.
Oden's appeared in 18 games this season, far more than most of us imagined him participating in after missing three straight seasons with various knee injuries and surgeries. He's averaging just 8.3 minutes in those 18 games, but it's a big step forward from where most assumed he'd be. Oden is still trying to find a way to make an impact when he's on the court, but he clearly has the potential to be a positive force for them if Erik Spoelstra is looking at making him a permanent fixture in the starting lineup of a team going for a 3-peat.
Oden's per-36 minutes averages aren't too bad. He's giving them 11.5 points, 9.6 rebounds, and 1.7 blocks. However, he's also fouling 9.4 times per 36 minutes. The Heat have been 10.1 points per 100 possessions worse offensively with him on the floor and are giving up 4.0 points per 100 possessions more defensively when he's in the game. However, they've had some good defensive success with him playing next to the rest of the starters.
In 33 minutes so far this season, a lineup of Mario Chalmers, Dwyane Wade, LeBron James, and Chris Bosh with Oden have given up just 91.0 points per 100 possessions. They simply stop teams from getting anything close to resembling an offense. But their own offense has suffered as well, putting up an offensive rating of just 95.3. They have spacing issues to work out like Spoelstra said, but it's something that would be perfect to iron out in the last month of the regular season.
It may end up costing them the number one seed in the East, but it could give them a much bigger advantage in the playoffs when they play the Indiana Pacers. 
SportsLine's advanced computer model simulated Monday night's Lakers-Warriors game 10,000...

Galin Dragiev has his finger on the pulse of the Nuggets and locked in a strong pick for Monday's...

The NBA TV analyst and ex-Raptors coach doesn't look back in anger
Jackson is reportedly unable to make the trip from Montana

The Rockets are on fire, and my money is on Durant to join LeBron and Harden in the MVP ra...

Then-Lakers owner Jerry Buss eventually shot down the idea