Kenneth Faried jabs Nuggets starters for low energy
Denver forward wants starters to step up after he's benched for J.J. Hickson.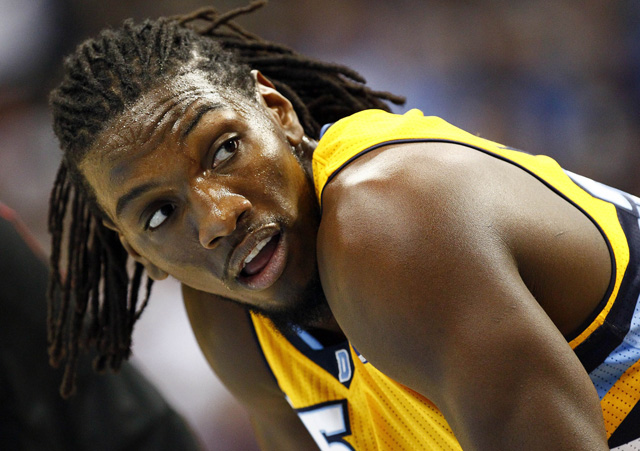 The Nuggets' locker room Friday night after the Portland Trail Blazers blew them out in their home opener 113-98 was predictably pretty dour. Ty Lawson said he wasn't frustrated with the Nuggets' poor effort, just disappointed. JaVale McGee, once again finding him on the short end of the minutes stick left before speaking with reporters. 
The Nuggets' made a run in the fourth quarter to cut the lead to single digits. The run was sparked with a small-ball lineup of Ty Lawson, Nate Robinson, Randy Foye, Kenneth Faried, and Timofy Mozgov was +4. Then first-year coach Brian Shaw put starter J.J. Hickson back in for Mozgov with 3:40 left down by eleven, and put Hickson in one-on-one coverage vs. LaMarcus Aldridge. The move went even smaller, but also slowed the energy into more traditional sets which Shaw prefers.
Here's how that worked out. 

Two of those were vs. Hickson, the last two vs. Faried. This isn't so much about their individual defense, because it's LaMarcus Aldridge. Not much you can do about that. But not doubling? That's curious. And it speaks to how early on, as Shaw is still learning this roster, he's putting some faith in concepts that don't fit the personnel. 
Shaw wants a traditional lineup, and that's part of the reason Hickson has started over Faried. Faried's first-half defense wasn't good, but his overall energy tends to make a huge impact on the floor regardless. The Nuggets were in a massive hole before the super-fast run, and you wonder if their starting energy was part of it. 
But don't ask Kenneth Faried about what happeneed with the starters. He's not having it. 
Faried on low energy early "I can't take responsibility for that because I'm not starting. The guys who are have to step up" #nuggets

— Adam Kinney (@DSNAdam) November 2, 2013
Welp. Well, you can't blame the guy. Faried's a limited defender, that's not a secret, but he's in only his third year in the league. Meanwhile, he's a monster on the boards who gives everything he possibly has on every possession. His are crimes of skill and coaching, not effort and willingness. 
One of the reasons it was said Hickson was starting was because of Faried's hamstring injury which has limited him. Shaw did praise Faried after the game for his energy and that he looked more like himself Friday night.
Still, this follows two weeks where reports have surfaced of him being on the trade block, and even when he played well in preseason, his coach criticized him.
At some point, this situation will have to be worked out, one way or another. 
The Cavaliers are ready to reset everything if they have to. Their interest in Lou Williams...

It sounds like the Cavaliers are going to be active before the NBA trade deadline on Feb....

We've got all the scores, highlights and news for Friday night
George Hill, who is unhappy in Sacramento, could be a solution to Cleveland's backcourt si...

Shaquille O'Neal and Sir Charles cruise to an easy victory over some hot peppers

If Charlotte indeed moves its star guard, there's going to be more people impacted than just...