Lance Stephenson and the Hornets partner with mutual risk
Can the young Hornets keep the temperamental young Pacers free agent star in line? And can Stephenson take the Hornets forward without the Pacers' supporting cast?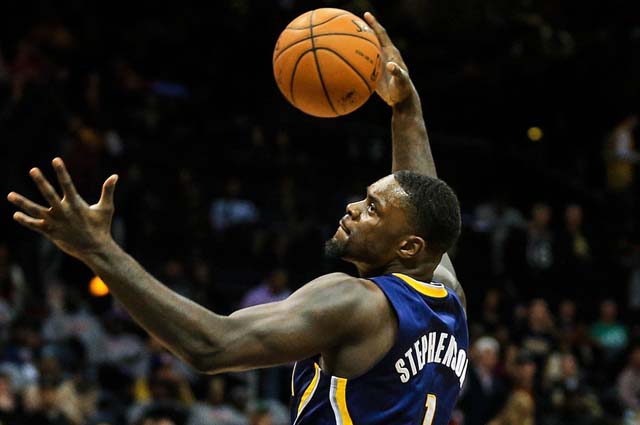 More Offseason Analysis: Updating Free Agency news | Free Agent tracker
Lance Stephenson's decision to sign with the Charlotte Hornets on what appears to be just over a three-year, $27 million deal carries with it significant risk on both sides, and just as much for the Indiana Pacers.
Let's look at each side.
Lance Stephenson
Ol' hothead himself is fortunate on the one hand just to be here. People forget, but Stephenson was a supremely touted, phenom high school player whose games were shown on ESPN. He had his own website built around his nickname "Born Ready." And then ... he was a bust. Couldn't get recruited to a top school. Couldn't excel at Cincinnati. He wound up being drafted in the second round, 40th overall.
His first season he barely played. Only 12 games at less than 10 minutes per game. He was the annoying guy making choke signals at LeBron in the playoffs without playing a minute before James eliminated the Pacers in 2012. He was on track to be a nobody.
And then he became somebody. This is vital. For all of Stephenson's problems with attitude and self control, he was never entitled to anything in the NBA. His contract was non-guaranteed. He wasn't given playing time automatically based on talent or where he was drafted. He earned his way into the rotation, into minutes, into being a starter, into being a star. So landing this deal in some ways is a blessing, and a testament to what he's done with his career.
But on the other hand, he would have had bigger money, a lot sooner, if he had just kept his mouth shut. For half the year, Stephenson was arguably the best player on the Pacers, who at the time were the best team in the league. But the problems with Indiana go back well past the playoffs and Stephenson's comments vs. the Heat. When Roy Hibbert talked about "selfish dudes" in the locker room as the Pacers spiralled out of control, everyone knew that was a crack at Stephenson.
Stephenson bought into the hype that his triple-double performances presented him. And that cost him a lot of money long-term.
Going to Charlotte means he gave up guaranteed money. The Pacers were offering a five-year, $44 million deal at just over $8.8 million per year. Even with an accelerated raise structure, that would have paid Stephenson at the going rate for him now, coming off the questions about where his head is at and if he can get along with teammates. Stephenson and his agent are gambling that in the two or three years he'll be on this contract (in Charlotte or wherever), Stephenson can rehabilitate his image and set himself up for a bigger payday in 2017 with a slightly higher raise structure. He's setting himself up for less guaranteed money in exchange for bigger career earnings.
Based on his health and production, that's not a bad plan. Teams will always think they can be the one to fix a guy, that their culture will succeed where others have failed.
Meanwhile, it's also a risk for Stephenson in terms of basketball. Going from the Pacers dreadful offense to the Hornets' dreadful offense means expectations remain low, and the defensive stoutness will help. Stephenson will get touches in Charlotte, and have the chance to create and score. But Stephenson has to be aware, based on the fact that he gravitated so hard to Larry Bird, that he needs structure. He needs leadership. He needs guidance.
And that may not be prevalent in Charlotte. Al Jefferson is a good guy and a veteran leader. But on Charlotte, the vet leaders are few and far between. It may work better that there isn't a hierarchy in Charlotte like there was with Indiana in terms of Paul George, David West, Roy Hibbert for Stephenson to chafe at. He has his place. He's coming from a winning environment. But while Hibbert and George are far from old guys, the impact players on Charlotte outside Jefferson are still very young.
If Stephenson gets out of control in Charlotte, there may not be a fence to keep him corralled.
It offers him a playoff team with upside, but owner Michael Jordan isn't going to play the role Larry Bird did for Stephenson. Stephenson is going to have to take it upon himself to mature and lead. And that's why so many are already skeptical of this deal.
Charlotte Hornets
I wouldn't say Charlotte was desperate, but they were getting there. The Hornets tried to manage their assets to keep together a team that was very good in the Eastern Conference last year (their record and 7th seed position was based mainly on horrific road stretches into the Western Conference meat shredder), while taking a major step forward. That meant they needed to keep cap space open.
So they kept their pitches low and tight with Josh McRoberts, who wound up signing with the Heat based on the idea he'd be playing with LeBron James.
Whoops.
Losing McRoberts was bad on multiple levels, and their draft of Noah Vonleh gave them the unquestioned best player on the board and a player with length who could become what Bismack Biyombo was supposed to be. But that will be a few years. After the Jazz matched their max offer for Gordon Hayward, the Hornets were in danger of not only failing on adding their big upgrade they had been targeting all summer, but actually coming back with a worse team and backsliding.
Hence, Lance.
Stephenson, effectively, becomes their second-best player off the bat, with due respect to Kemba Walker's terrific growth during the past two seasons. Stephenson is big, strong, can pass, score, rebound, make plays and has a tenacious attitude. Often times a player's attitude problem compromises his desire to win. See: Cousins, Boogie, who wants to win but can't control his emotions to keep them out of the way of that desire.
But Stephenson's problem in effect is that he wants to win too much. That's a really generous way of spinning his issues, but hear me out. He talks trash to LeBron James because he wants to try and get the best player in the game off his rocker by any means necessary. He pushes and pulls for triple doubles because that raw production, to players his age, translates as success in their minds. (One of the biggest things players learn as they age is how little raw statistical production factors into single-game success. It's consistency and taking advantage of how the game progresses. Production is good, but only in context.)
Now, Stephenson has other problems off the court. He was involved in an off-the-court, extremely ugly altercation with his girlfriend. There's really no way of excusing that, and should those problems pop up in Charlotte, the Hornets have an entirely different problem. In less serious matters, there were problems with him in the locker room. The Pacers in effect couldn't control him. If David West can't keep you in line, you may be simple unable to be kept within boundaries.
But if Charlotte can find that kind of structure, if Steve Clifford, who historically has made his mark by being able to reach players, can get through to Stephenson, he's going to change Charlotte dramatically.
Stephenson's offense makes up for Michael Kidd-Gilchrist's lack of a jump shot. He can play off-ball catching and shooting while Kemba Walker creates. He can run back up point forward. He can rebound, defend small forwards, and push the ball, something Charlotte was not great at last season (25th in transition points per Synergy Sports).
At $9 million a year, he takes up space, but not so much that he's not tradeable if things go south quickly. And with a reported team option in the third year, the Hornets have the ability to move on long-term. They took a big step forward on a gamble that can't burn them too badly long-term, as long as Stephenson doesn't set the building literally on fire.
And when you're the Charlotte Hornets trying to bury the past of the Bobcats, sometimes you've got to play with a little fire to forge something new.
CBS Sports HQ Daily Newsletter
Get the best highlights and stories - yeah, just the good stuff handpicked by our team to start your day.
Please check the opt-in box to acknowledge that you would like to subscribe.
Thanks for signing up!
Keep an eye on your inbox for the latest sports news.
Sorry!
There was an error processing your subscription.
Golden State unfurled its latest banner, then won its first game of the new season

The Celtics and Warriors opened the season with wins

The depleted Thunder were no match for the Warriors, who got their rings Tuesday
The Celtics pulled away in the second half for a 105-87 win

A theory was raised about why Kevin Durant was announced last during the ceremony

The Celtics beat the Sixers, 105-87 on opening night