NBA Finals 2014: Spurs' depth gives them an edge
San Antonio's bench has been brilliant lately, and Miami needs to get more from its reserves in the Finals.
• 4 min read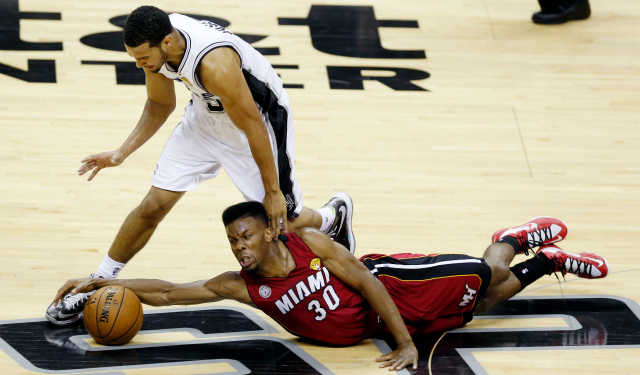 More NBA Finals coverage: Series preview | Latest news, notes
The NBA Finals are about stars. From now until Thursday night, most of the talk about the Miami Heat and San Antonio Spurs will focus on Tony Parker and his ankle, LeBron James and his legacy, Tim Duncan and his longevity. There will be discussion about how the Heat managed Dwyane Wade's minutes all season, and how that mirrors the way San Antonio handles its vets. Once the series starts, though, it might not be about the big-name players. Spurs head coach Gregg Popovich said after eliminating the Oklahoma City Thunder that the biggest difference from last season is that their bench is better. 
When these teams met a year ago, San Antonio had essentially the same roster if you swap Gary Neal for Marco Belinelli. During the regular season, Popovich trusted his reserves, but by the end of San Antonio's run he had shortened his rotation. Manu Ginobili was inserted into the starting lineup in Game 5, and only Neal, Boris Diaw and Tiago Splitter were able to get on the court. Miami also had to make adjustments, starting Mike Miller from Game 3 onward and burying Norris Cole and Udonis Haslem later on. Backups swung games, with Gary Neal exploding for 24 points in the Spurs' Game 3 win and the Heat finding firepower in the form of Miller in Game 2 and Shane Battier in Game 7. Some guy named Walter Ray Allen hit a pretty memorable jumper, too. 
Much has changed in the past year, and it could tilt things the Spurs' way. In the clincher against the Thunder, their reserves outscored Oklahoma City's 51-5. Diaw had 26 of those points, and lately he's looked more comfortable than at any time since he arrived in San Antonio. A brilliant passer and a smart positional defender, Diaw has made 41.7 percent of his threes in the postseason and has been more productive than anyone the Heat have brought off the bench.
Patty Mills might be even more dangerous. His only Finals minutes came in garbage time last year, but now he is a key part of the Spurs' attack. Once only an excellent towel-waver, he has developed into one of the best backup point guards in the league. Zipping around the floor as fast as he always did, he's become a 43-percent three-point shooter and he almost never turns the ball over. Mills changes games when he gets hot, and can't be left open on the perimeter. 
San Antonio tried 30 different starting lineups during the regular season, per the New York Times' Beckley Mason, and we don't know how it wants to match up against Miami. Ginobili, Splitter and Matt Bonner are all candidates to start, while Belinelli, Aron Baynes and Cory Joseph have all had their moments in the postseason. The Spurs' bench averaged a league-best 45.1 points per game in the regular season, so Popovich has plenty of options.
The Heat, on the other hand, might have a depth issue. They're where they are largely because of James, Wade and Chris Bosh, but they're going to need their supporting cast to step up against San Antonio. That means the occasional explosion from Allen, and consistent two-way production from Chris Andersen. With Miller gone, Shane Battier capably stepped into the starting five against the Brooklyn Nets and Rashard Lewis did so against the Indiana Pacers. The Spurs will likely try to exploit both of them on defense, and that will be doubly true if Miami head coach Erik Spoelstra decides to throw sharpshooter James Jones out there. 
Greg Oden and Michael Beasley were signed last summer with the intention of raising the Heat's ceiling and giving them flexibility. Both are former elite prospects, but neither would be asked to play a huge role. At this stage of the season, though, they've been reduced to spectators. The team has been left to rely on the same group, which is now a year older.
For Cole, that's a good thing. The third-year point guard slowed down the Indiana Pacers' Lance Stephenson in the conference finals, and he could see time on Parker, Ginobili and Mills. His speed and pesky defense have endeared him to Spoelstra, and his decision-making has improved immensely. The problem is that he's the only Miami reserve who has gotten better. 
Last year's matchup was as close as it could have been, and there's reason to believe this will be similar. Yes, the Finals are about stars, but they're also about the other guys. As far as the other guys go, San Antonio looks like it has an advantage. The bench battle won't necessarily determine the series, but it will be a factor. Every edge helps. 
Milwaukee has parted ways with its coach in the middle of his fourth season

Larry Hartstein has his finger on the pulse of the Clippers and locked in a play for Monday's...

Our advanced computer model simulated Monday's Heat-Rockets game 10,000 times
Portland is among a few teams that have reportedly tried to engage in talks for the Clippers...

SportsLine's Mike McClure, a DFS pro with more than $1M in winnings, gives optimal lineup...

Leonard was recently shut down again to rehab the nagging quad injury