Showtime set to produce in-depth documentary on Kobe, 'MUSE'
Feature-length documentary will look back and forward at the career of the iconic Lakers guard.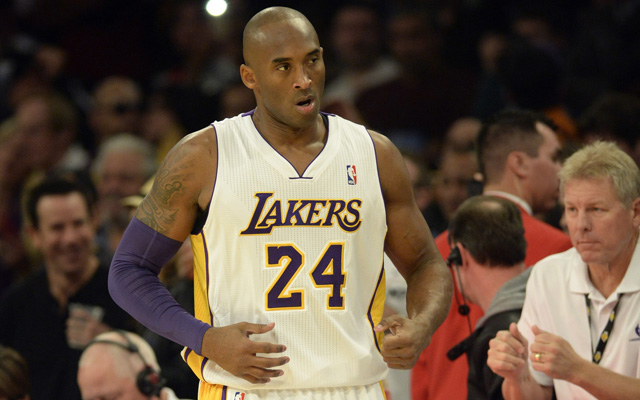 More NBA: Power Rankings | Expert Picks | Latest news, notes
A lot of NBA players have tried their hands at documentaries. Chris Bosh had one or his 2010 free agency that to my knowledge never reached the light of day. Dwight Howard has done them. Carmelo Anthony. Amar'e Stoudemire, but all on personal levels, never with a big production. Steve Nash recently teamed with Grantland.com on a series. 
But now one of the most iconic figures in modern sports is set to team with Showtime for an original Feature-Length documentary. Los Angeles Lakers star Kobe Bryant is set to star in "Kobe Bryant's MUSE" which sounds downright fascinating. 
SHOWTIME® AND KOBE BRYANT FIND THEIR MUSE

KOBE BRYANT'S MUSE – The New Original Feature-Length Documentary Captures a Never-Before-Seen Portrait of An Elite Athlete's Professional and Personal Journey

 As Los Angeles Lakers legend Kobe Bryant prepares for his much-anticipated return to the NBA next season, SHOWTIME is set to air the original documentary film KOBE BRYANT'S MUSE, an in-depth look into the life, inspirations and challenges facing one of the most successful and complex figures in professional sports.  The feature-length documentary is directed by Gotham Chopra (Decoding Deepak, ESPN's upcoming 30 For 30 film, The Little Master). The film is currently in production in Los Angeles and will air this fall on SHOWTIME. 

 At this critical juncture in his career, viewers will watch as Bryant attempts to cement his legacy, opening a window into the mind of an elite athlete still motivated to be the best, but also contemplating life after sports. KOBE BRYANT'S MUSE will feature the successes and challenges that have shaped Bryant's professional life as well as inform audiences who are unaware of the lesser-known aspects of his career, while offering new insights to those who have followed him closely.

The documentary will examine Bryant's storied basketball career, detailing his mentorships, allies and rivalries that have helped shape his 18-year tenure in the NBA.  The ultimate competitor for nearly two decades, a 16-time All-Star and winner of five NBA championships, Bryant dominated professional basketball until a series of recent injuries threatened to abridge his career.  With unbridled access to his daily experience, the film will reveal what makes Bryant tick and the life-long inspirations that have motivated him.
via Showtime All Access, SHOWTIME® AND KOBE BRYANT FIND THEIR MUSE.
The movie sounds fascinating, as Bryant has provided access but rarely at this level. To also see him focused on his return from both the Achilles tear he suffered a year ago and the leg fracture that cost him the remainder of this season should be compelling stuff. A close-up look at the most intense competitor in sports of the past 17 years? Sign us up. 
The former Clipper apparently had some tricks up his sleeve after a chippy game

The Rockets were apparently looking for Austin Rivers and Blake Griffin after a chippy gam...

If they don't meet in the Finals again, let's appreciate every one of the 27 matchups since...
D-Wade picked up the steal and got creative on the fast break as the Cavs headed into half...

Despite the embarrassing hiccup, the youngest Ball had himself a pretty great day on the c...

The players were both ejected in the closing seconds, then continued their discussion off the...