Still the same: Four perspectives on the evolving, but consistent Spurs
San Antonio looks a little different this year, but to those in the locker room, the things that matter are exactly the same.
• 7 min read
I. If someone were to write a book about the San Antonio Spurs, you'd want it to be Matt Bonner. The forward has been a Spur for longer than anybody not named Tim, Tony or Manu, and he's a gifted storyteller. Asked what the title of his theoretical book would be, he paused for a while and then had an idea.
"Maybe I'd just, like, it would be like one of those musical greeting cards," Bonner said. "You open it up and it's just 'Still the Same' by Bob Seger."
When Bonner arrived in San Antonio, LaMarcus Aldridge was a rookie in Portland, Kawhi Leonard was a sophomore in high school and Jacque Vaughn was the Spurs' backup point guard. Vaughn has since been an assistant coach, an opposing coach and, now, a scout. Imagine how many bank shots, floaters and eurosteps Bonner has seen in that time. 
If you're a new Spur and you want advice, Bonner is your man. "Watch out for fire ants," he said. "We have fire ants in San Antonio. Their bites can last for like a month. So keep an eye out. I always take my kids to the playground and, even if they treat 'em, every couple months they'll pop up."
Bonner called it an honor to be a direct witness to Tim Duncan's greatness for so many years. He also said that Duncan is by far the best paintball player on the team, and, if you find yourself competing with him in that arena, you should not use Bonner's strategy.  
"Paintballs hurt more than you think," Bonner said. "I thought it was like getting flicked or something. But, so, I thought, 'All right, I'll just run out,' because we were playing this game where if you get hit you can go all the way back to the beginning and you can touch and you're alive again. So I was going to be a decoy and just like run out and take fire, and then our other guys were going to try to flank 'em. And it didn't work out like I thought in my head. I got lit up, covered in welts. It really hurt. So it was a bad idea."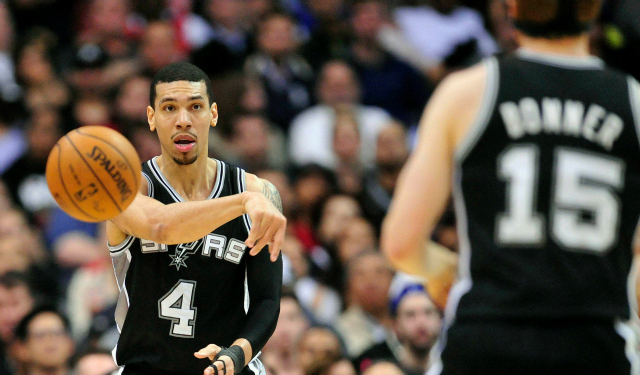 II. The Spurs waived Danny Green after he'd played two games in November of 2010. Four months and 16 D-League games later, they signed him again. He's been in San Antonio ever since, evolving from an end-of-bench guy to one of the league's best 3-point shooters and wing defenders. He said he'd never take the organization for granted, but his actions said more.
Last summer as an unrestricted free agent, Green had a chance to cash in after years of being underpaid. While DeMarre Carroll, Khris Middleton and Wesley Matthews signed contracts ranging from $15 million to $17.5 million per season, Green took a four-year, $40 million deal to stay a Spur.
"When we spoke, I said, 'If you guys can come close, obviously I want to be here. This is like a second home for me,'" Green said. "They did what they had to do or did what they could to make as much space as they possibly could to bring me back. And it was enough for me to come back. More than enough."
After reaching an agreement with coach Gregg Popovich and general manager R.C. Buford, Green recruited Aldridge over Twitter. He'd already played his part, though, helping to allow San Antonio to offer the biggest free agent on the market a maximum deal. 
"I knew my role wouldn't change much," Green said. "I'm still going to go play defense and shoot the open 3 or shoot the open jumper when it's there. Obviously we've got a lot more guys that can score inside and out, so picking and choosing my moments — if somebody has to get less shots with Kawhi playing as good he is and LaMarcus inside, if it has to be me then it's me."
Green said coaches Tim Cluess at St. Mary's high school and Roy Williams at North Carolina taught Green to think team-first. The Spurs reinforced those lessons for years. "You can't play here if you have an ego," Green said, and suddenly his sacrifice seemed simple.
"I knew what I had here," he said.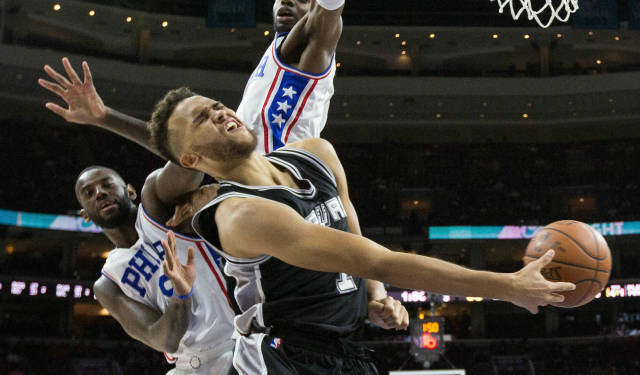 III. A 19-year-old Kyle Anderson watched San Antonio in the 2013 NBA Finals, and he had something to say. "Boris diaw put on for the slow pokes," he tweeted. The 6-foot-9 playmaker had been nicknamed "Slow Mo" years earlier, and Diaw was his best NBA comparison. After the Spurs drafted him in 2014, Buford said at summer league, "Guys that like to pass, guys that know how to play, guys who are slow and can't jump, they fit pretty good in San Antonio." 
Anderson had to fall all the way to No. 30 in the draft to land in San Antonio, but he thought it worked out. He knew you had to be unselfish in order to survive there. "I think my game kind of fit that style," he said, echoing just about everybody who analyzed the selection. 
Against the Phoenix Suns in November, Anderson stole the ball from Brandon Knight and completed perhaps the slowest coast-to-coast dunk in NBA history. Duncan said he could beat Anderson in a footrace. Manu Ginobili agreed. 
It's fun to be a Spur, Anderson said, because everybody wants to improve and plays together. He notices his older, championship-winning teammates quietly show up and work. Are there times where he says to himself, "OK, I understand why they've been so good for so long?"
"Pretty much every day, really," Anderson said. 
There's a word for those plays where the Spurs pass the ball four, five or six times, sending the helpless defense scrambling and creating an open shot. It's a "Spursgasm," as coined by Zach Lowe in a Grantland article 23 days before Anderson was drafted. Anderson liked watching those sequences. He loves being a part of them.
"We know it's just what Pop wants," Anderson said. "And it's what we want, too. We don't care who scores the points. It doesn't matter to us, as long as we get the job done. To see that, it's always nice as a basketball fan. But to be on the court with it, it's kind of special. It's how we're supposed to play."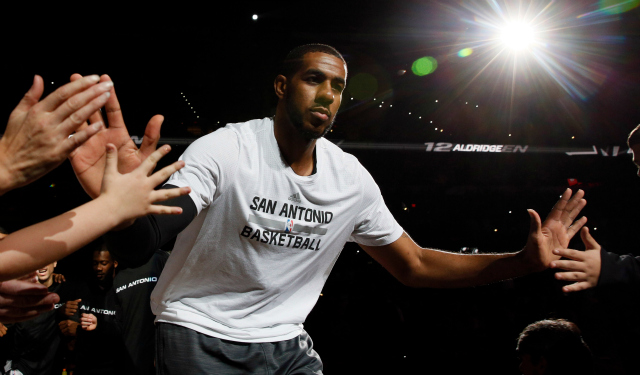 IV. LaMarcus Aldridge didn't need to be sold, according to San Antonio guard Patty Mills. There have been thousands of words written about the recruitment process, but Mills thinks Aldridge already knew what he needed to know.
"I think we just needed to show him that we genuinely wanted him here," Mills said. "There was nothing new that we had to tell him."
To Mills, Aldridge is "the same guy that took me under his wing in Portland," but he said the big man is still trying to learn the system. "It's time and it's patience; it's repetition and playing games," Mills said, adding that Aldridge has done a great job adapting on the fly.
Aldridge is averaging six fewer minutes, six fewer shots and 7.7 fewer points than he did last year. Being near his family is "priceless," Aldridge said, and he's just trying to keep the Spurs' winning tradition going.
"I really didn't know what to expect because I was leaving a situation that was made for me," Aldridge said. "So, coming here is different. But I think I've done a good job of just adjusting as things have gone along and I'm trying to find my way."
With Aldridge, San Antonio is slower and taking fewer 3-pointers. Bonner is playing the fewest minutes of his career, Anderson is playing the most and Green is in a shooting slump. After 25 games, though, the Spurs' record is a familiar 20-5. They're the only team aside from the Golden State Warriors with a top-5 offense and defense. The important things have not changed. 
"We play a little different, but generally it's not," Mills said. "Really, when you think about it, it's the same stuff that's being barked at us in the locker room at halftime, at the end of the game, before the game. Preparations are the same. A couple of new faces are adapting, but it's the same mindset. It's the same goal."
CBS Sports HQ Daily Newsletter
Get the best highlights and stories - yeah, just the good stuff handpicked by our team to start your day.
Please check the opt-in box to acknowledge that you would like to subscribe.
Thanks for signing up!
Keep an eye on your inbox for the latest sports news.
Sorry!
There was an error processing your subscription.
This is the first time LeBron has started 0-3 since 2004

The Trail Blazers embraced Halloween before their game on Monday night

Dealing with pressure and expectations instead of doubt, the Pacers are trying to block out...
Ingram was suspended four games for his role in Saturday night's brawl, while Rondo got three...

The Bucks opened up their new arena, Fiserv Forum, this season

The outspoken 76ers star grew up dreaming of being an astronaut