2013 NFL Draft: Is the Big Ten facing a talent shortage?
The Big Ten has produced some truly exceptional NFL talent over the years. But a look at recent history, and a glance at the top prospects for the 2013 NFL Draft, reveals evidence that the powerhouse college football conference might be losing ground and producing less top NFL talent.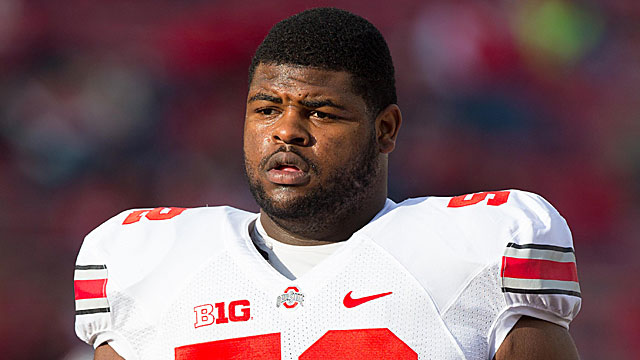 Is the Big Ten a fading football factory?
Perception and reality sometimes are two different things when it comes to the NFL Draft, especially in a league where first-rounders bust at a nearly 50 percent rate and undrafted players can become All-Pros. But in a year where there might be zero first-round picks from the Big Ten -- something that hasn't happened since the NFL merger -- it's an interesting investigation worth digging into. The NFL Draft has been dominated by the Southeastern Conference since the turn of the millennium, and it's no surprise considering that the past seven college football national champions have come from its member schools. It's unquestionably the most talent-fertile grounds for pro talent, with 528 draft picks since 2000 -- more than one out of every six picks made during that period -- originating from the SEC.
More 2013 NFL Draft coverage
| | |
| --- | --- |
| | 2013 NFL Draft |
Second on that list is the Big Ten, perhaps the most historically significant conference in college football history. It has spawned an impressive 455 picks, followed by the Pac-12 (391) and Big 12 (371) a healthy distance behind. And a glance at the numbers from last year's draft appears, on the surface, to suggest that little has changed in their hierarchy: The SEC produced 44 picks, followed by the Big Ten (41), ACC (31), Pac-12 (28) and Big 12 (25).
But we must look further, and deeper. There has been a noticeable dropoff in the top portion of recent drafts.
After a six-year run with at least one top-five selection from 2003 to 2009, the Big Ten hasn't placed a draft pick in the top 10 since. In 2012, the highest Big Ten player drafted was at No. 23, Lions offensive tackle Reilly Reiff (Iowa). The Big Ten still had six first-round picks in 2011 and can boast recent success stories such as J.J. Watt, Russell Wilson, Ryan Kerrigan, NaVorro Bowman and others, but Wilson played three years in the ACC at N.C. State prior to transferring to Wisconsin as a senior.
Watt was one of only eight former Big Ten players initially elected to the Pro Bowl this past season, and though 13 (not counting Wilson) ended up in Hawaii, only three of those players were drafted since 2007. Even with traditional power Nebraska joining the Big Ten in 2011, it hasn't translated to higher picks.
Last year's higher Big Ten draft picks were a mixed bag as rookies. Reiff was solid as a third tackle for the Lions, and Whitney Mercilus was a good sub-package defender for the Texans. Both are being counted on as starters this season. Bengals first-round offensive guard Kevin Zeitler was as solid as advertised, and Buccaneers second-rounder Lavonte David was an outstanding pick.
But 49ers first-round receiver A.J. Jenkins was a healthy scratch nearly the entire season, and second-rounders Jeff Allen (Chiefs), Tavon Wilson (Patriots), Jerel Worthy (Packers), Devon Still (Bengals) and Mike Adams (Steelers) all were up and down in extended action. Although the 41 total picks last year were an impressive total, 22 of them came between rounds five and seven.
This year is expected to be more of the same trend. With Michigan offensive tackle Taylor Lewan opting to return to school, it raised the possibility that the Big Ten could have zero first-round picks, something that we have not seen since the draft expanded in 1967. Purdue defensive tackle Kawann Short and Ohio State DT Johnathan Hankins appear to be the best possibilities to land in the first round, with Wisconsin running back Montee Ball more likely to be drafted on the second day.
Still when asked if the conference remains an elite talent pool, Ohio State linebacker John Simon said at the NFL Combine that he believes it is. "The Big Ten has so many tremendous athletes," he said. "I'm not being biased. They're great players."
Simon is part of what looks like a decidedly middle class in this year's Big Ten draft crop, and one with a serious dearth at the top. According to CBSSports.com's best-available rankings, the SEC looks strong again with four of the top five players and 10 of the top 25. Hankins (No. 43 overall), Short (53), Wisconsin center Travis Frederick (58) and Ball (60) start the run in the Big Ten. But after Michigan State running back Le'Veon Bell (66), you have to go all the way to No. 107 (Simon) to find the next Big Ten player on the rankings.
Watt is an elite player, maybe the best defensive player in football, and the conference has produced some of the NFL's best at their respective positions: Quarterbacks Tom Brady and Drew Brees, offensive tackles Jake Long and Joe Thomas, center Nick Mangold, and pass rushers Cameron Wake and Tamba Hali to name a few. But it appears that fewer elite players have come from the Big Ten in recent years.
Even Brees lamented last season, a year in which the coaches' poll at one point featured zero Big Ten teams and the conference combined for one victory, that the talent level has dropped off. Brees told NFL.com that "the Big Ten just has not represented well" when stacked up to the SEC, and other top schools.
Will that translate in this year's draft? Back to the original point for a moment: Draft status is one thing. Production is another. Ball or Bell could be strong mid-round rushers, and the Big Ten still appears to be producing good talent recently in the trenches on both sides of the ball, giving hope for Short, Hankins, Frederick, and others. But you can't help but notice that the Big Ten, once the big dogs on Draft Day, will be taking more of a back seat this year.
Chicago's young QB has steadily improved his game and was superb against the Bengals a week...

Cleveland's quarterback has recently improved, but his turnovers have been a big part of the...

Rudolph will be put under the microscope in Mobile by clubs looking for a quarterback early...
Dalton will be too expensive next year so the Bengals pick Baker Mayfield to usher in a new...

Marcell Ateman is a big-bodied 'power forward' who can be a No. 1 wide receiver at the NFL...

With their 2017 season basically over, it's time for Texans fans to turn their attention to...