The scoreboard from this Chip Kelly offense was supposed to move like the numbers on the screen when you pump gas: Fast, increasing by the minute and only the hand of the controller capable of stopping it.
Not quite.
As the football world, and especially the Kelly-fawning media that hangs on his every innovation, waits for his Philadelphia Eagles offense to roll up record-breaking numbers this season, something else happened along the way.
It turned to crap.
Instead of an offense piling up numbers, scoring at a record pace, playing so fast defenses have no answers, the Eagles have unveiled their new version of offense: 7.2 inches and a cloud of garbage.
The 7.2 inches is what prized free-agent signing DeMarco Murray averaged carrying the football last week in the Eagles' loss to his former team, the Dallas Cowboys. What in the name of smoothies is going on here?
The Eagles are 0-2, their offense is tied for 25th overall, last in rushing, 31st in third-down efficiency and tied for 28th in scoring. It just isn't working.
Kelly said he was "embarrassed" by the offensive performance last week, but said there will not be major changes. This is the group he picked, jettisoning some fan favorites the past two years to put it together, and he's sticking with it.
In the past two years, Kelly has rid himself of receiver DeSean Jackson and running back LeSean McCoy, lost receiver Jeremy Maclin to the Chiefs in free agency, decided he was fine changing his guards, including veteran Evan Mathis, and traded to get Sam Bradford from the Rams as his quarterback.
He drafted young receivers, signed Murray away from Dallas and added Ryan Mathews as his backup from San Diego. Kelly also sent McCoy packing to the Buffalo Bills because he supposedly wasn't a great fit in his offense. McCoy never averaged 7.2 inches per carry with the Eagles, that's for sure.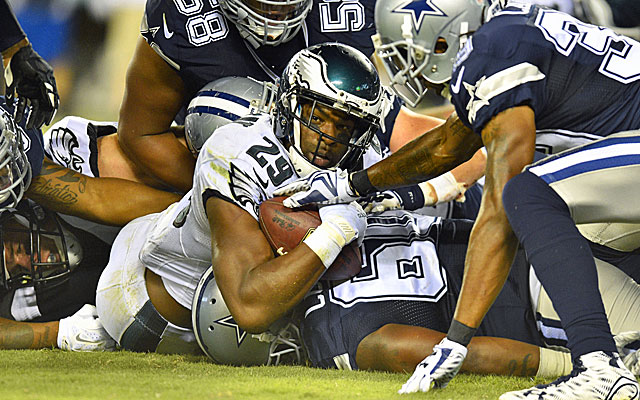 So what's the problem? More like, what are the problems? This offense has many right now, but the reality is that many of them are fixable.
In studying their two games, and primarily focusing on the horrible showing in their 20-10 loss to the Cowboys at home last week, several things stood out. One of the things is that teams seem to have a bead on what the Eagles are doing.
The word that fits is predictability. The Eagles don't run a lot of plays and it seemed the Cowboys knew, based on formation and tendencies, what was coming. The passing game did not look complicated at all, and there was little creativity in terms of formations. They were basic with little movement.
Maybe that's why Eagles receiver Josh Huff said the Cowboys knew what plays were coming. It's almost impossible not to know if tendencies are studied. Kelly has to get more creative with his pre-snap stuff.
You can't just line up the running back next to the quarterback in the shotgun and run sweep across the formation or zone inside against a defense that seems to have come up with the right stunts to cause problems for the line up front.
It's always about the Jimmy and Joes, but at some point the offensive wizard needs to be better with his X's and O's.
Let's take a look at some of the other main issues:
Bad line play and no running game
The line has been bad in the run game, which has led to a lot of defenders in the backfield. A defensive player once told me "Penetration rules the nation." The Eagles are living that now. On several runs, Murray had players at his feet just after taking a handoff. It didn't help that tight end Brent Celek, normally a top-notch blocker, has been horrible in two games, particularly against the Cowboys. He really struggled to get movement and pin the ends.
As much as some would like to make it a physical thing, I think the corrections will be more mental, which I will show here. The line needs to work better together. That takes time with two new starters at guard.
The Eagles love to run sweeps with their backs where they pull different linemen, including guards, tackles and center Jason Kelce, the rare athletic center capable of running and leading the back around end.
Against the Falcons in Week 1, Kelce's block helped key Murray's 8-yard touchdown run as he pulled to the right side.
Here's a look: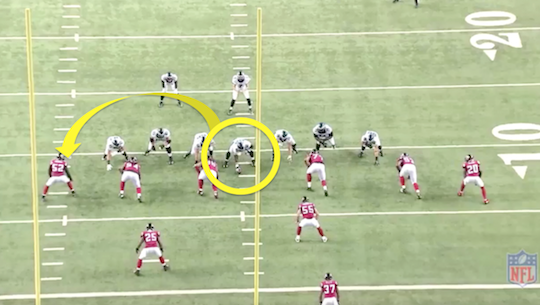 Now here's what happened against Dallas when the Eagles tried to run a similar play.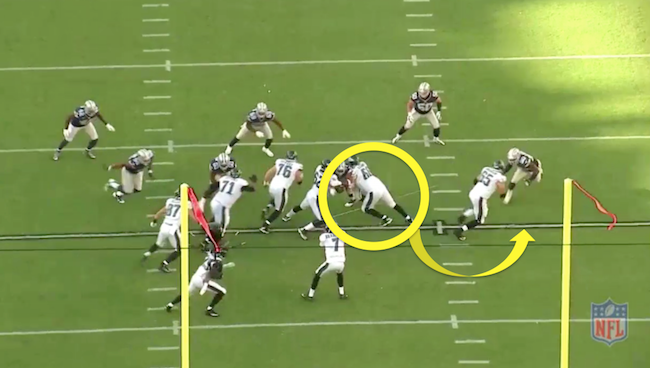 This is a second-and-8 play from the Eagles 22 in the first quarter. It's a slightly different look from the Falcons play with Murray to the left of Bradford, rather than the right. But the play is a sweep to the right. As you can see, Kelce wanted to get out and lead it.
But Cowboys defensive tackle Terrell McClain charged hard into Kelce to knock him off as Andrew Gardner tried to block him. Kelce couldn't get out, and there was a free defender in Sean Lee waiting to drop Murray for a 2-yard loss. Those are the little things that the Eagles need to work out to get the run game going.
Later in the game, Murray tried to sweep to the right out of the shotgun. It was clear the Cowboys knew the play was coming. The entire defense ran to its left, the play side. One other thing I noticed on that play was how DeMarcus Lawrence reached out and grabbed Kelce as he pulled to lead Murray. That slowed Kelce, but Lawrence continued up the field anyway and dumped him for a 2-yard loss.
Another run-game issue came on this play earlier in the first quarter. It was a Murray zone run to the left. The play was actually blocked pretty well as you can see from the picture and GIF below.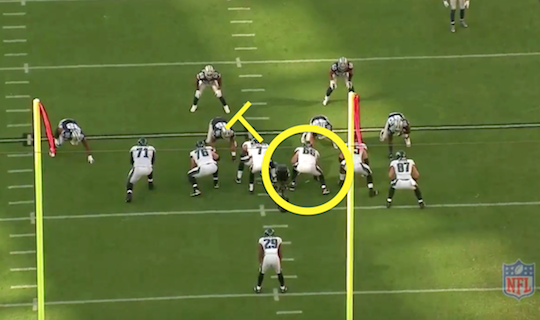 There is a hole on the inside, but what happens is Gardner stays too long on his block rather than coming off to get linebacker Anthony Hitchens, who makes the tackle. If Gardner comes off, which he clearly should have done, then Murray scoots through for a big gain. Once again, this is a little thing that will come later with continuity for the group.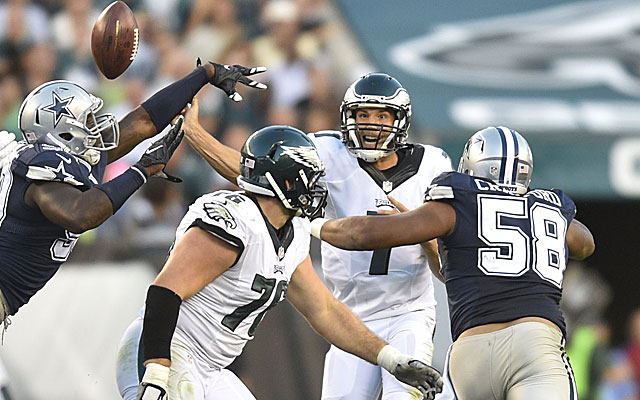 The Eagles' passing game has been grounded
Why can't the Eagles throw it? There are a couple or reasons. Here's a look at two of them.
First, the receivers aren't winning and the passing-game concepts aren't getting guys open, which has been a Kelly staple in his offenses. Kelly loves to have receivers run crossing routes in his mesh concepts, which means pick plays. They are man beaters, but the Eagles didn't win many of them against the Cowboys.
The Cowboys' corners did a nice job against the Philadelphia receivers and they also mixed up their defenses, playing a lot of zone with the man. One thing I notice about the Eagles' receivers against zone is that they do a poor job of sitting down in the open areas of the zone. Too many times they continue to run their routes, which leads them right into a defender. That's fixable.
Second, Bradford also didn't move his head well enough and he wasn't accurate. He seemed to lock on to a side, rather than come off his primary read to an open receiver, when there was one. He also missed throws when they were there. He looked so unsure at times.
On a two-play sequence near the Cowboys end zone, which ended with Bradford being picked by Lee in the end zone, he needed to come off his primary reads faster. Even when he did have time to throw, he just didn't play fast. That has to be a concern for Kelly.
The first play, on first-and-goal from the 3, Bradford stayed locked to the right and tried to a throw to rookie Nelson Agholor on the end line, but overshot him. If he came back to his left, he had Riley Cooper open for a touchdown on a slant inside.
Bradford threw a pick on the next play, trying to force the ball into tight end Zach Ertz. If he came off Ertz -- and there was no pressure -- he had Cooper again on the left side on a throw to the back line. When Cooper saw the pick by Lee, he seemed to throw his hands up in disgust.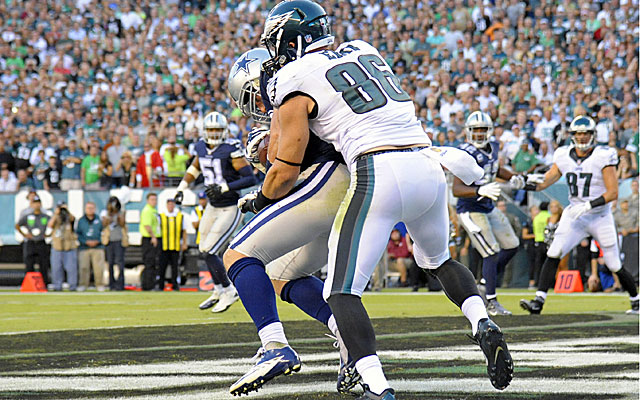 These are the types of plays that Bradford has to make. He has been around long enough to get off his first reads when they are not there. Against the Cowboys, that wasn't the case.
Philadelphia's inability to run the ball against a soft box didn't help. The Cowboys were able to play a lot of coverage to defend the pass. In past games with the Cowboys under Kelly, the Eagles have run the ball well, forcing extra help in the box, creating better passing opportunities. Kelly said this week that the passing game issues were a direct result of the poor running game. Not all of it, but some it for sure.
This offense isn't complicated. That's why Huff said the Cowboys knew the plays. Kelly's system is based on executing the plays he does run to perfection. Even so, this is the NFL. Things get figured out.
The key running plays are the inside zone, the outside zone and the sweeps, usually out of the shotgun. The key passing plays are the mesh concepts -- crossing routes in man coverage -- and a three-level route to help read one side of the field.
There are some other bells and whistles, but not a lot. It's based on precision. And right now, the precision isn't there.
That doesn't mean it can't work. These aren't major fixes. And Kelly is a smart man. But this week against a good New York Jets defense on the road is a tough spot to try and overcome the early-season issues.
When will the Philly Phunk end for this offense? Or has the league caught on?
One thing's for sure: 7.2 inches and a cloud of crap won't play long with those passionate Eagles fans.
More observations from watching tape this week
There's line play and then there's Tyron Smith: There is a lot of really bad line play in the NFL right now. I documented some of the reasons why in a column earlier this summer.
But watching the Cowboys line work, which happens to be one of the best, if not the best, my eyes kept watching left tackle Tyron Smith. He was a Pro Bowl player the past two seasons, and he is significantly better now than he was a year ago. He has always been a great athlete, but now his technique is so sound. He has great feet, but also knows how to use his hands and all the little tricks to keep his quarterback clean and get movement in the run game.
All struggling left tackles should pop in Smith's tape as a how-to on playing the position. Smith is on his way to being one of the best ever if he continues his growth. Now in his fifth season, he is doesn't turn 25 until December. On a good Dallas line, he is clearly playing the best of all of them right now.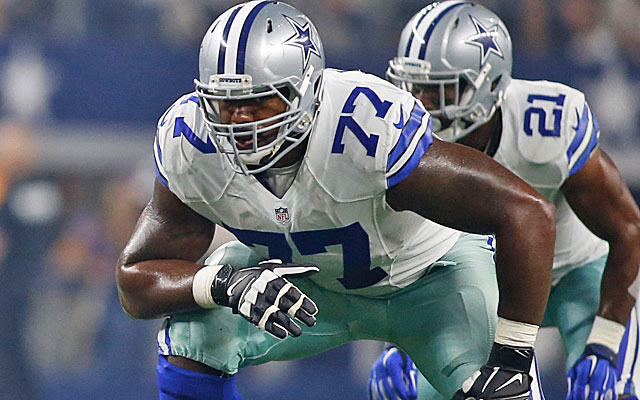 Welcome back, Sean Lee: The Cowboys also have to be thrilled with the play of Lee. He missed all of last season with a torn ACL suffered during the summer of 2014. In his first game back against the Giants, Lee was just OK. He was tentative at times. But that changed against the Eagles.
Lee was everywhere, which is why he was named the NFC Defensive Player of the Week. He had 14 tackles, that end-zone interception and seemed to fully have a grasp of what the Eagles were doing on offense.
Lee was decisive, quick, active and chased down Huff on a pass that would have been a touchdown were it not for Lee's speed to come across the field and tackle Huff, who had blockers in front.
Lee wasn't alone in playing good linebacker against the Eagles. Anthony Hitchens was plenty active as well. Those two give the Cowboys a nice 1-2 combo. Both can run. Both can cover.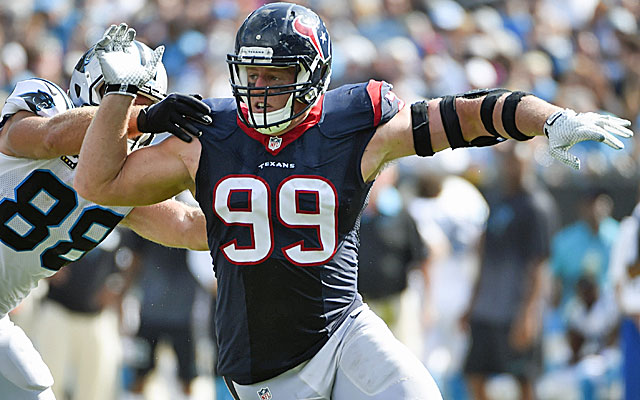 Not the J.J. Watt we're used to seeing each week: Since Watt is the best defensive player in the league, I make it a point to watch every one of his snaps each week and do a note on him here. In the Texans' loss at Carolina, Watt had a really good game by most players' standards, but not by his. He wasn't the dominant player he is on week-to-week basis. There were reasons. The Panthers committed a bunch of players to keeping him blocked. They doubled him a bunch. They even tripled him. Backs helped a lot. It was as if the Panthers said there was no way Watt could impact the game and they would take their chances with everybody else.
Watt did get a sack, but it came when he was blocked on the play and just relentlessly kept moving and got Cam Newton for a 4-yard loss as he took off up the middle.
The Carolina offense, which runs read option, slowed him down too. He had to make sure Newton didn't keep to the outside. That kept him from his hard-charging ways to the inside.
One thing I noticed as well: Watt was on the ground a lot. There were several times where the Panthers' double-teams brought him to the ground. That's tough to do.
There was a play that was making its way around social media as a GIF that showed Panthers guard Trai Turner putting Watt on his back in pass protection.
But the reality is that Watt pushed Turner back, but the guard regained his power and threw Watt to the guard's right. Watt seemed to stumble on the foot of right tackle Mike Remmers, so it wasn't as dominant as it looked on the GIF.
Even so, give Carolina credit. The Panthers essentially took Watt out of the game as best you can for a player that dominant. Watt should look around at his teammates and say: If I am getting all that attention, don't you think you guys need to make a play or two?