LOOK: Tom Brady calls out Edelman for flexing instead of blocking
Tom Brady would like to see more blocking and less flexing from Julian Edelman.
During New England's playoff win over Kansas City on Saturday, Patriots wide receiver Julian Edelman finally returned after missing almost two months with a broken foot. 
The good news for the Patriots is that Edelman didn't look rusty at all. The bad news for the Patriots is that Edelman would rather show off his muscles than block for his quarterback. 
Tom Brady took to Facebook on Monday and posted a pretty amusing picture of Edelman. The picture was taken as Brady was putting the finishing touches on a 10-yard run in the second quarter. 
"Hey Julian, how about a little less flexing and a little more blocking next time!!"
Of course, Brady is joking. Edelman can flex all he wants. 
Honestly though, if you look closely at Edelman's pose, it almost looks like the Patriots wide receiver is cringing because he's afraid Brady is going to get hurt, and his arms are up in the air because he's hoping for a touchdown.
Anyway, Edelman responded to Brady's picture with a Facebook post of his own, where he offered some pylon-diving advice for Brady, who didn't reach the end zone with his jump. 
Not only did the Patriots quarterback fall a yard short on his end zone dive, but he got absolutely rocked by Kansas City's Tyvon Branch and Husain Abdullah. 
Edelman had a front row seat to Brady's 10-yard run and on Monday, he described what it's like to see his quarterback use his legs instead of his right arm. 
"He's like a Clydesdale out there. Like a big old horse," Edelman told WEEI-FM in Boston. "He reminds me of the old Budweiser commercials, so it was pretty cool."
Although Brady didn't score on the 10-yard run, he did reach the end zone with a 1-yard quarterback sneak on the next play. The touchdown gave the Patriots a 14-3 lead in a game they'd win 27-20.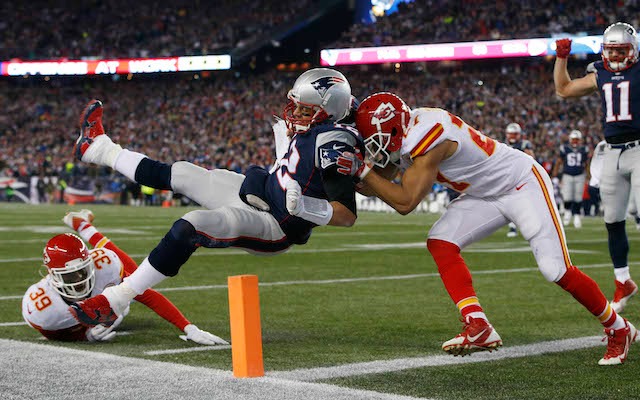 Warren Sapp was one of several players named in a lawsuit against NFL Network

Check out the uniforms that Denver and Indianapolis will be wearing on Thursday

The Cowboys are going to need a few things to go their way to get into the postseason
Rudolph will be put under the microscope in Mobile by clubs looking for a quarterback early...

This fan is taking the Saints to court for using 'football games as a platform for protest...

Can Aaron Rodgers get the Packers to the postseason? Even if they win out, they'll need he...