Steelers almost pull off miracle 5-lateral, 79-yard TD vs. Dolphins
The Steelers were only inches away from pulling off one of the most stunning plays in NFL history.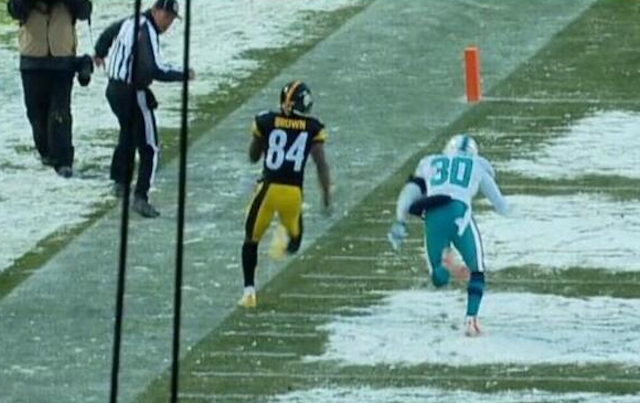 The Steelers lost to the Dolphins 34-28 on Sunday, but they almost didn't lose. And in the process of almost not losing, Pittsburgh almost pulled off one of the greatest plays in NFL history. 
On the final play of the game, the Steelers needed 79-yards for a touchdown -- and they almost got it. The play started with a Ben Roethlisberger pass to Emmanuel Sanders. Sanders then flipped the ball to Jerricho Cotchery who pitched it to running back La'Veon Bell. Bell then made a gutsy move and tossed the ball to offensive tackle Marcus Gilbert.
Gilbert wasn't going to let the game end with the ball in his hands, so he pitched it to Roethlisberger who lateraled it to Antonio Brown. Brown then took Roethlisberger's pitch and made it all the way to the end zone for what appeared to be a miraculous game-winning touchdown. You can see the entire play below: 
Unfortunately for Steelers fans, the miracle wasn't meant to be. After reviewing the play, officials noticed that Brown stepped out of bounds at the 12-yard line. If Brown could have kept his toes in bounds, the 'Immaculate Reception' would have had some stiff competition for the most memorable play in Steelers history. 
(Wink of the CBS Eye to GIFDSports)
Cowboys rookie Jourdan Lewis got some good news on Tuesday.

The Ravens might need some help at running back

The Jaguars are making people rich
It looks like Michael Vick is hoping to make the transition from player to coach

The former undrafted free agent is about to get a huge raise

Both Malik Hooker and Andrew Luck are on the PUP list, so maybe it's time to start worryin...