Texans QB Case Keenum injured, Matt Schaub will start vs. Broncos
Texans interim coach Wade Phillips announced on Wednesday that Matt Schaub will start at quarterback against the Broncos because Case Keenum has ligament damage in his thumb.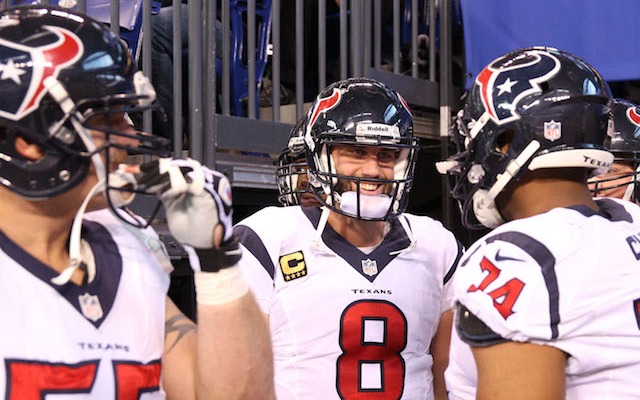 For the first time in over two months, Matt Schaub will be the Houston Texans starting quarterback, but it's not because Schaub won the job. It's because starter Case Keenum is injured.
Interim coach Wade Phillips announced Wednesday that Keenum won't be able to play in Sunday's home game against the Broncos because of a right thumb injury he suffered in Houston's 25-3 loss to Indianapolis. 
It will be Schaub's first start since Week 6, when he threw for 186 yards in a 38-13 loss to the Rams. Schaub injured his ankle against St. Louis and Case Keenum has been starting ever since.  
Schaub was thrown back into action in a Week 11 home game against the Raiders and things got ugly pretty quickly. The Texans fans at Reliant Stadium booed Schaub so loudly that the Houston's offense had to use a silent count in the second half. 
Houston fans also cheered after Schaub injured his ankle in the Rams game. 
Phillips doesn't expect to see that against the Broncos, "Our team is 100 percent behind him and I know our real fans are going to be cheering for our team and also for him," Phillips said.  
Texans fans might want to cheer for Schaub, just because it might be the final time they see him in a Houston uniform. Sunday's game against Denver will be the Texans final home game of the year and there's a good chance Schaub won't be around when Houston kicks off its 2014 season. 
Dallas receiver has only 11 catches for 114 yards through three games

Go ahead and doubt Pete -- because this is the week he turns it around with this picks

The president believes people are really responding to his criticism of the NFL
CTE has previously been thought to only be diagnosable in deceased patients

The Chiefs are up to No. 2 while the Falcons maintain their top perch

Our computer model simulated every Week 4 NFL game 10,000 times with very surprising resul...