Training camp roundup: Adrian Peterson gets a kiss
In today's roundup, we touch on Adrian Peterson and his son, the latest injury news and why Arthur Jones is so excited.
• 6 min read
Before I dropped my kids off at preschool Tuesday morning (literally, not figuratively), both of them wanted an extra hug and a kiss before I slipped through the exit doors and they got on with their day of playing on water tables, reading books, taking naps and learning how to get along in this crazy, cruel world.
I obliged by kissing my girl and my boy on the lips. That's just how I do it.
Apparently, so does Vikings running back Adrian Peterson, who treated photographers to this sweet moment Tuesday, via SI.com's Andy Gray.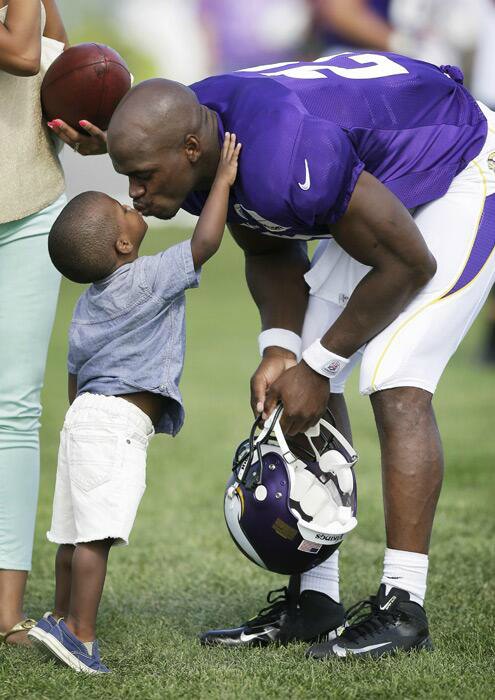 See, if your NFL hero is Adrian Peterson and you have kids who you peck on the kisser, you and your NFL hero have something in common. Except you probably don't have a helmet in your hand when you're off to the ol' salt mine and your kid probably isn't going to melt back into a crowd of hundreds who have taken time out of their schedules to watch you play a game while you make tens of millions of dollars.
And to remind you about that cruel, cold world, here's what Titans safety Bernard Pollard said was the note the Ravens left in his locker to inform that he was no longer welcome in Baltimore in March.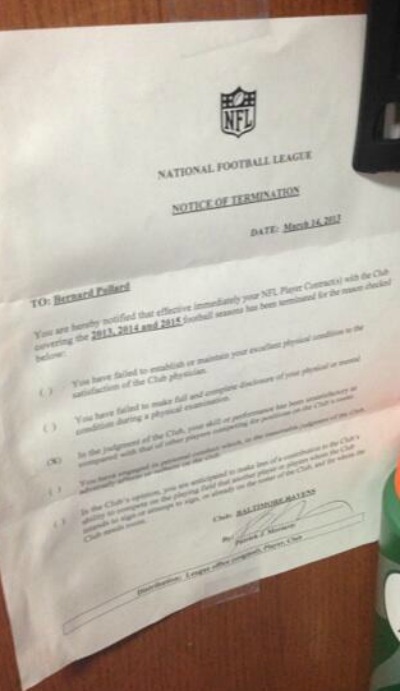 (Via Albert Breer)

In case you can't read the reasoning for the termination, the Ravens checked off the category of "In the judgment of the Club, your skill or performance has been unsatisfactory as compared with that of other players competing for positions on the Club's roster."
Yikes, after a review like that, it'd be nice to have your child around to smooch away the pain.
Which leads us back to Peterson and his adorable son.
That photo also should remind us that PDAing with your kids is a cool thing -- and probably always be a cool thing if you're the parent. But it won't be very long when those children won't even want to be seen at the movie theater with you, let alone kiss you in public.
Even if you are an NFL hero to so many.
Injury bug
--If you're a Redskins fan who enjoys watching your team's cornerbacks try keep the opposing quarterback at bay, this isn't the greatest photo you'd want to see today.
DeAngelo Hall watching walkthrough in a boot: pic.twitter.com/Jjg4Lg09H8

— Zac Boyer (@ZacBoyer) July 30, 2013


That, of course, is DeAngelo Hall, the team's No. 1 cornerback. And he's standing in a walking boot.
The team doesn't think it's serious, but still, for a man who plays a position where speed is an imperative, a walking boot on a sprained ankle isn't a great look.
After practice, Hall told reporters that the ankle could keep him out anywhere from a couple of days to a couple of weeks.
--Some good news in Arizona. Running back Ryan Williams, who's played just five games because of injuries since the Cardinals drafted him in the second round of  the 2011 draft, decided not to get a second opinion on his problematic knee and reportedly is feeling better.
The team is off Wednesday, and he's expected to return to practice Thursday.
Williams underwent an MRI on Tuesday after a flare-up for an old knee injury at practice. But the MRI came back clean, and though the team originally said he would go in for a second opinion, that apparently has been canceled.
Perhaps here's one reason why. Asked by reporters if this was a make-or-break year for Williams, coach Bruce Arians said, "I would think so."
-As CBSSports.com's Dave Richard reported, we don't seem to know when Panthers running back Jonathan Stewart will return to practice.
Stewart had surgery on both ankles in the offseason, and Richard reported that doctors are unsure why his left ankle is healing better than his right. But for now DeAngelo Williams is taking the No. 1 reps at the running back spot. And for Stewart (who remains on the Physically Unable to Perform list)?
"It could be any day or it could carry on into the regular season," the source told Richard.
--Rookie fourth-round pick Quinton Patton, who's trying to become the 49ers starting receiver opposite Anquan Boldin, has been limited to non-contact drills because of a broken finger.  Other San Francisco receivers out with injury: Michael Crabtree, Mario Manningham, A.J. Jenkins, Kassim Osgood and Kyle Williams.
--As for Seahawks receiver Percy Harvin, he'll have surgery on Thursday for the torn labrum in his hip. Meanwhile, he tries to remain optimistic.


Nobody was more anxious and excited about season then....but I will be back strong as ever..i appreciate all the love and prayers 12th man

— Percy Harvin (@Percy_Harvin) July 30, 2013


And in case you were wondering about the whereabouts of Harvin's teammate, Sidney Rice, Carroll said that Rice currently was visiting Switzerland.
Sure, sure. Switzerland is the place to go for your knee trouble.
But seriously, there seems to be a good chance that Rice is undergoing stem-cell treatment in Europe in an effort to return to the field faster.
--Redskins left tackle Trent Williams re-injured his wrist during practice Tuesday, but he told reporters afterward that it was a minor injury and that he'd be fine. Reportedly, he's been dealing with a sprained wrist for much of training camp.
We all scream for …
I love ice cream. What say you, Ravens defensive end Arthur Jones?




Looks like Jones, via USA Today, agrees with me.
Anybody need a beer?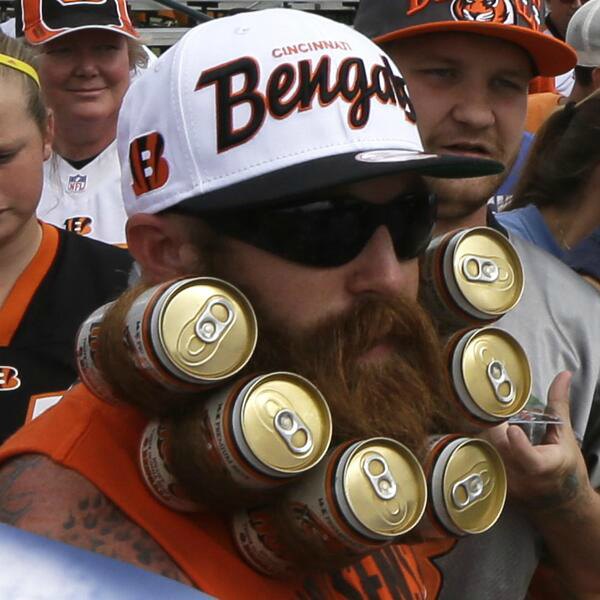 If so, this dude at Bengals practice has some to spar. Just untangle a locket of his beard haird, and you're good to go.
Spy vs. spy

The only way the Redskins would face off against the Patriots this season is if the two squads made the Super Bowl. And then, it would be interesting to see what Robert Griffin III could accomplish against the likes of Vince Wilfork, Brandon Spikes and Aqib Talib with a league title on the line.
But even if that Super Bowl matchup isn't the most likely scenario, that doesn't mean Griffin wasn't looking for some intel at Patriots practice on Tuesday. At least that's who I assume is in the Redskins No. 10 jersey.

Photo via @cwood1010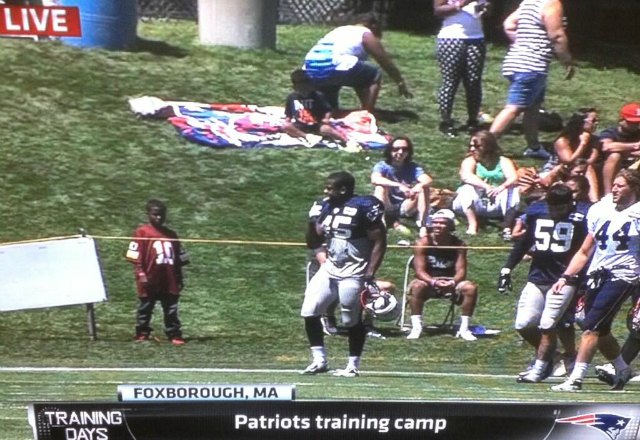 Not my Super Mario Brother's keeper
Do not ask Bills coach Doug Marrone about the health of defensive end Mario Williams, via the Buffalo News. Correction: do not CONTINUE to ask Marrone about the health of Mario Williams.



To be fair, the team has been awfully secretive about Williams' reported foot injury and when he will return to practice. Maybe it's because the Bills really don't know.
Your daily Tebow update
Because we know you can't live a day without hearing some kind of news on Patriots offensive player Tim Tebow, here's the latest.
At one point, we thought Tebow might spend more time with the tight ends, but instead, it sounds like he'll primarily play at quarterback.
As the Boston Globe's Ben Volin reported, "Ninety-nine percent of Tebow's activity during his time with the Patriots has been spent learning to play quarterback in the team's system. He has only spent time in the quarterback meeting room, he wears a red non-contact jersey on the field and he runs the third-team offense during team drills."
Tebow has spent time working withthe skill-position players during practice, but offensive coordinator Josh McDaniels said that was pretty normal for a quarterback in his system so he can work on his open-field running.
The Patriots QB was reportedly "ripping it" in practice on Friday but had his hands in his...

Here's a look at the NFL's entire postseason schedule for 2018

Carter spent three years in Philly at the beginning of his career before becoming a star in...
CBS All Access allows viewers to stream every NFL game on CBS in their local market

Our computer model simulated the AFC and NFC title games 10,000 times with surprising resu...

The troops will be able to watch the AFC and NFC Championship games thanks to the NFL