Offseason Progress Report: Central Division
Most of the best free agents are already picked over, and while there is still a few months before the start of the season, NHL rosters are starting to take shape. On Wednesday we're taking a look at the Central Division.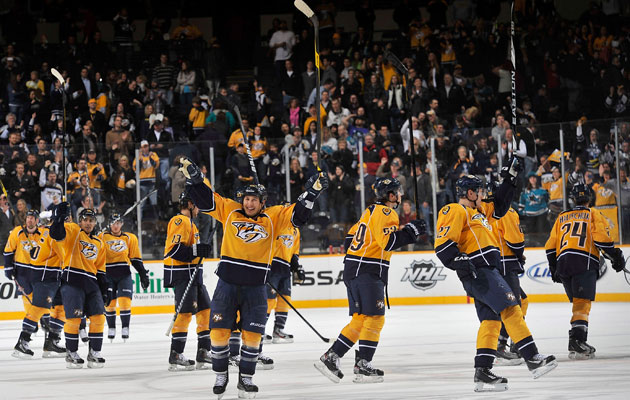 There hasn't been much to celebrate in Nashville this offseason.(Getty Images)
Most of the best free agents are already picked over, and while there is still a few months before the start of the season, NHL rosters are starting to take shape. We're going to take a quick division-by-division look to see each team's progress so far during the offseason. Wednesday's division: The Central.



1. St. Louis Blues

Key Additions: Jeff Woywitka
Key Losses: None

Coming off one of their best seasons in over a decade the St. Louis Blues have had a relatively quiet offseason. The biggest moves were the re-signing of David Perron to a long-term contract extension and bringing back veteran forward Jamie Langenbrunner.
Jeff Woywitka was added from the New York Rangers in free agency.

The Blues Are... About the same. I don't know that we should expect Brian Elliott and Jaroslav Halak to play as well as they did last season in net, but assuming they don't see too much of a regression, and the team in front of them is able to control the puck and limit opposing chances well as they did this season the Blues could once again be one of the top teams in the NHL.



2. Detroit Red Wings

Key Additions: Jordin Tootoo, Mikael Samuelsson, Jonas Gustavsson
Key Losses: Jiri Hudler, Nicklas Lidstrom, Brad Stuart

For the second year in a row the Detroit Red Wings lost one of their top defenseman to retirement. Last year it was Brian Rafalski, this year it was future Hall of Famer Nicklas Lidstrom.
The Red Wings were the heavy favorites to land Ryan Suter in free agency to serve as his replacement along the blue line, but it never happened as he and Zach Parise signed new deals in Minnesota. The Red Wings are still looking to use their excess cap space and have been connected to both free agent Shane Doan and Columbus Blue Jackets forward Rick Nash. They were rumored to have made a "hell of an offer" to Columbus for Nash.
The Red Wings Are... Right now, worse. They can overcome the loss of a guy like Jiri Hudler rather easily I think, but Lidstrom is an entirely different issue, especially if they're counting on players from within the farm system (Brendan Smith, for example). When you add in a guy like Brad Stuart leaving as well the Red Wings defense is going to have a very different look next season. And it's not a better one.



3. Chicago Blackhawks

Key Additions: Sheldon Brookbank
Key Losses: None

Not much going on in Chicago this summer, other than some occassional trade rumors. Roberto Luongo's name has been mentioned on more than one occassion, while Patrick Kane also had his name make an appearance in the rumor mill. But as we sit in the middle of July the Blackhawks team that ended the postseason is looking like the one that's going to open the 2012-13 season.

The Blackhawks Are... The same. Goaltending is still a question mark, but at least the team didn't do anything stupid this offseason like trade a guy like Patrick Kane.



4. Nashville Predators

Key Additions: Chris Mason
Key Losses: Ryan Suter, Francis Bouillon, Jordin Tootoo, Jack Hillen

For the second time in three years the Nashville Predators lost a top defenseman to free agency when Ryan Suter signed a 13 year contract with the Minnesota Wild. That came just one year after they couldn't come to an agreement with Dan Hamhuis and traded his rights, and they're still facing an uncertain future with their other franchise blue liner, Shea Weber.

The Predators Are...Worse. At this point there's no other way around it. Nashville managed to re-sign Paul Gaustad and Hal Gill after giving up a nice collection of draft picks at the trade deadline to acquire them ,but they've still lost quite a bit this offseason and will once again need to rely on their pipeline from the farm system to replace it.

5. Columbus Blue Jackets
Key Additions: Adrian Aucoin, Nick Foligno, Sergei Bobrovsky
Key Losses: Marc Methot
Rick Nash is still a Blue Jacket as of Wednesday and that saga appears to have no end in sight. 
The team has made some other moves this summer by signing veteran Adrian Aucoin in an effort to add some depth to the blue line, trading Marc Methot for Nick Foligno, and attempting to improve its dreadful goaltending situation by acquiring Sergei Bobrovsky from the Flyers. Unfortunately, based on Bobrovsky's play last season and the likely return of Steve Mason as the No. 1 goalie following a third straight disappointing season there doesn't seem to be much room for improvement at the position this year.
The Blue Jackets Are... This still isn't a very good team, but until the inevitable Nash trade finally happens the Blue Jackets might be a slightly better team next season simply by default.
Seriously.
For no other reason than there is nowhere else to go but up.
For more hockey news, rumors and analysis, follow @EyeOnHockey and @agretz on Twitter and like us on Facebook.

SportsLine's Mike McClure, a DFS pro with more than $1M in winnings, gives optimal lineup...

This might be the new norm at the Winter Olympics, so here are three reasons why

It isn't a surprise to anyone, but an NBC executive acknowledged the ratings
The Blackhawks take a stand against racism by banning four fans from future home games

With Brian Elliott and Michal Neuvirth hurt, Philadelphia adds a big name to the net

David Kelly has nailed 35 of 42 NHL picks and he just locked in a selection for the Ottawa-Nashville...