Ten things to know for 2015 cycle
The recruiting cycle in college football is 365 days of late. With three of the top five Class of 2015 prospects in the country already committed, it's never too early to jump in and take a look at what's next.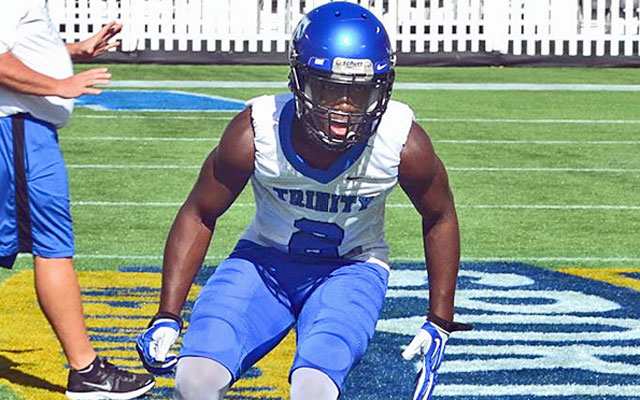 With the 2014 cycle in the books, it's time to dig in a little on the 2015 cycle with a look at 10 items of interest for that specific cycle. 
It's a special class of defensive tackles
If there's one position that jumps out so far for the 2015 cycle nationally, it's defensive tackle. There are seven prospects that project at that position with a five-star rating according to 247Sports Composite rankings (five of the top 11 prospects overall) and eight defensive tackles total amongst the top 45 overall prospects nationally. This includes No. 2 Trent Thompson (Albany, Ga./Westover), No. 8 Daron Payne (Birmingham, Ala./Shades Valley), No. 11 Shy Tuttle (Lexington, N.C./North Davidson), No. 13 Tim Settle (Manassas, Va./Stonewall Jackson), , No. 14 Daylon Mack (Gladewater, Texas), No. 17 Rasheem Green (Gardena, Calif./Serra), No. 34 Albert Huggins (Orangeburg, S.C./Orangeburg-Wilkinson) and No. 43 Jacob Daniel (Clovis, Calif./Clovis North).

Need a quarterback? California has plenty

The quarterback class in the state of California for the 2015 cycle is deep and talented. Five-star USC commit Ricky Town (Ventura, Calif./St. Bonneventure) and five-star Josh Rosen (Belflower, Calif./St. John Bosco) are among the top five prospects nationally and either could make a strong case for No. 1 overall. Beyond that pair, though, Brady White (Newhall, Calif./Hart), Notre Dame commit Blake Barnett (Corona, Calif./Santiago), Jake Browning (Folsom, Calif.) and Sheriron Jones (Moreno Valley, Calif./Rancho Verde) all are potentially elite. There's no other way to put it- this is a special crop of signal callers in the Golden State.

Who is No. 1?

There is no consensus in the recruiting industry about the No. 1 overall prospect. Rivals.com has Thompson, Scout.com has Settle, ESPN has defensive end Jashon Cornell (St. Paul, Minn./Cretin Derham Hall) and 247Sports currently has defensive end/jumbo athlete Canton Kaumatule (Honolulu, Hawaii/Punahou) No. 1 overall. The top overall prospect in 247Sports Composite rankings is LSU cornerback commit Kevin Toliver II (Jacksonville, Fla./Trinity Christian). So there is no consensus at this point. The guess here is that one of the two California quarterbacks- Town or Rosen- could end up taking the top overall spot in 247Sports Composite rankings at some point, but it's anyone's guess if the industry as a whole will come to a consensus in the near future.

Four big time linebackers?

There are four potentially elite linebackers that we've identified thus far for the 2015 cycle. The common thread with all of them- they are big and can run. Malik Jefferson (Mesquite, Texas/Poteet) is one of the top overall prospects in the Lone Star State this cycle and should end up being a battle between Texas A&M and Texas, John Houston (Gardena, Calif./Serra) is the nation's top projected inside linebacker (though he could play outside) and USC is in good shape early, Jeffery Holland (Jacksonville, Fla./Trinity Christian) is Toliver's teammate and has elite closing speed to go along with his size. Florida is in good shape here. Justin Hilliard (Cincinnati, Ohio/St. Xavier) is the top prospect in Ohio, has elite size/speed/athleticism and has a national offer list. Ohio State, Michigan and others are among his current top group.

Michigan State set up for a big in-state haul

When the Spartans hired Curtis Blackwell on their staff, they knew it would pay dividends recruiting in-state and the 2015 cycle should be the start. Running back Michael Weber (Detroit, Mich./Cass Tech) is one of the top prospects at his position nationally and is an early lean to the Spartans. Cornerback/athlete Brian Cole (Saginaw, Mich./Heritage) is currently the No. 1 prospect in the state and Michigan State is in good shape early to land him. The Spartans already have three of the top 10 prospects in-state for the 2015 cycle, according to 247Sports Composite Rankings, committed.

There is talent in Tennessee

Tennessee signed a program-impacting class during the 2014 cycle that was heavy on in-state talent. The Vols signed nine of the top 11 prospects from their own state when all was said and done. For 2015, there is yet again another large crop of high-level prospects within the borders of the Volunteer State. Thus far, the state is 25-plus deep with prospects that already have high-level FBS offers and there are 10 prospects rated four stars or above according to 247Sports Composite rankings. There have been years where the chunk of the state's top talent has come out of Memphis, which is closer to Ole Miss and other SEC programs than it is to Knoxville. That's not the case for 2015 where nine of the top 11 prospects identified so far are from the Greater Nashville area, a much easier sell for UT.

Aggies off to a torrid start?

Texas A&M currently has the No. 1 class for the 2015 cycle according to 247Sports and the Aggies appear to be just scratching the surface within the state. Five of the top 17 Texas prospects according to 247Sports Composite rankings are already committed to Texas A&M. The No. 1 prospect, cornerback Kendall Sheffield (Missouri City, Texas/Fort Bend Marshall) and dynamic quarterback Kyler Murray (Allen, Texas) are both considered early Texas A&M leans. The Aggies are in good shape for Jefferson as well. At this early stage, new Texas head coach Charlie Strong and his staff have their work cut out for them as the Aggies have gotten the jump- a big jump- on the elite talent within the state.

Talent in Eastern Pennsylvania

New Penn State head coach James Franklin and his staff will have some talent to pursue in eastern Pennsylvania during the 2015 cycle. Seven of the current top 10 prospects in the Keystone State according to 247Sports Composite rankings hail from Harrisburg east- prime Penn State recruiting territory. This includes elite cornerback John Reid (Philadelphia, Pa./St. Joseph's Prep), offensive tackle Ryan Bates (Warminster, Pa./Archbishop Wood) and four very good running back prospects- Andre Robinson (Harrisburg, Pa./Bishop McDeavitt), Josh Adams (Warrington, Pa./Central Bucks South), Nasir Bonner (Philadelphia, Pa./Imhotep) and Rutgers commit Saquon Barkley (Whitehall, Pa.). Keep an eye on quarterback Kyle Shurmur (Glenside, Pa./La Salle College) and safety Jay Stocker (Coatesville, Pa.) as well- both are excellent prospects. Certainly Penn State will have to ward off competition to sign the lion's share (no pun intended) of these prospects, but it sets up nicely for Franklin and company. The current top prospect in the state- offensive tackle Sterling Jenkins (Pittsburgh, Pa./Baldwin) will be a battle that Penn State will fight in western Pennsylvania with the likes of Michigan, Ohio State and others.

Time to call the Hogs

Arkansas has signed back-to-back solid classes under Bret Bielema, including one of the best offensive line hauls in the country for 2014. The 2015 cycle, however, is set up for the Razorbacks to have the type of class that gains national headlines thanks to it being a deep cycle in the Natural State. Already, Arkansas ranks No. 7 nationally in the 247Sports team rankings for 2015 and has three of the top six in-state already committed. This includes elite quarterback Ty Storey (Charleston, Ark.), High-upside defensive end Jamario Bell (Junction City, Ark.) and big-time offensive tackle Colton Jackson (Conway, Ark.). The Razorbacks also swiped one of the top prospects in Ohio- defensive tackle Hjalte Froholdt (Warren, Ohio/Harding) and a four-star offensive guard, Zach Rogers (Carrollton, Texas/Hebron).

Year of the early commit?

Three of the top five prospects for the 2015 cycle according to 247Sports Composite rankings have already committed, including No. 1 Toliver (LSU), No. 3 overall and elite offensive tackle Mitch Hyatt (Clemson) and No. 5 Town (USC). Nine of the 36 prospects at present with a five-star rating have already verbally committed, six to programs in the Southeastern Conference.
It looks like Jennings is slowly making his way back to the Vols after being dismissed last...

Offensive coordinator Brian Daboll's departure to the NFL has left a void at Alabama

Wilkins was considered a potential first-round pick in the NFL Draft
Brown will have two years of eligibility remaining

Chip Kelly has added some talent to his quarterback room from within the Pac-12

The 2017 season is in the books, and several big-name stars are jumping early to the NFL