Gibson, Diamondbacks go full meathead with McCutchen beanball
Accidents happen in sports, but throwing a 95-mph fastball at NL MVP Andrew McCutchen on purpose? Kirk Gibson's thinking is outdated (and dangerous).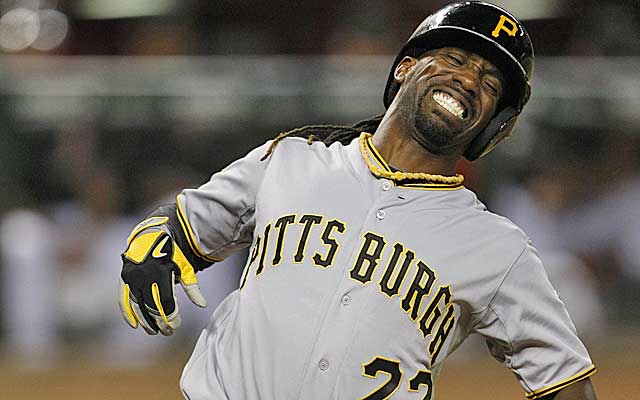 More MLB: Power Rankings | Expert Picks | Latest news & notes | Fantasy news
Here's one example of an acceptable risk of playing baseball: A pitcher covers first base, lunges at the bag, lands awkwardly, blows out his ACL. It happened Friday night to Paul Maholm of the Dodgers. It's a shame, but it happens. One of those things.
Another example of an acceptable risk: An outfielder feels a twinge in his hamstring, plays through it, makes it worse. He overcompensates, hurts the knee in the other leg and misses all of the World Series. All but one at-bat, when Kirk Gibson limped to home plate in 1988 and launched that improbable home run to win Game 1.
And now, an unacceptable risk: That same tough guy in 1988, Kirk Gibson, is now a manager for the Arizona Diamondbacks, only he's no longer a tough guy. Now he's a meathead, and his meathead mentality has seeped through the organization, so whether Gibson ordered it or not isn't the question. This is Gibson's team, that was Gibson's pitcher, and on Saturday night Diamondbacks right-hander Randall Delgado buried a 95-mph fastball in the back of reigning National League MVP Andrew McCutchen of the Pirates in retaliation for ...
For what, exactly?
What were the Diamondbacks retaliating against? An accident? That's what had happened the previous night, when Pirates reliever Ernesto Frieri hit Diamondbacks star Paul Goldschmidt in the hand. There was no bad blood between Frieri and Goldschmidt, no known beef between the teams. Frieri threw a pitch inside, and it went a bit too far inside.
And it broke a bone in Goldschmidt's hand, sending him to the disabled list.
That's a shame. Goldschmidt is one of the best players in the National League, and even if he wasn't, it's a shame for anyone to be injured by a pitch. But it was an accident. It's one of those acceptable risks that everyone who plays baseball knows could happen. It's part of the game.
What happened the next night to Andrew McCutchen? Sadly it's also part of the game, but a shrinking part. It doesn't happen nearly as often as it used to, because baseball is getting better. People are getting smarter. Not that it takes a whole lot of intelligence to realize that something as hard as a baseball, thrown as fast as 95 mph, isn't just an instrument of retaliation. It's a dangerous weapon.
Watch what happened this spring to Aroldis Chapman of the Reds, when a baseball off the bat of Kansas City's Salvador Perez caved in his face. That was awful, but an acceptable risk of playing the game. If players weren't willing to risk being accidently hit by a baseball, there would be no baseball. Because it's going to happen.
But what took place Saturday night didn't have to happen. That was a choice, and while the Diamondbacks were brave enough to hit an innocent guy in the back, they were far too spineless to take credit for it.
Kirk Gibson pulled on his meathead hat and told reporters after the game that it looked like the pitch "got away" from Delgado.
"Guys get hit," Gibson said. "It's part of the game."
This part of the game was so obvious, reporters predicted the payback would happen -- and even who it would happen to. See, Goldschmidt is Arizona's best player. McCutchen is Pittsburgh's best player. So it was McCutchen who was going to be hit. Gibson's a meathead, and people knew what would happen. Check this tweet from before the game.
#Pirates McCutchen might want to wear extra armor at plate tonight. #Dbacks put Goldschmidt on DL with broken hand after HBP last night.

— Rob Biertempfel (@BiertempfelTrib) August 2, 2014
Delgado said he was "trying to work my corners" and that he was "trying to mix my pitches."
Diamondbacks catcher Miguel Montero, who had sounded angry before the game when he said the Pirates shouldn't have been pitching Goldschmidt inside with the score 9-4 in the ninth inning -- is a piped fastball the pitch of choice in a five-run game? -- was as cowardly as his manager and pitcher when he said after the game Saturday:
"We were trying to go in. We had a base open. If we walk him, we walk him. But I believe it got away from [Delgado]. It got him pretty good."
Yeah. Pretty good. Watch that video and see where it got McCutchen. Upper back, maybe 8 inches from the back of his head. Sure, the guy's wearing a batting helmet. Helmets aren't foolproof. Last year Braves outfielder Jason Heyward was hit in the helmet by a fastball from the Mets' Jon Niese, and the pitch broke Heyward's jaw anyway.
Here's where sports are moving: toward safety. In football teams don't practice outside in the heat as hard as they used to, and they provide more water than they used to, and targeting the helmet like players used to do is now a punishable offense -- because things used to be done in a meathead way. And football got smarter. Sometimes officials go too far to protect a player, but you know what? Too careful is better than not careful enough.
In baseball, home-plate collisions are now something to be avoided, with penalties for a catcher who doesn't give the runner enough room to reach the plate. Sometimes baseball goes too far with the ruling, as might have been the case Thursday night when the Reds beat the Marlins on a disputed call at the plate, but you know what? Too far is better than not far enough.
But still there are Neanderthals among us, meatheads like Kirk Gibson whose entire persona -- his legend -- is tied to the night he hobbled to the plate with pain-killing drugs injected in his leg and hit one of the most famous home runs in baseball history. That was a tough-guy move, and we applauded.
What happened Saturday night was a meathead move, and we're appalled.
When do we get more than appalled?
When does baseball make these meatheads, these Neanderthals, stop? Neanderthals went extinct for a reason, you know. They were too stupid to survive in an improving world.
Patrick plans to call it a career after running at the two most iconic U.S. auto races

Let the truth set you free, sir

The poor kid never even saw it coming
The burglars that Childress fired at were carrying military-grade weapons on them, the cops...

'Kong Infinity' and 'Happy Ending' headline two additions to the ultimate endurance course...

Nik Kayler's body has been found after going missing last week during a fishing tournament