2014 team preview: Seattle Mariners
The Mariners made a huge splash in the offseason by signing Robinson Cano, but is it enough to make them serious contenders in the AL West? Let's preview their season.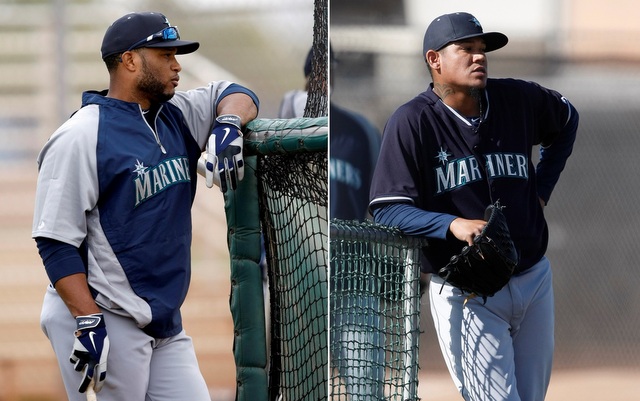 More: Likes, dislikes | Over/unders | All Team Previews | Spring Training
In a winter full of big splashes, no team made a bigger splash than they Mariners. They lured Robinson Cano -- the unquestioned top free agent on the market -- away from the Yankees with a 10-year, $240 million contract. It is tied for the largest non-Alex Rodriguez contract in history.
And yet, the Mariners still come into the 2014 season more pretender than contender. They made a few smaller moves in addition to Cano but it figures to take much more than that to improve a club that went 71-91 a year ago, finishing in fourth place in the AL West for the fourth straight year. Once again, the team's fate rests in the hands of its young players, most of whom have not developed as hoped.
Probable lineup
3B Kyle Seager
2B Robinson Cano
RF Corey Hart
1B Justin Smoak
SS Brad Miller
Bench - C John Buck, IF Nick Franklin, OF Abraham Almonte, UTIL Willie Bloomquist
That's six lefties, two righties (Hart, Zunino) and one switch-hitter (Smoak) in the everyday lineup. Not an ideal setup but it is what it is. Outside of Cano, I don't think any of these guys are locked into those lineup spots anyway, especially the top two and bottom four spots. New manager Lloyd McClendon figures to bunch his top hitters -- who could be different players depending on the week -- around Cano to maximize their run scoring chances.
Probable rotation
Both RHP Hisashi Iwakuma (finger sprain) and RHP Taijuan Walker (shoulder) are expected to start the season on the DL, making Seattle's opening day rotation look rather thin. Felix is awesome, but those other four guys are pretty shaky. Once healthy, both Iwakuma and Walker will step right into the rotation at the expense of whoever is pitching the worst at that time.
Probable bullpen
Closer - RHP Fernando Rodney
Setup Men - RHP Danny Farquhar, LHP Charlie Furbush
Middle Men - RHP Yoervis Medina, RHP Tom Wilhelmsen, LHP Lucas Luetge
Long Man - RHP Blake Beavan
RHP Hector Noesi could figure into this mix if Beavan opens the season in rotation (with Maurer in Triple-A, most likely). The Mariners have several power arms in front of Rodney, with Farquhar and Medina posting excellent strikeout numbers and Furbush dominating lefties last summer. Wilhelmsen was the closer at this time a year ago but ran into some serious control problems.
Under-the-radar offseason transaction
Morrison. The 26-year-old had clearly fallen out of favor with the Marlins, but in his one full healthy season (2011), he put up a .247/.330/.468 (116 OPS+) batting line with 25 doubles and 23 home runs in 123 games. Knee surgery has hampered him these last two seasons but he is now healthy and in a new city with a new organization. LoMo is a former top prospect who seems like a classic change of scenery guy, and all it cost the Mariners was a reliever with a career 5.04 ERA (Carter Capps).
Fantasy breakout: Brad Miller
"Last season, Fantasy owners got just a small taste of the potential that Miller showed as a prospect. With a .265 batting average, he was nowhere close to the .334 mark he posted in three seasons in the minors, but Miller did a decent job of making contact and hitting for power. Given that his home run production ramped up over the final quarter of the season (he hit six of his eight home runs over his last 38 games, as opposed to two during his first 38 games) and that he was more of a flyball hitter in the minors, Miller could emerge as one of the majors' bigger home run threats. While Miller got into more of a power groove late in his rookie season, he seemed to forget how to draw a walk, but that had been a strength of his both in the minors and in his early weeks in the majors. If Miller can maintain the power gains he achieved while rediscovering a more patient approach, he could emerge as one of the top eight shortstops. As it is, Miller's a fairly safe bet to finish among the top 12." - Al Melchior [Full Mariners fantasy preview]
Biggest strength
I'm going to go with the back of the bullpen. Rodney can put a little scare into you from time to time, but he is generally effective in the ninth inning. Farquhar and Medina both miss a ton of bats and, as I mentioned earlier, Furbush is an elite left-on-left guy. It wouldn't be a surprise if Wilhelmsen rebounded to his 2011-12 form either; relievers are unpredictable like that. McClendon will have some top notch (and underappreciated) bullpeners at his disposal late in games.
Biggest weakness
Rotation depth, and it's already been exposed with the Iwakuma and Walker injuries. Baker, who has thrown a total of 15 innings the last two seasons due to elbow problems, is the No. 2 behind Hernandez by default right now. Ramirez has shown flashes but like most young pitchers he has been up and down. Paxton and Maurer are total unknowns at this point; no one really knows what either can do starting every five days in the big leagues. Felix and Iwakuma (when healthy) are dynamite, arguably the best one-two punch in the league, but rotation situation after them is sketchy.
Outlook
Despite the Cano signing, this was not a good off-season for the Mariners. Their previous manager (Eric Wedge) turned down a contract extension because he was unhappy with the team and then a scathing exposé with on-the-record quotes from ex-front office members revealed dysfunction at the highest levels of the organization. It's not a good look for a pro team.
On the field, the Mariners will have to contend with not only the Athletics and Rangers, but also the improved Angels. They paid big to get Cano and with good reason: he's a brilliant player who will help them win many more games in 2014 than they did in 2013. Is that enough to overcome the thin rotation and perennially underachieving youngsters? My guess is no. Another fourth place finish seems to be in the cards and I think finishing any higher should be considered a step in the right direction. I suspect it will be deemed a disappointment, however.
---
Coming Friday: Houston Astros
Marcell Ozuna figures to be the next Marlins star on the move

Several relievers have signed in the last two days

Several teams are interested in the switch-hitting first baseman
Neshek and the Phillies are closing on a two-year contract

And the team that first drafted Cole is interested

This scout was SUPER into Jeter