Aaron Hicks will stop switch-hitting due to lack of confidence as lefty
Twins center fielder Aaron Hicks will stop switch-hitting because he has no confidence as a left-handed hitter.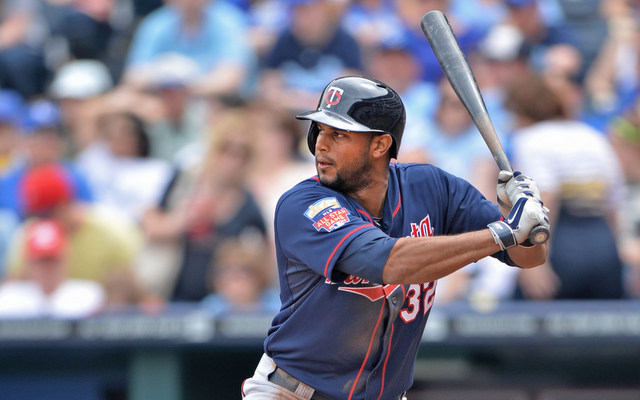 More MLB: Power Rankings | Expert Picks | Latest news & notes | Fantasy news
Twins center fielder and former top prospect Aaron Hicks has decided to stop switch-hitting due to confidence issues. From the sound of it, he made the decision on his own and without any prompting from the team:
Hicks came into Gardenhire's office and said he has no confidence hitting left-handed so he's going to drop switch-hitting.

— Rhett Bollinger (@RhettBollinger) May 26, 2014
Hicks, 24, is a career .191/.280/.314 (66 OPS+) hitter in 445 plate appearances over the past two seasons. During that time he has hit .179/.261/.285 against right-handed pitchers and .227/.333/.402 against lefties. Hicks is a natural right-handed hitter, like most switch-hitters.
Shane Victorino is the best and most recent example of a switch-hitter moving to one side of the plate exclusively. He stopped hitting left-handed midway through last season, though he has indicated he may return to switch-hitting in a future. It hasn't happened yet though.
Hicks has been a switch-hitter for most of his life and the adjustment to facing righties as a right-handed batter will be a challenge. Remember, he has never seen a slider break away from him or two-seamer run back in on his hands. He will have to make that adjustment at the MLB level, at least at first, however.
Gardenhire said in an ideal world, Aaron Hicks would go to Triple-A to work on hitting right-handed vs righties. But Hicks only CF on roster

— Rhett Bollinger (@RhettBollinger) May 26, 2014
The Twins come into Monday's action with a 23-24 record, and although they are in third place in the AL Central, their -21 run differential is the third worst in the AL. They are rebuilding and are in position to give Hicks a chance to learn how to hit right-handed full-time at the MLB level.
The adjustment might not be pretty at times -- for what it's worth, Victorino took to it exceptionally well last year -- but it just might help save Hicks' career.
The Dodgers and Braves pulled off a whopper on Saturday

Sabathia will reportedly spend a 10th season in the Bronx

Fowler suffered a knee injury at Chicago's Guaranteed Rate Field
The lefty starter is coming off a terrible season

After acquiring Ian Kinsler and Zack Cozart in recent days, the Angels are trending upward

Cozart's coming off a big season as the Reds' shortstop