All-Time Single-Season Team: Arizona Diamondbacks
Let's team up 2001 Luis Gonzalez with 2013 Paul Goldschmidt. Yes, it's time for the All-Time Single-Season team for the Arizona Diamondbacks.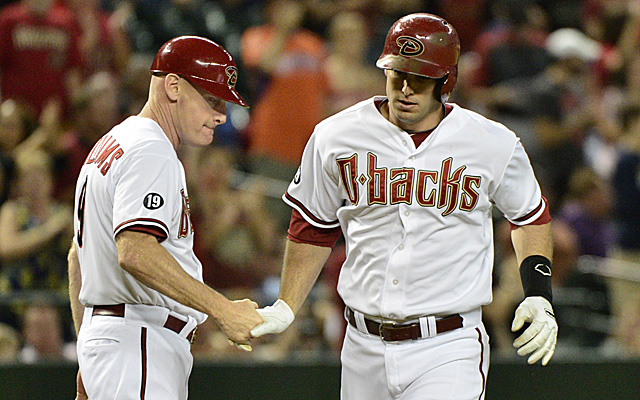 All-Time Single-Season Teams: CHC | STL | MIL | CIN | PIT | CHW | DET | KCR | CLE | MIN
As we move forward with our all-time single-season series, our latest installment is the youngest franchise (tied with Tampa Bay) in the majors. Thus, this entry is less about a history lesson and more picking outstanding efforts we've seen in recent memory. Needless to say, it was much easier to compile.
It's the Arizona Diamondbacks, who started play in 1998.
As a reminder, this is a single-season series so we're going after the best single-season per position in the history of the franchise and not necessarily the best player in franchise history. Let's dive in.
CATCHER - Miguel Montero, 2011
Damien Miller had a few quality seasons, but overall this was only a choice between several Montero seasons.
Montero made his only All-Star team in 2011 -- when the game also happened to be hosted by Arizona -- when he hit .282/.351/.469 (121 OPS+) with 36 doubles, 18 homers and 86 RBI. He also nailed an NL-best 40 percent of opposing would-be basestealers, compared to a league average of 28 percent, and held a leadership role on an unlikely NL West champion. That's all good enough for the win here.
FIRST BASE - Paul Goldschmidt, 2013
This wasn't even close. Goldy just put together one of the best seasons in franchise history, regardless of position. He was runner-up in NL MVP voting to Andrew McCutchen and led the NL in homers, RBI, slugging, OPS, OPS+, total bases and intentional walks.
Mark Grace, Chad Tracy and Tony Clark had quality 1B seasons for Arizona, but none held a candle to Goldschmidt's.
SECOND BASE - Jay Bell, 1999
Bell clubbed 38 homers and drove home 112 runs while also scoring 132 runs in the first great year of the Diamondbacks franchise. He hit .289/.374/.557 (131 OPS+). That gets him the nod here in close fashion.
Bell's serious competition came from Kelly Johnson in 2010 and Aaron Hill in 2012. They were very similar, too. Check 'em out:
Johnson: .284/.370/.496, 127 OPS+, 166 H, 36 2B, 5 3B, 26 HR, 71 RBI, 93 R, 13 SB
Hill: .302/.360/.522, 133 OPS+, 184 H, 44 2B, 6 3B, 26 HR, 85 RBI, 93 R, 4 SB
SHORTSTOP - Stephen Drew, 2010
Along with outstanding defense at short, Drew hit .278/.352/.458 (113 OPS+) with 33 doubles, 12 triples, 15 homers, 61 RBI, 83 runs and 10 stolen bases. It was the third straight season he finished second in the NL in triples.
Since we already used Bell at second, the only real competition to three or four different Drew seasons came from 1998 Tony Batista and 2003 Alex Cintron. Yes, pickings were slim.
THIRD BASE - Matt Williams, 1999
Williams finished third in MVP voting in a very crowded field in 1999, as he hit .303/.344/.536 with 37 doubles, 35 homers and 142 RBI. He also flashed quality leather at the hot corner as the D-Backs went from 65 to 100 wins in just their second season.
Mark Reynolds (namely 2009) and Troy Glaus (2005) also had great power seasons in Arizona while Martin Prado (2013) and Ryan Roberts (2011) had gritty, spark-plug type seasons that are beloved by the D-Backs regime. Williams' 1999 season was an obvious top dog here, though, for me.
LEFT FIELD - Luis Gonzalez, 2001
One of the easiest selections we'll have in the entire series. The top handful of left field seasons in Diamondbacks history all belong to Gonzalez and he had one season in his career that dwarfed the rest.
Playing in all 162 games, Gonzalez hit .325/.429/.688 (174 OPS+) with 36 doubles, seven triples, 57 homers, 142 RBI and 128 runs. He also came up with the walkoff hit against Mariano Rivera in Game 7 to win the World Series. As if he needed it, that provides bonus points for the 2001 version of Gonzalez.
CENTER FIELD - Steve Finley, 2000
Finley posted several quality seasons for the D-Backs in his mid-to-late 30s. I'll go with the 2000 season, his best offensive output. He hit .280/.361/.544 (121 OPS+) with 27 doubles, five triples, 35 homers, 96 RBI, 100 runs and 12 stolen bases that season while also winning a Gold Glove. The runner up here would have been Finley himself for his 1999 effort.
Several other Finley seasons were in the mix, just as were a few Chris Young years and 1998 Devon White.
RIGHT FIELD - Justin Upton, 2011
Aside from Goldschmidt and Gonzalez's seasons listed above, Upton probably had the best season in franchise history in 2011. He helped lead the unlikely division championship referenced above by hitting .289/.369/.529 (141 OPS+) with 39 doubles, five triples, 31 homers, 88 RBI, 105 runs and 21 stolen bases. He won the Silver Slugger and finished fourth in NL MVP voting.
This was a choice between two Upton seasons, as 2009 came in second. Chad Tracy in 2005, Reggie Sanders in 2001 and Gerardo Parra in 2013 also warrant mention, but the only serious consideration here was Upton's 2011 campaign.
STARTING PITCHERS - 2001 Randy Johnson, 2001 Curt Schilling, 2006 Brandon Webb, 2009 Dan Haren, 2011 Ian Kennedy
Remember our rule that we'll only use one season from one particular player -- otherwise this may have been all Johnson and Schilling. Still, this is a very impressive stable from a franchise that hasn't even been around for two decades.
The lines:
Johnson: 21-6, 2.49 ERA, 188 ERA+, 1.01 WHIP, 372 K, 249 2/3 IP, 3 CG, 2 SHO
Schilling: 22-6, 2.98 ERA, 157 ERA+, 1.08 WHIP, 293 K, 256 2/3 IP, 6 CG, 1 SHO
Webb: 16-8, 3.10 ERA, 152 ERA+, 1.13 WHIP, 178 K, 235 IP, 5 CG, 3 SHO
Haren: 14-10, 3.14 ERA, 142 ERA+, 1.00 WHIP, 223 K, 229 1/3 IP, 3 CG, 1 SHO
Kennedy: 21-4, 2.88 ERA, 137 ERA+, 1.09 WHIP, 198 K, 222 IP, 1 CG, 1 SHO
Man, it's easy to forget how good Webb was prior to injury, isn't it? From 2006-08, his average season was 19-8 with a 3.13 ERA (150 ERA+). He won the 2006 Cy Young while finishing second in 2007 and 2008. He's still only 34 years old. Such a shame what injuries do at times.
The Schilling and Johnson choice to go with 2001 was based mostly on the regular season, but the stellar work they each did in October made the decision easier. Of note: They finished 1-2 in Cy Young voting and no one else was even close.
RELIEF PITCHERS - 2002 Byung-Hyun Kim, 2007 Jose Valverde, 2011 J.J. Putz
You've gotta give credit to Kim after his colossal failures in the 2001 World Series, because he bounced back with the best year of his career in 2002. The submariner closed down 36 of his 42 save chances while posting an ERA of 2.04 (223 ERA+). He had a 1.07 WHIP and struck out 92 batters in 84 innings. He even picked up eight wins in relief.
Valverde in 2007 led the majors with 47 saves in 54 chances. He pitched to a 2.44 ERA (181 ERA+), 1.12 WHIP and 78 strikeouts in 64 1/3 innings.
Putz was outstanding in his first year with Arizona, saving 45 games in 49 chances with a 2.17 ERA, 0.91 WHIP and 61 strikeouts in 58 innings.
Some other quality relief seasons have been posted by David Hernandez, Chad Qualls, Brandon Lyon, Gregg Olson and Matt Mantei.
---
THE LINEUP
1. 2011 Justin Upton, LF
2. 2013 Paul Goldschmidt, 1B
3. 2001 Luis Gonzalez, LF
4. 1999 Matt Williams, 3B
5. 1999 Jay Bell, 2B
6. 2000 Steve Finley, CF
7. 2010 Stephen Drew, SS
8. 2011 Miguel Montero, C
Next up: The also-young Colorado Rockies
Granderson heads north of the border for his age-37 season

What did the Pirates get in return for their franchise player?

Rivero could remain in Pittsburgh for some time to come
The White Sox, Angels, Athletics, Orioles and Marlins are the holdouts after Blue Jays fol...

The Pirates have several attractive trade chips if they decide to go into a full rebuild

Gerrit Cole was traded over the weekend and now McCutchen is on the move