Defiant Derek Jeter is playing the role he knows best
Derek Jeter says he has 'no doubt' he'll be back playing with the New York Yankees, and 'no doubt' he'll be able to play as well as ever. He'll have to defy age and injury to do it, but just remember that defiance may be the role that Derek Jeter plays best.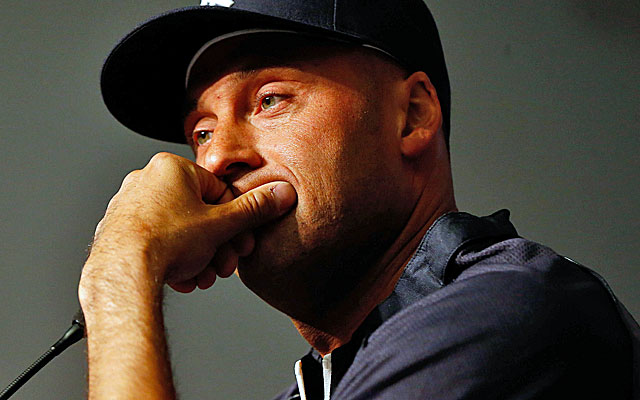 NEW YORK -- Is he always like that?
Yes, he is. And that may be the best thing you can say today about Derek Jeter 's chances of coming back and being the Derek Jeter we remember.
No one really knows now whether he will. No one really knows now whether he can.
More on Yankees
Related links
He's going to be 39 in June. He's not going to play again until sometime after that. And whenever he does play, he's going to have to defy the natural aging process, and also the history that says 39-year-old shortstops can't move around the way they once did, if they can even make it onto the field at all.
But defiance may be the role Derek Jeter plays best.
Defiance is the role he played Thursday, in his first (and he says only) news conference about the setback he suffered last week, when a CT scan showed another break in his left ankle he originally broke last October.
"Is he always like that?" asked a couple of major-league scouts who watched the press conference on television.
Yes, he is.
He never wants to say that he's hurting. He never doubts that he'll be back. He never doubts that he can be as good as ever.
He never acknowledges doubt.
He treats injuries the way he treats opponents on the field.
At some point, that won't be enough. This may well be that point. But before you say with any certainty that it is, remember who it is you're talking about.
"Derek's never done anything but have success, so I would expect a successful player [when he returns]," Yankees general manager Brian Cashman said.
The Yankees won't predict when Jeter will play again, other than to say it will be sometime after the All-Star break. Jeter refused to give a target date, other than to say it will be as soon as possible.
"As soon as I can physically play, I'll play," he said.
He showed up for the press conference in uniform, and he showed up without the walking boot. He hasn't discarded the boot, even though he insisted that he doesn't really need it.
He admitted, grudgingly, that a broken bone is not something he can play through.
"I can fake my way past people," he said. "But you can't fake a CT scan."
That's as far as Jeter would go, though. There would be no signs of self-doubt, no suggestion that he has even contemplated the idea that his great career could be coming to an end.
"No doubt," he said, over and over.
No doubt that he'll be back. No doubt that he can still be just as successful as he was last year, as good as ever.
No, didn't you hear him?
"No, no doubt," he said. "When you have doubt, that's when you're in trouble. There's no doubt. I have no doubt. I'll be back."
But what about all the time he'll have missed.
"I think I'll be very well rested when I come back," he said.
We can't say when that will be. We can't say what kind of player he'll be.
I have my doubts. Anyone who is being honest and realistic has doubts.
Anyone but Derek Jeter.
He hasn't acknowledged doubt for the 18 years we've known him on the major-league stage. If someone else tries to bring it in, he's always been defiant.
He still is. We saw that Thursday. We saw that Jeter is treating this injury the way he has treated others.
We looked for any sign, any admission that this will be the injury he can't return from. We looked, we probed, but Derek Jeter didn't give us any of that.
None of that guarantees he'll return, and it certainly doesn't guarantee that he'll return as good as ever.
He has plenty going against him, but he still has one thing going for him. He's Derek Jeter.
Do you want to be against him?
Francisco leads the Dominican Winter League with seven home runs

Thome deserves enshrinement and here's why the case against him does not hold up

The Twins have already fortified the bullpen with Addison Reed, and now they want to address...
The Orioles likely want pitching, and the Indians have plenty of it

Halladay died in a November plane crash off the coast of Florida

The power-hitting outfielder is headed to Toronto