Now they can say it: Dodgers told Mattingly he could get fired
The Dodgers stuck with Don Mattingly when the team was struggling, but Mattingly admitted Tuesday that they told him a change was possible.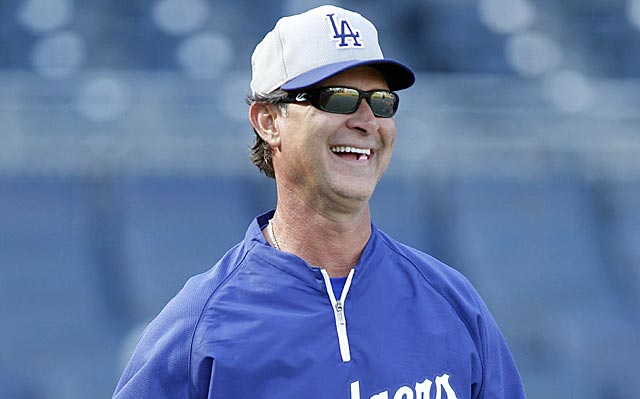 ST. LOUIS -- We may never know exactly how close Don Mattingly came to getting fired as manager of the Dodgers.
We do know now that it was a lot closer than the team ever admitted -- because Mattingly himself said so Tuesday night. At one point in late May, Mattingly said, team president Stan Kasten actually discussed the subject with him.
"Stan was really honest," Mattingly said. "He said, 'Donnie, I don't want to do anything, but at some point I would have to.' "
Kasten had always publicly maintained that Mattingly's job wasn't an issue, but you would hardly have expected him to say anything different. As it turned out, Hanley Ramirez got healthy, Yasiel Puig came to the big leagues, the Dodgers started winning and there was no more talk about firing the manager.
Now, if anything, the question is why the Dodgers have waited to extend Mattingly's contract.
Back when speculation about the manager's job was a daily topic, Mattingly dealt with it well. He said he understood why people were asking, and he said Tuesday he also understood why Kasten brought it up directly.
"At some point, a team needs a different voice," Mattingly said. "I get it."
Dodger players and coaches praise Mattingly for the way he handled the team's early-season struggles, avoiding any sign of panic and simply telling the players repeatedly that he expected the team to play better.
The Dodgers entered play Tuesday having won 32 of their past 39 overall, and 15 straight on the road. They've more than justified the decision to stick with Mattingly, no matter whether they ever really came close to firing him or not.
Even now, Mattingly says, it doesn't bother him that Kasten admitted the organization thought of making a change.
"He didn't threaten me," Mattingly said. "He was just telling the truth."
The truth is they were thinking about firing him. But the truth also is that they didn't do it.
Gallardo spent the first eight years of his career in Milwaukee

MLB revenues are at a record high right now, but teams aren't spending it on players

Chicago added Tyler Chatwood earlier this offseason but might not be done adding to the ro...
The Dodgers and Braves pulled off a whopper on Saturday

Sabathia will reportedly spend a 10th season in the Bronx

Fowler suffered a knee injury at Chicago's Guaranteed Rate Field