Patrick Corbin leaves start with forearm stiffness
Diamondbacks ace Patrick Corbin left his start Saturday with stiffness in his throwing forearm. He is supposed to start next week against Clayton Kershaw and the Dodgers in Australia.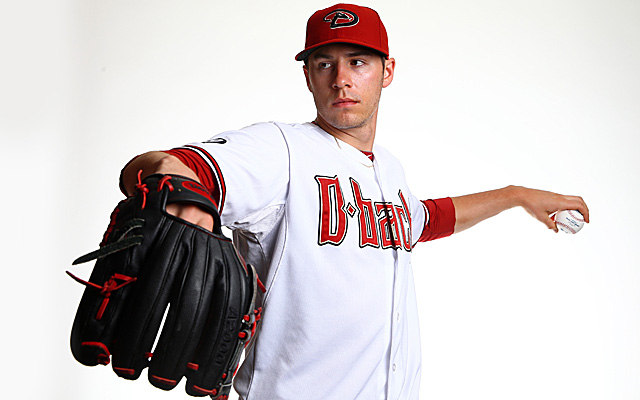 MORE: Spring Training | Scoreboard | FA tracker: hitters | FA tracker: pitchers
All-Star left-hander Patrick Corbin was set to square off against reigning NL Cy Young winner Clayton Kershaw next Saturday in Australia in the first game of the 2014 MLB season. He still might, but there's at least a question now.
Diamondbacks ace Corbin was forced to leave his final spring start mid-at-bat Saturday. He exited with the D-Backs' athletic trainer and was later said to have left the stadium with forearm stiffness. Though those last two words are sometimes used when there's a serious elbow injury, manager Kirk Gibson told reporters (such as Zach Buchanan) that the issue is not the elbow. Further, Gibson said it is too early to tell if Corbin will be OK for his start in Australia (Buchanan).
Corbin had worked 6 2/3 innings Saturday, allowing two runs (zero earned) while striking out seven.
Needless to say, losing one's ace the week before the season is set to begin would be a rather devastating blow. In terms of depth, though, the D-Backs do have it. Behind Corbin, there's Trevor Cahill, Brandon McCarthy, Bronson Arroyo and Wade Miley with Josh Collmenter or Randall Delgado as fill-in options from the bullpen. Another route would be to leave the 'pen alone and go with phenom prospect Archie Bradley.
Then again, Arroyo and Cahill have been battling injuries this spring as well, so the D-Backs' depth will be tested in the near future.
Corbin, 24, was 14-8 with a 3.41 ERA, 1.17 WHIP and 178 strikeouts in 208 1/3 innings last season -- his first full season in the bigs. He made the All-Star team, too.
Marcell Ozuna figures to be the next Marlins star on the move

Several relievers have signed in the last two days

Several teams are interested in the switch-hitting first baseman
Neshek and the Phillies are closing on a two-year contract

And the team that first drafted Cole is interested

This scout was SUPER into Jeter