Team needs: American League West
It's time to head on over to the American League in our continuing look at offseason needs. First up, the now-five-team AL West.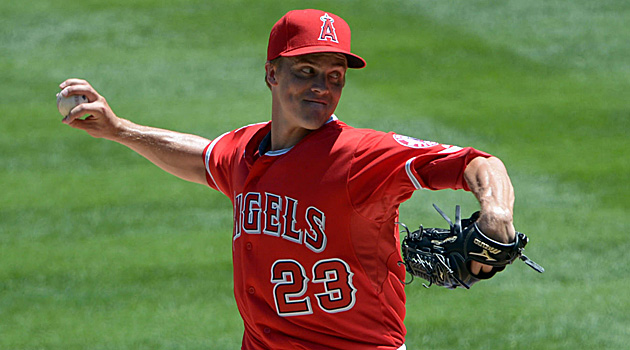 Two teams in the AL West appear to be fighting for the services of Zack Greinke. (US Presswire)
It's time to head on over to the American League in our continuing look at offseason needs. First up, the now-five-team AL West.
The A's shocked the world in 2012, putting together a rag-tag bunch that many (myself included) believed would lose upwards of 95 games. Instead, the A's won 94 and ended up as the AL West champions. The A's don't have to do much to their roster, but they currently have Scott Sizemore, Jemile Weeks, Adam Rosales and Josh Donaldson as their starters at second, short and third, respectively, with shortstop being the biggest hole. The A's do have trade bait, with five starting-caliber outfielders (Coco Crisp, Seth Smith, Yoenis Cespedes, Josh Reddick and Chris Young), though GM Billy Beane has publicly said he's not trading any of them.
Biggest needs: Shortstop.
Possible free-agent targets: Stephen Drew, Jeff Keppinger, Alex Gonzalez, Jason Bartlett.
Possible trade targets: Yunel Escobar, Asdrubal Cabrera, Jed Lowrie.
After two straight appearances in the World Series, the Rangers fell apart in late September and ended up in the wild-card game, which they lost. Now Josh Hamilton and Mike Napoli are free agents. Also worth noting: All-Star shortstop Elvis Andrus and young phenom Jurickson Profar both play shortstop. So if GM Jon Daniels wishes to trade either, it could work well in landing back significant talent, though it doesn't sound like he's prepared to do so at this point. Dealing Ian Kinsler and moving Profar to second is feasible as well.
Biggest needs: An outfielder, DH/1B upgrade, a catcher and one more starting pitcher wouldn't hurt.
Possible free-agent targets:  Hamilton (though it sounds like they're content to let him walk), B.J. Upton, Nick Swisher, Torii Hunter, Adam LaRoche, Mike Napoli, A.J. Pierzynski, Zack Greinke, Brandon McCarthy, Scott Baker.
Possible trade targets: Justin Upton, Shin-Soo Choo, J.P. Arencibia.
The Angels improved by three games in 2012, but it wasn't good enough to make the playoffs, thus a disappointment after all that spending during the 2011 winter meetings. We know their top priority is keeping free-agent starting pitcher Zack Greinke. If the Angels get that done, they're still right on the cusp of contending.
Biggest needs: Pitching, both starters and relievers.
Possible free-agent targets: Greinke, Anibal Sanchez, Kyle Lohse, Edwin Jackson, Rafael Soriano, Brett Myers, Jonathan Broxton, Sean Burnett, Mike Adams, Ryan Madson, Joakim Soria, Kyuji Fujikawa (read here to see who he is). Note that the starting pitchers after Greinke are only fallback options. If the Angels retain Greinke, they won't be signing any other starters.
Possible trade targets: Alfredo Aceves, Carlos Marmol, Chris Perez, Joel Hanrahan.
The Mariners finished last in the AL West, but it was hardly as bad as that sounds. They went 75-87 while playing in arguably the best division in baseball. They also had a winning record (39-36) after the All-Star break. Heading into the offseason, it's clear Seattle has good pitching and desperately needs some offense. They finished last in the AL in runs, hits, average, on-base percentage and slugging percentage last year. Remember, though, the fences at Safeco Field are being moved in, so that might help Seattle in wooing high-priced free agents to the Pacific Northwest. Plus, the Mariners are chock full of young pitching, meaning they could make a splash on the trade market. But, no, the Mariners are not trading Felix Hernandez.
Biggest needs: Offense. Offense. Offense.
Possible free-agent targets: Josh Hamilton, Nick Swisher, Russell Martin, Mike Napoli, Melky Cabrera, Travis Hafner, Torii Hunter, Cody Ross.
Possible trade targets: Justin Upton, Shin-Soo Choo, Ben Revere, Denard Span, Jeff Francoeur ... Wil Myers?
This is going to be an abbreviated entry. Why? Because there are legitimate reports out there that the rebuilding Astros are only going to have a payroll around $30 million. Any free-agent additions will be minor (or a veteran, big-name, past-his-prime designated hitter) and any trades will involve dealing big-leaguers for minor-leaguers.
Biggest needs: Organizational depth everywhere. Oh, and a DH.
Possible free-agent targets: Lance Berkman, Hideki Matsui.
Possible trade targets: Every minor-leaguer there is.
For more baseball news, rumors and analysis, follow @EyeOnBaseball on Twitter, subscribe to the RSS feed and "like" us on Facebook.
The Pirates recently shipped Gerrit Cole and Andrew McCutchen to Houston and San Francisco,...

Surely, Martinez and his agent are holding out for more

The reliever had a very good 2017 season with the NL Central champs
We don't need to discuss Chipper's Hall of Fame case, so let's have fun instead

Dioner Navarro still hopes to return someday

Christian Yelich's agent says his client's relationship with Marlins is 'irretrievably bro...