2014 Offseason Report: Denver Nuggets
Denver had a great draft day, but that was about it this summer.
• 5 min read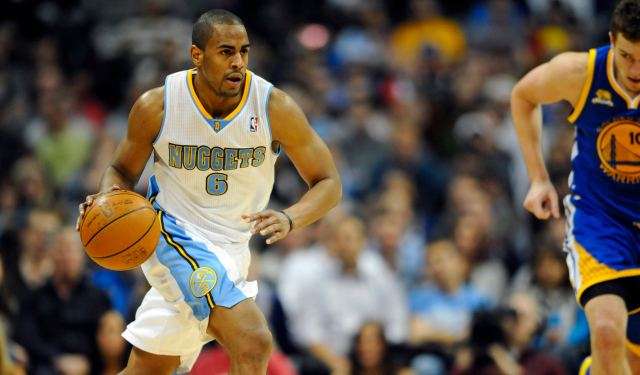 Offseason: Free Agency | Latest from Ken Berger | Rumors
CBSSports.com's Eye On Basketball is taking a team-by-team look at the 2014 NBA offseason. We continue with the Denver Nuggets , who are looking to rebound from a disappointing season. Check out the rest of the offseason reports here.
How they finished 2014: Denver missed the playoffs for the first time since Juwan Howard was its leading scorer, Junior Harrington its starting point guard and Nene Hilario its second-most-hyped rookie behind Nikoloz Tskitishvili. Three -- three! -- key players were sidelined with torn ACLs. From afar, the 36-win season was downright disastrous, but there was improvement as the year went on under first-year head coach Brian Shaw, most importantly from presumed cornerstones Ty Lawson and Kenneth Faried . Almost nothing went how the Nuggets planned, and yet there were reasons for optimism at the end of it. 
Offseason needs: More than any lottery team, the offseason objectives were a question mark in Denver. There was a lot of talent, and the main problem last year was injuries. You could say Danilo Gallinari , JaVale McGee , Nate Robinson and J.J. Hickson would be "offseason additions," in a way. Judging by what Shaw said throughout the season, he'd probably have liked to bring in some better defenders and proven professionals with experience on winning teams. It was easy to envision general manager Tim Connelly going a number of different directions, though. 
 The Nuggets could try packaging several good players for a star. They could look at trading an established contributor to move up in the loaded draft. Connelly and company didn't bring in most of the guys on the roster, so a major move seemed about as likely as sticking with the status quo and hoping health would change everything. 
Before the start of the summer, Connelly talked about wanting to work out an extension with Faried. It was unclear, however, if Denver was willing to compensate him like the 20-point, 11-rebound-per-game player he was in March and April.
The draft: You could have made an argument for selecting Bosnia's Jusuf Nurkic or Michigan State's Gary Harris with the No. 11 pick. Instead, the Nuggets got both of them by trading that pick and Anthony Randolph to the Chicago Bulls for Nos. 16 and 19. You have to applaud them for this.
Nurkic is an enormous and surprisingly mobile big man who turns 20 two weeks from now. Denver's betting it can help him develop into something special, and he does have the potential for that. Nurkic's statistical profile in the Adriatic League was excellent, and he could be an efficient scorer right away if he manages to break into the rotation. It's unclear whether or not the front office plans on keeping McGee around for the long haul, so it made sense to go big here.
Harris will give the Nuggets some scoring punch off the bench. He's a shooter, but not the most consistent one. In his first year at Michigan State, he made 41 percent of his 3s. In his second, 35 percent. Harris was Denver's No. 1 option at summer league, and he wound up shooting just 32 percent from the field after an incredible 33-point performance in his first game. The idea is that his basketball IQ and willingness to compete defensively will make him a solid, if unspectacular player. Which is often what a good pick at No. 19 looks like. 
At No. 41, Denver took Nikola Jokic, who is only 19 but doesn't play like it. It seems he'll stay stashed overseas, though. 
Free agency and trades: The only meaningful move was agreed to right before the draft, when ex-Nugget Arron Afflalo came back to the franchise in exchange for Evan Fournier and the rights to rookie Roy Devyn Marble, who was selected with No. 56 pick. It's still hard to fathom that this was all it took to get Afflalo, who made 43 percent of his 3s last year. Denver's going to be hard to stop on offense next season with him in the fold, and if Shaw can get him to play the kind of defense he did when he was younger, this will look like even more of a steal. While Fournier is just 21 and should keep improving, sacrificing him was a no-brainer for a team trying to get back into the postseason. 
There were reports that the Nuggets might include Afflalo in trade offers for Kevin Love after acquiring him, but whatever they put together obviously wasn't enough for the Minnesota Timberwolves . Denver is still in a position to potentially trade for a star, but this wasn't the right time. It also made a run at Mike Miller , but the sharpshooter chose to take less money to chase a title with LeBron James .
Shaw's reserve rotation will look different, and it's not just because of the guys coming back from injury. Aaron Brooks signed with Chicago, Jan Vesely went to Turkey and Jordan Hamilton is still in free-agent limbo. Erick Green, drafted in 2013, signed with the Nuggets after a year in Italy and he'll be their third point guard.
As of now, the Faried extension isn't done. They have until Halloween to get that sorted.
Overall grade and accomplishments -- B+: The draft was a success, as was the Afflalo trade. While Denver didn't do anything to drastically alter the direction of the franchise, it might not have needed to. These Nuggets don't have a defensive genius like Andre Iguodala on the roster anymore, but they'll be about as deep as that 57-win team from two years ago. The flip side of that depth is that, if things aren't going well, there could be gripes about playing time from the wings and frontcourt players who are sitting more than they think they should. 
Some fans in Denver surely wanted a shakeup, and we don't know how aggressively Connelly pursued blockbuster deals. He hasn't suddenly turned the Nuggets into contenders or scared the rest of the West, but they should be better. There should be progress. 
After a fairly quiet offseason, you can't be certain about how many of Denver's players will last through this year's trade deadline. You can be excited, though, about seeing what Shaw can do with a year of experience and, finally, a full team.
A look at who came out ahead after Tuesday's megadeal swaps the point guards on the East's...

How the addition of IT changes the Cavs and where they go this summer depending on LeBron's...

Ainge said that he expects the start of Thomas' season to be delayed, but he'll be 'fine'...
The NBA MVP odds have shifted quite a bit following the blockbuster Kyrie Irving - Isaiah Thomas...

It's debatable whether Boston gets better right away with Irving, but the future is definitely...

Kyrie Irving was set to grace the cover of this year's video game in a Cavs jersey -- whoo...