2016 All-Star Game: Kobe Bryant, Stephen Curry headline starters
Here's a closer look at every starter in the 2016 NBA All-Star Game.
• 3 min read
It's official: Kobe Bryant and nine other big names will start in the 2016 All-Star Game in Toronto on Feb. 14. The NBA announced the results of fan voting on Thursday on TNT, and while they weren't exactly the same as our choices, nothing outrageous happened. Here are the starters:
Eastern Conference:
A 12-time All-Star, the 34-year-old Wade just refuses to stop producing. He hasn't quite been the best guard in the East, but he's played well enough that being voted in as a starter isn't nuts. Wade is averaging 18.1 points, 4.6 rebounds and 4.1 assists per game -- imagine what he could do if the Heat had proper spacing. 

Kyle Lowry, Toronto Raptors
Just like last year, the Raptors guard overtook a bigger name at the last minute and got the starting spot he earned. It looked like the more popular Kyrie Irving was going to make it despite missing 27 games, but Lowry's been the East's best guard and Toronto has been its second-best team. Hooray for Skinny Lowry. 

LeBron James, Cleveland Cavaliers
James' outside shot abandoned him for the first couple months of the season, but that hasn't stopped him from remaining the most complete superstar in basketball. Since 2005, he's been an All-Star starter every season, and that's not going to change anytime soon. He easily led all Eastern Conference players in votes.

This time last year, George was binge-watching Orange is the New Black, Sons of Anarchy and Empire. Sidelined due to a horrific leg injury, he was also studying the game and vowing to return better than ever. Fully recovered, George is now putting up the best per-game numbers of his career. He clearly belongs among the league's elite.

Carmelo Anthony, New York Knicks
Just 16 months ago, the brand-conscious Knicks forward was ridiculed for declaring that he wanted to be known as "the digital athlete."  His reputation is in a much better place now, leading a respectable team, shooting less than he has in a decade and posting a career-high assist percentage.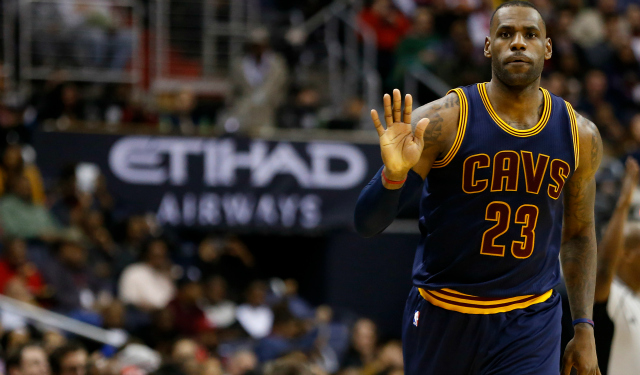 Western Conference:

Stephen Curry, Golden State Warriors
Aside from the fact that Curry is scoring more than anybody else, on pace to shatter his 3-point record and leading a team on pace to win 78 games, why should he be an All-Star starter? Oh, right, the reigning MVP has also become more efficient from pretty much everywhere, cut down on his turnover rate and established himself as the best player on the planet. No one scares opposing coaches more.

Russell Westbrook, Oklahoma City Thunder
Westbrook has never been more efficient. He's improved his in-between game, upped his assist rate and continued to attack the rim with as much force as anyone in the NBA. He's great for the All-Star Game because he only knows how to play one way, and he can thank Kobe Bryant for becoming a forward this year, opening the door for him to make it in as a starter and defend his MVP award.

Kobe Bryant, Los Angeles Lakers
Bryant's retirement tour includes another stop in Toronto thanks to his devoted fans around the world, who made him the leading vote-getter with 1,891,614 votes. No, his numbers this season don't scream "All-Star," but that's not the point. This is one of the greatest players of all-time, and the NBA is going to give him a splashy send-off. Here's hoping the 18-time All-Star is feeling healthy enough to do something special.

Kevin Durant, Oklahoma City Thunder
Aside from his usage being slightly down, Durant's numbers are pretty much the same as when he won MVP two years ago. As CBS Sports' Zach Harper pointed out, he's knocking at the door to the 50-40-90 club, which is absurd for someone who commands the sort of defensive attention he does. Durant is a master offensively, underrated defensively and would be a deserving MVP winner again if not for Curry's craziness.

Kawhi Leonard, San Antonio Spurs
Leonard leaped over Warriors forward Draymond Green at the last minute to become a first-time All-Star and represent the second-best team in the league. Based on how he's played on both ends this year, he's probably the runner-up for MVP and an absolute lock for All-NBA. It's a testament to his talent that he's been voted in despite his complete lack of a public personality, and he should remain in this position for a long, long time.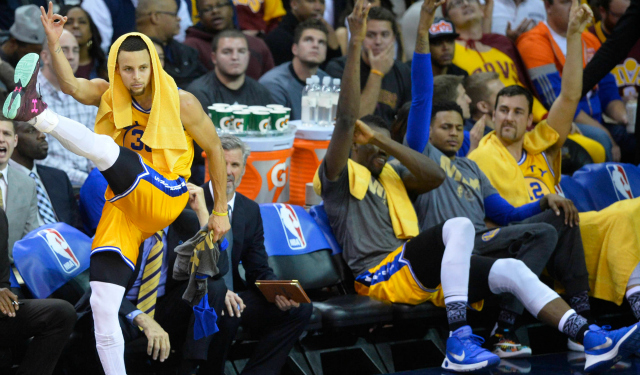 CBS Sports HQ Daily Newsletter
Get the best highlights and stories - yeah, just the good stuff handpicked by our team to start your day.
Please check the opt-in box to acknowledge that you would like to subscribe.
Thanks for signing up!
Keep an eye on your inbox for the latest sports news.
Sorry!
There was an error processing your subscription.
Ball should be ready to go on opening night for the Lakers

Keep checking back for the latest updates as NBA free agency continues

Cambage needed just 22 shots to put up her ridiculous number
Now we're waiting on Chuck's diss track

Here are the top prizes left in the 2018 NBA offseason

Things could get a little awkward in Las Vegas for the disgruntled Spurs star and his coac...