Baseline Awards: Return of the Kid
The Baseline Awards are handed out for exceptional and not-so-exceptional events and players of the past week. Award rankings are at the end and, please, watch your step as you exit the ride.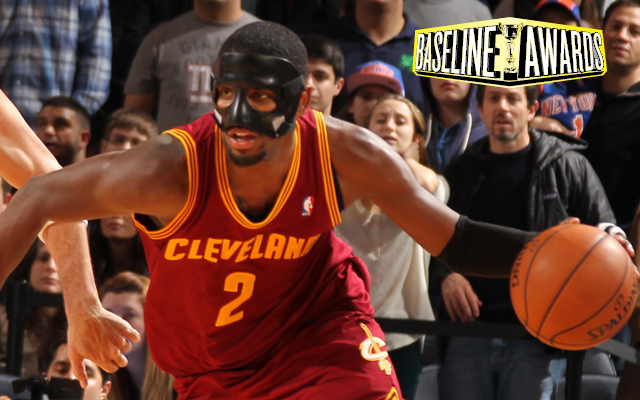 Kyrie Irving was the Bane of his opponents this week.
(Getty Images)
The Baseline Awards are handed out for exceptional and not-so-exceptional events and players of the past week. Award rankings are at the end and, please, watch your step as you exit the ride.

Eastern Conference Player of the Week: Kyrie Irving , Cavaliers

The kid returned this week and was absolutely blistering. Irving averaged 26-4-6 this week along with 1.5 blocks. And look at the difference it made! The Cavaliers went 1-3. Wait, that's terrible. But they lost on a back-to-back to the Pacers, then dropped two games to good Milwaukee and New York teams by a combined five points. And you can't blame Irving for those losses; the Cavaliers are terrible.

Irving took over games and showed he hasn't lost a step. Throw in the way that he blistered the Lakers, and it's great to have Irving back.

Western Conference Player of the Week: David Lee, Warriors

Lee continued to pace the red-hot Warriors (3-1 this week) with 23 points and 13 rebounds per game. While Stephen Curry tends to headline and Klay Thompson is the shooter whom hoopheads adore, Lee has been the stabilizing force for the Warriors. And even his defense hasn't been bad. Lee's not just finally contributing to a winning team, he's leading it.

Western Conference Team of the Week: Los Angeles Clippers/Golden State Warriors

The Clippers have won nine straight and had the highest efficiency differential of any team this week (+13.4 per NBA.com). They are first in percentage of field goals made that were assisted, sixth in effective field goal percentage and fifth in team turnover percentage. So the numbers, they like the Clippers.

But they also featured a grind-it-out win over Chicago, a wire-to-wire controlled win over the Bobcats and a blowout of the Bucks. Basically, the Clippers are as good as we thought the Lakers would be.
The Warriors, though, split this award after a massive win over the Heat. Their letdown vs. the Magic is excused, and this team's versatility and toughness without Andrew Bogut is striking. How good can this team be?

Eastern Conference Team of the Week: Miami Heat/Chicago Bulls

I'll be honest with you -- not a banner week for the Eastern Conference. Miami dropped a home game vs. the Warriors when Draymond Green nailed a game-winnning oop and LeBron James missed a game-winning jumper. The Bulls also dropped a game at home to a Western Conference contender in a close game (the Clippers). Perhaps worse, the Clippers were on a road back-to-back.

Narratives of the Week

"Everything is terrible, and sports doesn't seem to matter."

Trying to write about basketball in the face of the events of Friday in Conneticut was difficult. Everything seems remarkably trivial, and my life was largely untouched by the terrible tragedy at Sandy Hook Elementary. I found myself thinking not just of the children and their families, but the brave educators, who too often receive our criticism and apathy, and too seldom our respect and admiration.

No political statements here; this is not the place for that. But the events on Friday did provide perspective in a society that so often finds itself wrapped around sports. I'm thankful for that. It pays my bills, and I love the NBA. But when faced with the stories and images of what happened, I had a hard time even trying to put games into context. All I could think to do was to hug my son and wonder what kind of world we've made for him.

"The Lakers are doomed! Wait, no, they're totally fine."

The loss to the Cavaliers was really rock bottom for the Lakeshow, because they rebounded with consecutive victories thereafter. (They're going streaking!)

It's just as impossible to tell if the Lakers are fixed after the two victories as it was to tell if they were broken forever after the Cavaliers loss. But you do have to wonder if we'll look back at the Cavaliers game as the moment the Lakers finally figured out how to turn the corner.

Or this could be a dead cat bounce. One or the other.

Mood swing of the year: Kevin Love
HT: Raj Prashad

Love says he wants to win, gets a better team, blasts management again, wonders why only the negative quotes were used and generally can't seem to figure out how he feels. Complicating the situation is the overwhelming fan and media joy over the return of Ricky Rubio. No one was hanging banners and balloons for Love when he unexpectedly returned early, despite him being a much better player than Rubio. It's hard to figure out where Love's head is at.

Mayans award for "What?!"

Draymond Green hit a gamewinner over the Heat after exchanging words with LeBron James, who also missed a game-winning turnaround jumper. Very little makes sense about the above statement. Oh, and the Heat were at home, too. Crazy, this world.
MVP
Note: The top three guys are obstensibly tied. 
1. Kevin Durant, Thunder: Did you know Durant has started to become dominant in the post this season? True story -- he's top five according to Synergy Sports. He's like a killer robot that assimilates new powers. 
2. Carmelo Anthony, Knicks: His performance against the Lakers before the injury is enough to move him into a tie with Durant and James. 
3. LeBron James, Heat: Had a dominating stretch vs. Golden State to put them in a chance to win but couldn't knock down the game-winner. Not that that affected him here. He's right there with the top two. 
4. Kobe Bryant, Lakers: Hey, the Lakers won consecutive games when Bryant scored 30! Maybe he isn't the problem! (Note: He was never the problem.)
5. Tony Parker, Spurs: Parker's control of the Spurs' offense is a big reason it's so effective. 

ROY
1. Anthony Davis, Hornets: Look at how well Davis is playing, and he's not even healthy yet. 
2. Damian Lillard, Blazers: Ho-hum, another game, another game-winner. Lillard's big shot collection this year is getting expansive. 
3. Michael Kidd-Gilchrist, Bobcats: Maybe the 10 losses in a row will teach him character? Wait, he's already got good character. No, wait, it just sucks. 
4. Andre Drummond, Pistons: A 21 PER for a rookie is nothing to sneeze at. If he could just get more minutes. 
5. Alexey Shved, Timberwolves:  Shved is shvneaky. Sorry, I can't help myself. 

COY:
1. Mark Jackson, Warriors: A roster of poor defenders is defending well, a team with inconsistent offensive weapons has been consistent, and they're winning close games. Believe in the preacher man.
2. Mike Woodson, Knicks: He continues to find ways to win when trouble comes the team's way. How does he re-insert Amar'e Stoudemire? 
3. Lionel Hollins, Grizzlies: His biggest Achilles' heel might be his late-game execution management.
4. Gregg Popovich, Spurs: How can he win so many games that he clearly doesn't care about?
5.  Larry Drew, Hawks: Losing his best player has made him a better coach.

6MOY
1. Jamal Crawford, Clippers: Crawford's prominence on a top team in the West might wind up putting him over the top. 
2. Kevin Martin, Thunder: This is typically a scorer's title, and Martin can score on the best offense in basketball. 
3. Carl Landry, Warriors: It's impossible to note his rebounding and ... defense (?!) for a thriving Warriors team.
4. Ray Allen, Heat: Defensively, there are big issues. But, Lord, can he still shoot. 
5. Jarrett Jack, Warriors: Makes all the right plays for the Warriors off the bench. A quality starting point guard who doesn't start. 

DPOY
1. Tony Allen, Grizzlies: Opponents are shooting 25 percent against him. Is that low? That seems low. (Via Synergy Sports.)
2. Nick Collison, Thunder: Of the many reasons that he should play more for OKC, his defense is tops. 
3. Tyson Chandler, Knicks: Chandler's instincts are almost never wrong.  
4. Andrei Kirilenko, Timberwolves: Creates extra opportunities for the Wolves by jumping on a team's weakness. 
5. Taj Gibson, Bulls: One of the toughest and strongest defenders in the league. 
The NBA All-Star Game is here. Follow our live updates to keep up with the action

Bryant says he was looking at schools in Chicago and was ready to meet Jerry Reinsdorf and...

The 76ers guard is in hot water after a controversial video surfaced showing him using a racial...
James Harden is the only player representing the best team in the NBA

Adam Silver sees a 1-16 playoff as a real possibility in the future if they can figure out...

Galin Dragiev is SportsLine's No 1. NBA expert and locked in a pick for Team LeBron vs. Team...