Decision 2.0: What if LeBron James joined the Suns?
Phoenix can offer LeBron James a combination of proven talent and future flexibility unlike any of his other suitors.
• 4 min read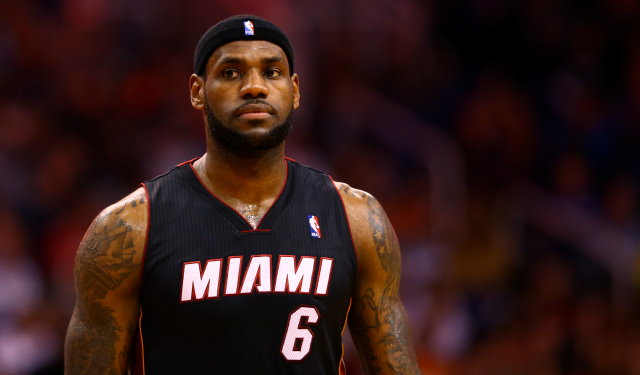 More Offseason Analysis: Coaching changes, news | Free Agency | Draft
With LeBron James expected to make his second huge free agency decision in four years this week, we're taking you through his options. Here's a look at what the Phoenix Suns would look like if they added the King.
No LeBron James destination is more fun to think about than Phoenix. Last year, the surprising Suns came up just short in pursuit of the postseason, the best non-playoff team in NBA history. If Eric Bledsoe hadn't missed 10 weeks because of a knee injury, they would have assuredly qualified. No one in the tough Western Conference would have wanted to face them. Phoenix's offense was tough to stop, with Bledsoe and Goran Dragic fitting better than anyone expected, and its defense was better than it had been in years. Now, with the news that James' agent has spoken to the organization, imagine it adding the best player in the world.
Picturing James wearing a Suns uniform is odd, but it's easy to envision him enjoying himself in Phoenix. First-year head coach Jeff Hornacek empowered his ballhandlers last season perhaps more than any other coach in the league. The team wasn't as frenetic as the seven-seconds-or-less Suns, but that spirit lived on. Both Bledsoe and Dragic reaped the benefits of pushing the ball in transition, as did shooters Gerald Green, Channing Frye, P.J. Tucker and the Morris twins. James starting and finishing fast breaks in that system is simply scary, as is the prospect of pick-and-rolls involving him and either point guard. Phoenix can offer James the spacing he's used to in Miami, and more playmakers on the court to take some of the pressure off. 
James has never played with a point guard as talented as the Suns' tandem. Part of that is because his teams haven't exactly needed anyone at the position who needs to do much offensively. Dragic and Bledsoe, though, are efficient shooters and drivers, and they're both capable of creating easy opportunities for James and others. There would be a bit of an adjustment period, but they wouldn't end up getting in his way. It doesn't hurt that James considers Bledsoe family, or that together they can play passing lanes and wreak havoc defensively.
Phoenix was an average defensive team last year, which was a massive change from the years prior. Adding James would allow Hornacek to be more aggressive on that end without altering the Suns' identity. James, obviously, can guard multiple positions, and is used to constantly helping, recovering and trying to force turnovers. With the speedy Bledsoe, Dragic and Green alongside him, opponents would be terrified of coughing the ball up. 
Choosing Phoenix over Miami would sort of be choosing the 28-year-old Dragic and 24-year-old Bledsoe over the 32-year-old Dwyane Wade and 30-year-old Chris Bosh, but there's more to it than that. Since Dragic is already under contract at a bargain rate of $7.5 million per season, even a max deal for Bledsoe — a free agent this summer — wouldn't handcuff the franchise in terms of financial flexibility. 
It seems like ages ago now, but heading into the 2013-2014 season it looked like the Suns were trying to tank. General manager Ryan McDonough had moved veterans Jared Dudley, Luis Scola and Marcin Gortat, planning to be patient. The shocking turnaround means that McDonough has now found himself with the best of both worlds: a roster built to win now, plus cap space and extra assets, like the first-round picks that are still on the way from the Lakers and Timberwolves. That should be attractive to all free agents, including James.
It's even within the realm of possibility that Phoenix could add James and another star. Yahoo Sports reported that its pitch to James would center on this idea. If the Suns clear about $10 million worth of salary — say, by moving Alex Len and the Morrises — then James could theoretically bring Bosh with him. Or Carmelo Anthony. Then they could re-sign Bledsoe for the max. That'd set them up to be title favorites next season and contenders for the foreseeable future. Phoenix's famed training staff would help in that regard, too.
For any team trying to lure James away from the Heat, it's a tough task. James is comfortable in Miami, and he has been to four straight NBA Finals. There's no Eastern Conference team that looks poised to stop that streak, either. The Suns, though, have as compelling a case as any of his suitors. They're an improving team with a bright, young head coach. They have a pair of stars and solid complementary pieces. They can give James a max contract and still add more players. The safe bet is still that James will stay with a Heat team that'll give him slight upgrades on what's familiar, but Phoenix can offer him something different, something potentially better.
Cavs star chose to be very secretive when talking to Lakers rookie after Thursday's game

New York announced Porzingis would not return shortly after star forward left game

Teletovic missed the final three months of 2014-15 season with Nets recovering from same i...
Keep it right here for all of the news, notes, scores and highlights from around the leagu...

The NBA's City edition Nike jerseys are bold and very different

The Wolves may be smoke and mirrors, but the Pacers have the look of a team that can hang in...