Player pool for Rising Stars Challenge released
Kyrie Irving and Damian Lillard head the 20 players selected for the player pool of the Rising Stars Challenge.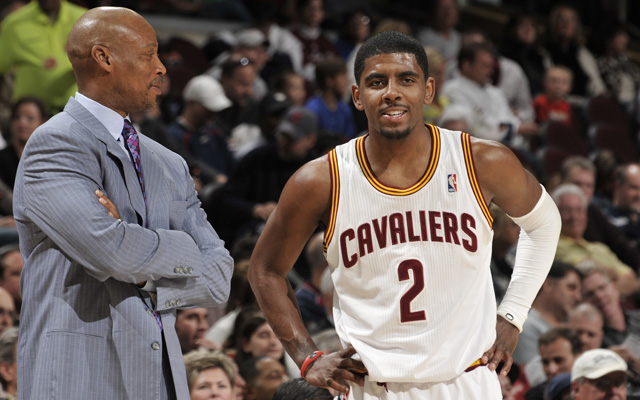 Kyrie Irving could be pulling double-duty at All-Star Weekend.
(Getty Images)
Kyrie Irving and Damian Lillard head the 20 players selected for the player pool of the Rising Stars Challenge.
Joining the Cavaliers' Irving from the sophomore class are: Kenneth Faried (Denver Nuggets), Brandon Knight (Detroit Pistons), Kawhi Leonard (San Antonio Spurs), Chandler Parsons (Houston Rockets), Klay Thompson (Golden State Warriors), Tristan Thompson (Cleveland Cavaliers), Nikola Vucevic (Orlando Magic) and Kemba Walker (Charlotte Bobcats).
Joining the Blazers' Lillard from the rookie class: Anthony Davis (New Orleans Hornets), Harrison Barnes (Warriors), Bradley Beal (Washington Wizards), Andre Drummond (Pistons), Michael Kidd-Gilchrist (Bobcats), Alexey Shved (Minnesota Timberwolves), Dion Waiters (Cavaliers), and Tyler Zeller (Cavaliers).
Irving has been named to the All-Star team as a reserve, so his availability could be in question.
This is the second year for the revamped format that mixes the rookies and sophomores. A televised draft will be held on Feb. 7 as TNT analysts Charles Barkley and Shaquille O'Neal will select their teams.
Last season, Team Chuck beat Team Shaq 146-133 behind 34 points from game MVP Irving.
The game will be played Friday, Feb. 15 in Houston.
Here's how I'd rank my Rookie/Soph player pool big board:
1. Kyrie Irving. Obviously. I don't even really think I need to explain why.
2. Damian Lillard. Tough choice. But in this game, a ballhandler/perimeter scorer often dominates. Plus, with the other side having the best player in the game in Irving, grabbing a player who can at least match up with him could be good.
3. Anthony Davis. He has battled some injuries this season, and defense isn't at a premium in this game. But he's going to be a major lob threat.
4. Kenneth Faried. In the same way that we saw DeJuan Blair be extremely effective in this game, Faried could dominate. He's going to play with tons of energy and effort, despite the game not mattering. With other players likely lacking focus, Faried could rip apart the offensive glass.
5. Klay Thompson. Man, how deep is this pool? A scorer with this kind of talent potentially going fifth? Crazy.
6. Andre Drummond. Probably the most physically gifted player in the game. And that's saying something.
7. Bradley Beal. Every team needs a shooter/scorer, and Beal is going to have ample opportunity to knock them down.
8. Kemba Walker. He's in the tough spot. No matter what, he's going to be backing up another point guard.
9. Harrison Barnes. I'm already giddy thinking about the poster that he's going to bust out.
10. Tristan Thompson. Strong rebounder, good defender. In other words, not a great fit for this game.
11. Kawhi Leonard. Anyone else get the feeling somehow that Gregg Popovich will get him a DNP-CD in this game?
12. Michael Kidd-Gilchrist. He excels in transition opportunities. Lucky for him, there will be roughly 4,000 of them in this game.
13. Nikola Vucevic. See: Tristan Thompson.
14. Brandon Knight: See: Kemba Walker.
15. Dion Waiters. He's a gunner, and he's probably drooling with this format. He could either get hot and go for 25, or he could fire up mind-numbing 3s.
16. Chandler Parsons. Not the best to be considered a classic role player in an All-Star event.
17. Alexey Shved. He'll probably make a cool pass or two, right?
18. Tyler Zeller. Mr. Irrelevant.
Is this rock bottom for the Cavaliers because it sure feels like it is

Wade, as he's done so many times in his career, threw it up to LeBron for the thunderous f...

The Warriors coach added there should be no shame in being picked last since everyone's an...
We've got all the scores, highlights and news from all of Saturday's games

The two teams have reportedly not had any substantial discussions to this point

Oladipo may be getting most of the shine, but this second-year big man has been phenomenal...