2013 NFL mock draft: Combine showing can make all the difference
The combine isn't the only factor in who gets drafted where, but it's definitely capable of turning a prospect's fortunes around -- for better or worse. Here's Will Brinson's first 2013 mock draft, before the scouting combine.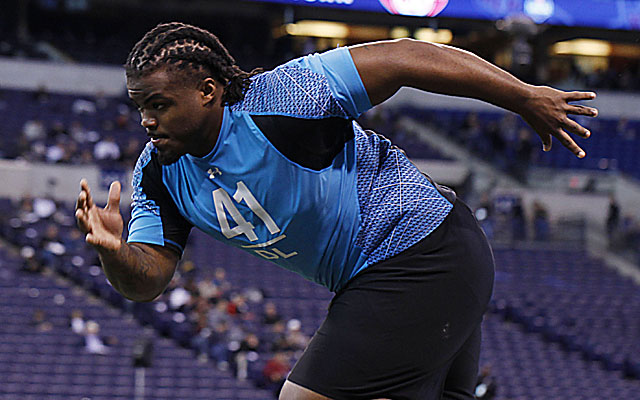 Think the scouting combine doesn't matter? Dontari Poe begs to differ.
(US Presswire)
The "in" thing these days is to say that the combine doesn't matter and that teams already have their minds made up about players before the week-long barrage of tests go down in Indianapolis. There's some degree of truth to that, but don't buy all the way into it. The truth, as usual, lies somewhere in the middle.
Guys with character questions (hellllllooooooooo, Manti Te'o) can do themselves a world of good by being honest with the media and the teams they interview with. See: Janoris Jenkins. Guys with questionable production in college can blow away the physical portions of the combine and find their draft stock suddenly jacked through the roof. Just ask Dontari Poe about that. (Or, um, Scott Pioli.)
"Sure-fire first-rounders" -- even at a "safe" position like offensive tackle -- can greatly diminish their draft chances with a poor performance at the combine. If you don't believe me, well, Jonathan Martin would like a word.
There are a lot of changes to be made in how we view prospects and where they'll end up being taken. The combine doesn't flip the world around, but it can alter draft stock just plenty. Here's a stab at my first mock of the year as I throw 40 sweaters into a suitcase for the trip to Indy. We'll see how it looks on the other side.
1. Kansas City Chiefs -- Geno Smith, QB, West Virginia -- Whether or not Smith actually goes No. 1 overall remains to be seen, and we'll have a much better idea once free agency gets fired up. For now, we'll give Andy Reid a similar pick to 1999 when he landed Donovan McNabb out of Syracuse.

2. Jacksonville Jaguars -- Bjoern Werner, DE, FSU -- The combo of Dave Caldwell and Gus Bradley definitely has me projecting the highest-impact pass rusher on the board, and that's Werner, the German-born Seminoles product, who, along with Jason Babin, could reinvigorate the Jags pass rush in 2013.

3. Oakland Raiders -- Sharrif Floyd, DT, Florida -- The attrition Oakland has dealt with under Reggie McKenzie's watch has been painful but necessary. Now that he finally gets a first-round pick he can use it to start building up the defensive line.

4. Philadelphia Eagles -- Star Lotulelei, DT, Utah -- Philadelphia passes on the chance to improve its offensive line in order to add a defensive tackle who can pair with Fletcher Cox and wreak havoc up the middle on other teams.

5. Detroit Lions -- Luke Joeckel, T, Texas A&M -- The Lions sprint to the podium to grab Joeckel in this scenario; though they're potentially facing attrition on the defensive line and a pass rusher could very well make sense for the pass-rush happy Jim Schwartz here, Joeckel secures the position.

6. Cleveland Browns -- Barkevious Mingo, DE, LSU -- Mingo needs to put on some weight and is raw as a prospect, but it's hard not to see the damage he could do in Ray Horton's new 3-4 scheme in Cleveland.

7. Arizona Cardinals -- Eric Fisher, OT, Central Michigan -- The Cardinals need to upgrade at quarterback, but it won't matter who's taking snaps in Arizona if they don't have someone protecting them. Fisher provides an immediate upgrade for a offensive line that's been in shambles the last few years.

8. Buffalo Bills -- Jarvis Jones, LB, UGA -- This is highly dependent on his medicals checking out at the combine, but if Jones is cleared by doctors he'd be a steal at No. 8, and he might not even be there when the Bills -- who need playmaking linebackers -- are selecting.

9. New York Jets -- Dee Milliner, CB, Alabama -- Milliner's no Darrelle Revis (no one is, actually), but picking up another talented cornerback in the draft gives the Jets some flexibility if they ultimately decide to move Revis. There's no reason to believe they won't go defense with this pick, even if prudence says they need offensive help.

10. Tennessee Titans -- Chance Warmack, G, Alabama -- The Titans line needs to get nastier and more physical in order for Chris Johnson to get more consistent production. Putting a surprisingly nimble mauler like Warmack under the tutelage of HOF guard Mike Munchak would be a good start.

11. San Diego Chargers -- Lane Johnson, OT, Oklahoma -- San Diego simply has to protect Philip Rivers. Fortunately for the Chargers, it's a deep draft for offensive linemen (and there's ample talent available in free agency). The 6-6 Johnson offers the upside of immediate and long-term protection for San Diego's franchise quarterback.

12. Miami Dolphins -- Cordarrelle Patterson, WR, Tennessee -- Patterson might lack in experience, but he's simply a terrifying weapon in multiple phases of the game for whoever ends up landing him. Potential for change here if the Fins decide to go big on a wideout(s) in free agency.

13. Tampa Bay Buccaneers -- Damontre Moore, DE, Texas A&M -- Moore sliding works out for the Buccaneers, who dip back into the defensive end pool again this year thanks to the possible departure of Michael Bennett via free agency and the airline issues that Da'Quan Bowers recently ran into.

14. Carolina Panthers -- Kenny Vaccaro, FS, Texas -- Everyone points to defensive tackle as a need for the Panthers, and it's not a misperception. But an already weak secondary could be even thinner if Chris Gamble and Sherrod Martin are gone, and Vaccaro is great value here.

15. New Orleans Saints -- Dion Jordan, LB, Oregon -- Capable of lining up in a multitude of spots, the freakishly athletic Jordan provides a pass-rushing talent for Rob Ryan as the Saints shift their defense and attempt to become more aggressive.

16. St. Louis Rams -- Jonathan Cooper, OG, UNC -- The Rams sorely need playmakers, but they also need protection for Sam Bradford, and Cooper is a good first step in that direction.

17. Pittsburgh Steelers -- Ezekial Ansah, DE, BYU -- Looking to reload their defense with young talent, the Steelers grab the immensely talented (but raw) Ansah as a guy who can produce big-time pressure on the quarterback once they get their hands on him.

18. Dallas Cowboys -- Sheldon Richardson, DT, Missouri -- Switching defenses means a shift in personnel, and Richardson represents a chance to beef up the middle of the Boys line and serve as a guy who can occupy defenders while DeMarcus Ware does his thing.

19. New York Giants -- Alec Ogletree, ILB, Georgia -- Defensive end is suddenly (and awkwardly) a need, but the reality is the Giants need a lot of help on defense after making necessary salary cap cuts. Ogletree, Kevin Minter, Manti Te'o and Arthur Brown give Jerry Reese some choice as to who he wants to add in order to beef up his linebacking corps.

20. Chicago Bears -- D.J. Fluker, OT, Alabama -- Fluker can step in from Day 1 and improve the Bears offensive line, particularly in the run game. All indications are they want to build around Jay Cutler in Chicago, and there's no better way to do that than by getting him more protection.

21. Cincinnati Bengals -- Kevin Minter, LB, LSU -- This pick might well go whichever way the Bengals don't with respect to Andre Smith and Michael Johnson. But without knowing which one of those guys will be back (at least one will get the tag), the Bengals replace the disappointing Rey Maualuga with a guy who can fill the middle of this defense.

22. St. Louis Rams (from Washington Redskins) -- Keenan Allen, WR, California -- The Rams simply have to get better at wide receiver. Allen has the hands to grow into a No. 1 wideout, even if he doesn't have the full-blown afterburners you might like in a top wideout.

23. Minnesota Vikings -- Xavier Rhodes, CB, FSU -- Minny could go in a number of directions here, and if the Percy Harvin situation involves him getting shipped out of Minnesota, a wide receiver wouldn't be shocking at all. For now, we'll have Rick Spielman make another improvement to the Vikings secondary by grabbing Rhodes.

24. Indianapolis Colts -- Johnathan Hankins, DT, OSU -- The Colts have needs all over their defense, and particularly on the defensive line. The sizable Hankins would give them an anchor and some flexibility with how they want to use him as well.

25. Seattle Seahawks -- Datone Jones, DE, UCLA -- The Seahawks have made it known they want to upgrade their pass rush this offseason, and while giving Russell Wilson an additional weapon or two wouldn't hurt, Jones can step in and help impact Seattle's ability to get after the passer.

26. Green Bay Packers -- Jesse Williams, DT, Alabama -- Given the way things are going this offseason, it wouldn't be surprising to see the Packers focus heavily on defense once again this year. Ted Thompson takes advantage of the depth at defensive tackle in order to beef up his defensive line and prepare for the future with the sneaky fast and super strong Williams.

27. Houston Texans -- DeAndre Hopkins, WR, Clemson -- "Nuke" exploded in 2012, outshining fellow Tigers star Sammy Watkins for much of the season. Though the Texans going defense once again wouldn't be shocking, Hopkins represents a guy who can step in and make a difference across from Andre Johnson, something they sorely need.

28. Denver Broncos -- John Jenkins, DT, Georgia -- The mammoth defensive tackle isn't going to pile up sacks, but he doesn't have to. All Jenkins needs to do is occupy blockers and open up holes for Von Miller and Elvis Dumervil to keep attacking quarterbacks.

29. Arizona Cardinals (via mock trade from New England) -- Mike Glennon, QB, NC State -- Having secured protection on the offensive line, new GM Steve Keim helps Bill Belichick add to his draft-pick total by moving up to grab fellow Wolfpacker Glennon, whose big arm fits well with what Bruce Arians likes to do on offense.

30. Atlanta Falcons -- Eddie Lacy, RB, Alabama -- They might prefer to take a pass-rusher here, and it wouldn't be surprising if Thomas Dimitroff decided to jump up and grab one of the elite ones off the board. But Michael Turner just ain't getting it done any more, and Lacy could invigorate the running game for Atlanta.

31. San Francisco 49ers -- Tavon Austin, WR, West Virginia -- Though they just took A.J. Jenkins in the first round last year, the 49ers know they need to diversify their bonds when it comes to playmakers on offense. Austin does just that, providing a dangerous weapon for Greg Roman to manipulate.

32. Baltimore Ravens -- Manti Te'o, LB, Notre Dame -- Maybe he comes off the board before this? It's hard to imagine Te'o not being a first-round pick, but so much of his draft stock will come down to how he answers teams' questions at the combine about his imaginary girlfriend.
Despite his size, Okoronkwo is a twitchy edge-bender with pass-rushing moves and run-stopping...

The Cardinals have the future in mind at quarterback with the dynamic Louisville quarterback...

With their 2017 season over, it's time for Steelers fans to turn their attention to the dr...
With their 2017 season over, it's time for Saints fans to turn their attention to the draf...

With their 2017 season over, it's time for Falcons fans to turn their attention to the dra...

With their 2017 season over, it's time for Titans fans to turn their attention to the draf...