Patriots training camp: Tom Brady and the offense show off versatility
Tom Brady's improved receivers (and Gronk!) put the Pats' no-huddle attack back in play, bad news for Pats' foes. Worse news? The Darrelle Revis-led, re-tooled secondary.
More NFL: Photos |  Videos & GIFs |  Training Camp updates | Manziel watch
New England may have been the first stop on my camp tour, but the well-oiled Patriots machine looked in midseason form. Rob Gronkowski, Vince Wilfork and Jerod Mayo were back on the field, as were newcomers Darrelle Revis and Brandon Browner, all of whom breed optimism for a big season.
I've never been around a Bill Belichick-coached team that's boastful but I did feel a quiet confidence from the entire organization about 2014. I sat atop the stadium for a bird's eye view of a two-hour padded practice and then sat down with Belichick, owner Robert Kraft and six players, including Tom Brady, to talk about the 2014 season.
What to expect on offense: Belichick said the passing game is ahead of where it was a year ago. Last year at this time the Patriots' top five receivers were all newcomers. This year, that group is strengthened by the addition of former Panthers wideout Brandon LaFell. Last season the Patriots' lack of experience limited their no-huddle attack, but all indications are it should flourish this season.
Because of Brady, the passing game takes center stage, but watching live work on the running game reminded me how good it can be -- even with the loss of LeGarrette Blount. A committee of backs, led by versatile Shane Vereen and complemented by rookie James White and Stevan Ridley (if he can hold on to the ball), should create real problems for defenses. Vereen and White give the Patriots the "hybrid" players who will challenge personnel decision-makers on defense. If opponents put a sub defense on the field, the Patriots can hammer the run. If the defense goes with a base package, I could envision matchups in the passing game the offense will love to see.
Protecting Brady is a top priority after he was sacked 40 times last season. The club may have to rely on two rookies to come through. The retirement of longtime O-line coach Dante Scarnecchia can't be underestimated. As one player said: "Dante could get just about any lineman ready to play. I hope we still have the ability to do that."
What to expect on defense: The motivating force on this side of the ball seems to be last season's AFC title-game loss to the Broncos (New England gave up 400 passing yards and 507 total yards). Players have put the game behind them, but the aftershocks seem to be driving this defense. The starters are challenging the Brady-led offense on every snap in practice and they are getting their fair share of turnovers via interception. I like a few things about this defense. First, they have quality depth on the line, even without first-round pick Dominique Easley (sidelined while rehabbing a knee injury). With Tommy Kelly and Vince Wilfork out last season, Joe Vellano and Chris Jones got lots of work. Now, they are second-teamers with legitimate chances to challenge for playing time. They are depth Belichick acknowledged. Vince Wilfork is playing all across the front and appeared to be in excellent shape. Add veteran Will Smith to the outside group of Chandler Jones and Rob Ninkovich, and their three-man rotation is in fine shape. As usual, Belichick was playing many different combinations of defensive linemen at practice and this group will stay fresh, and can easily go from a 4-3 to a 3-4 front.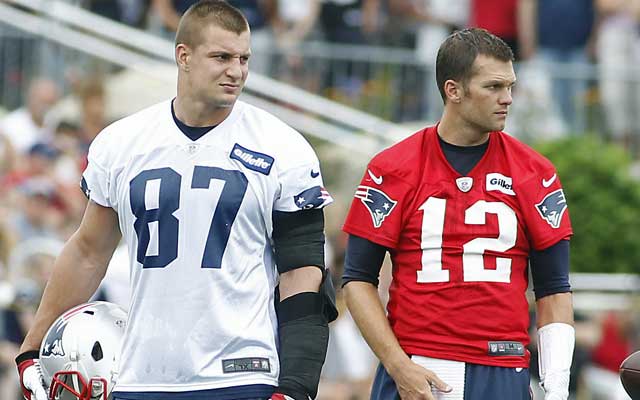 At linebacker, Jamie Collins replaces Brandon Spikes and teams with Mayo and Dont'a Hightower to form a group with impressive versatility. Depth still needs to be addressed, but this team plays so much "sub" defense they may be able to get by with what they have.
The new-look secondary is led by Darrelle Revis, who owner Robert Kraft calls a "quiet leader by example." Newcomer Brandon Browner will be suspended to start the season, but in workouts he's knocking down offensive players and making plays on the ball. He will be a disruptive force, pressed on big receivers. Devin McCourty is the top safety and capable of covering man to man calls on tight ends and slot receivers because of his corner skills. In my view, the other safety spot is up for grabs between Patrick Chung and Duron Harmon. Kyle Arrington is the leading candidate at nickel back. All of a sudden this is a strong secondary, particularly when stacked up against a division of Miami, the Jets and Buffalo (Nos. 27, 25 and 19 in offense in 2013).
Belichick has enough "jokers" on defense like Ninkovich, Chandler Jones, and even Michael Buchanan, to keep teams guessing about who the real pass rushers are on any play. Whenever the Patriots have made a Super Bowl run, they have had "jokers," and this again appears to be the case.
What players and coaches are saying: I sat down with Brady, Belichick, Kraft, Vereen, Ridley, Chandler Jones, Ninkovich and McCourty and they had plenty to say.
• Brady wants to see his team perform like the NBA champion San Antonio Spurs, meaning no matter who gets the call they deliver the necessary play.
• Belichick said he likes what he sees in Revis and Browner and that the passing game is ahead of the 2013 schedule.
• Vereen believes he can be as dangerous as a receiver as he is at running back.
• Ridley sees himself as a team leader and told me he expects his fumbling issues to be resolved.
• Chandler Jones showed his growth in this comment: "I used to have a preconceived plan on each pass rush, but now I can react to a tackle's set and counter after the snap." I saw that in action in one-on-one pass rush drills, when he switched from an outside speed rush to a counter inside and came clean on the quarterback against one of the club's better tackles. I wouldn't be surprised to see Jones top his 11.5 aacks from last year.
• Ninkovich loves the idea of having his former teammate from his Saints days, Will Smith, on this roster and believes Smith will rejuvenate his career in the Patriots' system.
• McCourty cautioned me, saying the secondary looks great with all the interceptions in practice, but communication remains an issue.
Rookie report: Easley is not ready to go yet. ... Jimmy Garoppolo is clearly the third quarterback and needs a lot of work. ... C Bryan Stork will challenge to start. ... RB James White is the talk of the camp and reminds me a little of Kevin Faulk. ... OT Cameron Fleming will wind up as the fourth OT but has a chance to contribute. The rest of the rookie class could all wind up on the practice squad.
On the bubble: Injuries will play a role in the final decisions but I don't think all the veteran running backs can make the team with White pushing them. ... Kelly may feel some heat when Easley returns and Dan Connolly has rookie linemen in the equation.
The John Fox offense strikes again

Everything you need to know for Week 7 of the 2017 NFL season is here

The Cardinals now have to turn to Drew Stanton to keep their slim playoff hopes alive
Jacksonville took Jacoby Brissett down to the ground 10 times on Sunday

Let's check in on Cleveland's ever-changing quarterback situation

Thomas is a first-ballot Hall of Famer who hadn't missed a snap since coming into the league...