Report: Eagles have 'edge' in landing QB Mark Sanchez
Several teams are interested in signing former Jets quarterback Mark Sanchez, including the Eagles, who reportedly have the 'edge.'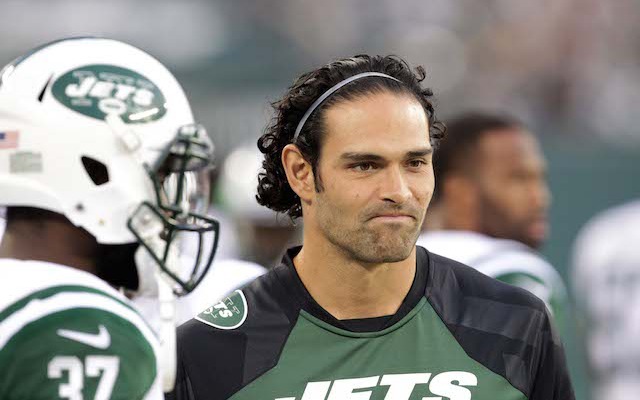 It doesn't look like Mark Sanchez is going to be a free agent for long. The former Jets quarterback has several suitors, including the Philadelphia Eagles, who have the early edge in landing Sanchez, according to the New York Daily News.
If Sanchez ends up in Philadelphia, he'd replace Michael Vick as the team's backup quarterback. The irony here is that Sanchez was released by the Jets on Friday after New York signed Vick to a one-year, $5 million deal. 
According to ESPN.com, the Eagles plan to sign Sanchez, but only if he passes his physical after undergoing a medical evaluation for the team.
Sanchez had season-ending surgery on his shoulder in October and is about 80 percent. Sanchez told TMZ on March 16 that his rehab is already to the point where he's throwing again.
"Shoulder feel's great. I'm already throwing," Sanchez said. "Feels like I've been gone a long time because I have." 
The former Jets quarterback also added that he thinks he would've been the starter in 2013 if he hadn't gotten injured, "Things were going great, I was competing well, felt like I was winning the job and then I got hurt," Sanchez said. 
Besides the Eagles, there are several other teams interested in Sanchez, including the Browns, Giants and Titans. Rams coach Jeff Fisher said on Sunday that his team is also interested in adding Sanchez. 
"I'd say that there is interest," Fisher said at the NFL's owners meetings in Orlando. "I can't say how much. But there certainly would be interest. I don't have a backup with experience on the roster right now.''
The Rams might be interested, but Philadelphia is looking like the most likely landing spot for Sanchez.
Donald Trump would like to see NFL owners cut any players who kneel for the national anthe...

One of the biggest penalties in Thursday's game was a controversial flag that went against...

If Ezekiel Elliott gets suspended, it likely won't come until Week 5 at the earliest
The NFL is apparently concerned that the Chargers might not be viable in Los Angeles

Everything you need to know for Week 3 of the 2017 NFL season is here

You can find every official injury designation for each NFL team shortly after its Friday report...