2014 team preview: Washington Nationals
Time to preview the Washington Nationals as part of our 30-team series. Is the theme this season "better late than never?"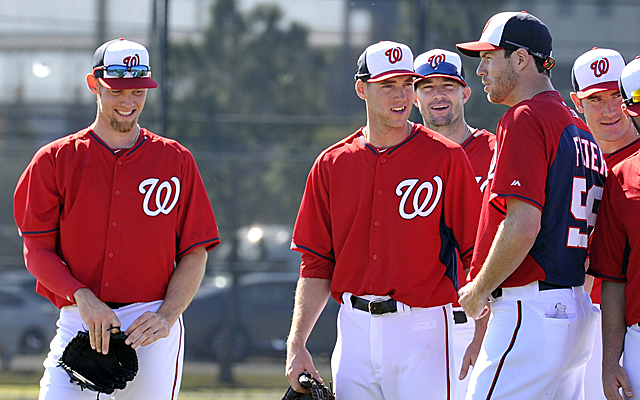 More: Likes, dislikes | Over/unders | All Team Previews | Spring Training
The Washington Nationals were one of the most disappointing teams in baseball last season, no question about it. They entered the season with sky-high expectations -- remember, their veteran manager said it was "World Series or bust" -- and failed to even sniff a playoff berth.
Well, that isn't entirely accurate. They actually finished only four games out of the second wild-card spot. It's just that they were playing from behind all season and never seriously challenged the eventual playoff teams. From that light, it's easy to see why so many people didn't notice the Nats went 32-16 in their last 48 games -- which was the best record in baseball in that stretch.
So can they build off that and get back to the level they were in 2012, when they had the best record in baseball? Let's check 'em out.
Probable lineup
1. Denard Span, CF
2. Ryan Zimmerman, 3B
3. Bryce Harper, LF
4. Jayson Werth, RF
5. Adam LaRoche, 1B
6. Ian Desmond, SS
7. Wilson Ramos, C
8. Anthony Rendon, 2B
Bench - C Jose Lobaton, 1B/OF Tyler Moore, 2B Danny Espinosa, OF Scott Hairston, OF Nate McLouth
The club enters this season a lot deeper than last and though it appears to be lacking a big bopper type in the middle of the order -- at least one a legitimate contender would be expected to have -- consider Harper ready to take a leap.
Don't believe me? Check out this line:
.356/.437/.744, 6 doubles, 1 triple, 9 homers, 18 RBI, 18 runs, 13 walks, 15 strikeouts in 25 games
That was Bryce Harper before he crashed into the Turner Field wall April 29. He later crashed into the Dodger Stadium wall and dealt with nagging injuries the rest of the season.
Now, we don't know how he would have fared sans wall confrontations, but we can surmise it hurt his performance. He was still productive and he's now still only 21. He just needs to stay away from those walls.
Probable rotation
1. Stephen Strasburg
2. Jordan Zimmermann
3. Gio Gonzalez
4. Doug Fister
5. Ross Detwiler
If Detwiler is injured and/or doesn't cut it, the likes of Taylor Jordan and Tanner Roark are waiting in the wings. Washington starters ranked sixth in the NL with a 3.60 ERA last season (0.19 away from second) and now Dan Haren (4.67) has been replaced with Fister (3.67, with an AL club). Expect this to be one of the best rotations in the majors.
Probable bullpen
Closer - Rafael Soriano
Setup men - Tyler Clippard, Drew Storen
Middle men - Jerry Blevins, Craig Stammen, Ryan Mattheus
Long man - Ross Ohlendorf
Blevins is the lone lefty here, but he was actually tougher on right-handers than left-handers last season, so he's not a LOOGY. Clippard is outstanding while Storen and Soriano could be -- which version of those two will we see?
Under-the-radar offseason transaction
Nate McLouth gives the Nationals a good basestealing option off the bench who has some pop, too. He had 31 doubles, four triples, 12 homers and 30 stolen bases in full-time action for the Orioles last season. Again, he'll come off the bench here, but he's a real good fourth outfielder. And I saved the best for last: McLouth can play all three outfield spots. That means he's available to fill in as a capable starter should any of the three starters go down and -- even better -- it means Harper can be left alone instead of being shifted between the three spots. In two seasons so far in his career, Harper has started 95 games in left, 94 in center and 57 in right. It's time to stop shifting and let him get comfortable. McLouth allows that.
Fantasy sleeper: Anthony Rendon

"With the sudden influx of mixed league-caliber talent at second base, Rendon has a chance to get lost in the shuffle. Whatever favor he earned with his .330 batting average and .830 OPS in June -- his first month as the Nationals' regular second baseman -- he lost with his .187 and .556 in July. But look what he did in August and September, hitting over .270 with an on-base percentage over .350 and a slugging percentage over .400. That's significant production for a second baseman. And that's in his first taste of the majors, at age 23, after only 260 at-bats in the minors. To perform as well as he did, the guy must have superior talent, but you already knew that from his pedigree. The Nationals selected him sixth overall in 2011 even after an injury-plagued college career. Second base has enough question marks, from Chase Utley and Brandon Phillips to Daniel Murphy and Brian Dozier, to thin the ranks in the year ahead. You may not draft Rendon as a top-15 second baseman this year, but he's a good bet to finish in the top 10." - Scott White [Full Nationals fantasy team preview]
Biggest strength
The starting rotation. This is a very good team, but this category isn't even close. Gio Gonzalez and Jordan Zimmermann have each had a year worthy of Cy Young consideration within the past two seasons while Stephen Strasburg was better than each in ERA, WHIP and strikeout rate last season. Dissenters might point to his 8-9 record, but the Nationals scored two runs or fewer in 16 of Strasburg's 30 starts.
And now Fister has joined the fray. Since being traded to the Tigers, Fister is 32-20 with a 3.29 ERA (128 ERA+). He's been one of the stingiest pitchers in the league in terms of home runs allowed, too, and now he's switching over to the league that is easier on pitchers (league ERA in AL last season was 3.99; in NL it was 3.73).
Biggest weakness
There doesn't seem to be anything glaring, but there are several areas where there should be some concern. And I'm going with counting on Adam LaRoche as a middle-of-the-order producer here.
We all know LaRoche is streaky and that he has upside. He was a great offensive producer in 2012, but that was his career year and it came at age 32. He's 34 now and coming off a season in which he was one of baseball's worst hitters through five or six weeks. Can the Nationals afford another bad start, given how last season turned out?
Branching off of that, if LaRoche does totally flop, the Nats have the option to move Zimmerman to first -- where he belongs at this point -- Rendon to third and play Espinosa at second, but will that kind of significant shuffling in season be problematic?
Outlook
If last year was "World Series or bust," this season is "better late than never." Yes, the Nationals were predicted to win it all by many (myself included) last season, but just because they failed doesn't mean they have lost their chance with this nucleus. This group is as talented as any and showed as much in the final third of the season in 2013.
Obviously, in order to win a division and a postseason series ... or two ... or three ... means that lots of things have to break right. The Nationals have enough here that if things go their way, they could be hoisting that trophy in late October.
Of course, there are pratfalls here that mean it's entirely possible to see a repeat of 2013 -- not necessarily in the same exact way, but getting to a similar record.
The most likely scenario is the Nationals engaging in a two-horse race with the Braves throughout the season in the NL East. I'll be picking the Nationals, but there isn't a wrong answer.
---
Coming Friday: Previewing the Atlanta Braves
Despite a seven-game ALCS, the Houston rotation lines up nicely for the World Series

Sabathia and the Yankees are a perfect fit for each other

Bregman threw out Greg Bird at the plate to preserve the Astros' lead
The 2017 World Series begins Oct. 24

The Yankees returned to contention even quicker than their front office expected

The Dodgers have the better defense, rotation, and bullpen, in our estimation