Aroldis Chapman among players to exchange arbitration figures
Thirty-nine arbitration-eligible players filed salary figures Friday. Here's a list with the known figures to this point.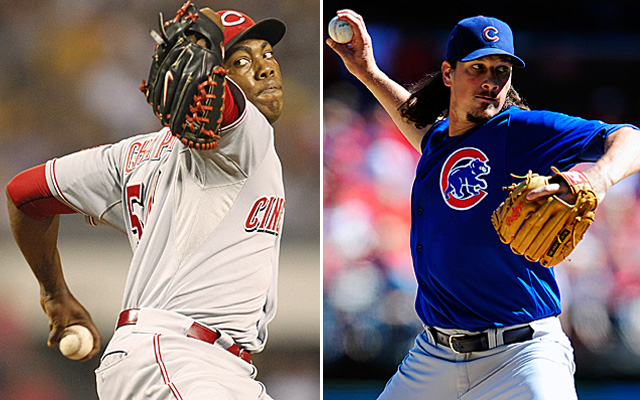 Arbitration deadline roundup | Three big-name Atlanta players headed to arbitration
With the deadline for arbitration-eligible players to exchange salary figures with their respective ballclubs having come and gone Friday afternoon, we now know which players haven't already settled with their teams on a salary for the 2014 season. There are 39 of them.
Before listing these guys, it's important to point out that each and every player on here is under team control for the 2014 season and won't be hitting free agency unless said player is released and clears waivers. This is only the process to decide upon the salary of players not yet qualified for free agency.
Here are the arbitration-eligible players who have not yet come to terms on a deal for the 2014 season, by team in order of last season's standings:
Boston Red Sox : Andrew Miller
Tampa Bay Rays : none
Baltimore Orioles : Matt Wieters
New York Yankees : none
Toronto Blue Jays : none
Detroit Tigers : Alex Avila
Cleveland Indians : Michael Brantley , Justin Masterson , Josh Tomlin
Kansas City Royals : Aaron Crow , Greg Holland , Justin Maxwell
Minnesota Twins : none
Chicago White Sox : none
A's: Josh Reddick
Texas Rangers : Mitch Moreland
Los Angeles Angels : David Freese , Kevin Jepsen
Seattle Mariners : Logan Morrison , Justin Smoak
Houston Astros : none
Atlanta Braves : Freddie Freeman , Jason Heyward , Craig Kimbrel
Washington Nationals : Tyler Clippard , Doug Fister
New York Mets : Lucas Duda , Dillon Gee
Philadelphia Phillies : Antonio Bastardo , Ben Revere
Miami Marlins : none
St. Louis Cardinals : Daniel Descalso
Pittsburgh Pirates : none
Cincinnati Reds : Homer Bailey , Aroldis Chapman
Milwaukee Brewers : none
Chicago Cubs : Darwin Barney , Justin Ruggiano , Jeff Samardzija , Travis Wood
Los Angeles Dodgers : A.J. Ellis , Kenley Jansen
Arizona Diamondbacks : Gerardo Parra , Mark Trumbo
San Diego Padres : Andrew Cashner
San Francisco Giants : Joaquin Arias , Brandon Belt
Colorado Rockies : none
Unless the player and team come to an agreement before an arbitration hearing, an independent arbitrator will decide which salary of the figures exchanged will be awarded to the player for the 2014 season. Here are the figures we know, thanks to Jon Heyman:
- Homer Bailey files for $11.6 million, the Reds offer $8.7 million.
- Matt Wieters files for $8.75M, the O's offer $6.5M.
- Freddie Freeman files for $5.75M, the Braves offer $4.5M.
- Justin Masterson files for $11.8M, the Indians offer $8.05M.
- Greg Holland files for $5.2M, the Royals offer $4.1M.
- Aroldis Chapman files for $5.4M, the Reds offer $4.6M.
- Doug Fister files for $8.5M, the Nationals offer $5.75M.
- Jason Heyward files for $5.5M, the Braves offer $5.2M.
- Kenley Jansen files for $5.05M, the Dodgers offer $3.5M.
- Mark Trumbo files for $5.85M, the Diamondbacks offer $3.4M.
- Craig Kimbrel files for $9M, the Braves offer $6.55M.
Last season, there were zero arbitration hearings.