MLB Awards: Cabrera, McCutchen get MVPs; Scherzer snares AL Cy Young
MVP races in both leagues will renew the WAR debate, but winning counts here -- so the winners are Miguel Cabrera in the AL, Andrew McCutchen in the NL.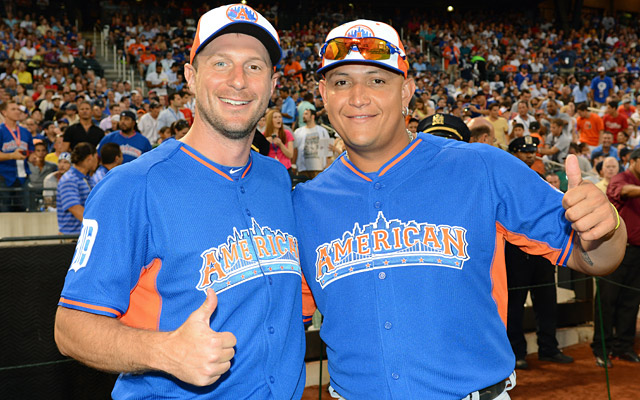 The MVP competitions will likely both produce clear winners, but the AL race still willl engender a lot of controversy.
Though not here.
After producing another monster offensive season and division winner, Miguel Cabrera is the easy AL winner on this ballot. And Andrew McCutchen is equally as easy here in the NL, as the multitalented center fielder who helped lift the Pirates to the postseason after 20 straight losing seasons.
WAR does count here. Though not for everything.
WAR is a great concept that tries to put a number to all-around player contributions. But it can't be absolute because it relies on someone's interpretations of the value of the other stats and isn't close to perfect or even precise. (There are in fact, two different WAR numbers, and Baseball-Reference will be used here.)
WAR also doesn't take winning into account.
Winning still counts here. And not just a little.
The ballot instructs voters to interpret the award the way they wish. So if someone wants to say "most valuable player" and "best player" are synonymous, that's OK. But I still think, as the history of the MVP winners suggests, that "valuable" implies winning, preferably a division. But if not a division, then a wild card, and if not a wild card, then enough winning to contend.
The goal of every good player is still to win, not to lead the league in a stat few can interpret.
So rarely would my MVP come from a non-contender, and only in cases when there are no great individual seasons posted for winning teams. That obviously isn't the case here, where Cabrera and McCutchen shined.  
No, it isn't Mike Trout's fault (or Carlos Gomez's, for that matter) that he didn't play in a meaningful game after May. But his exploits ultimately had less effect on pennant races (none, to be precise). Plus, he executed under less pressure.
If someone wants to argue the award should go to the best player and that that player is Trout, that's fine by me. But there is plenty of precedent that the award is about winning, too. Rare has an MVP come from a non-contender, and usually only in cases where there are no great alternatives..
Since I still count winning, so Robinson Cano, whose Yankees contended but fell well short, gets only a 10th-place vote.
And Jayson Werth, whose Nationals team only threatened to contend, didn't make the ballot. And Troy Tulowitzki and even Gomez, who played for also-rans, don't make the ballot, either.
Many will complain that Gomez should be on the ballot somewhere. It's nothing personal, but I would rather see any of the ones on my ballot win the award than him. (Freddie Freeman made a big contribution to a division winner, and so did Yasiel Puig and Craig Kimbrel, and Joey Votto made them for a wild-card winner.)
Trout gets third place here because his season was so superb it deserves mention.
Josh Donaldson, who made a variety of contributions to another special A's season, gets the nod here for second place behind Cabrera, and some new-stat guys won't like that either, even if they do like Donaldson. Donaldson's WAR of 8.0 was second in the AL to Trout's 9.2 and his heroics so frequent I couldn't see that one extra WAR point for Trout (or two points, if Fangraphs WAR is used) being a compelling enough reason to place Trout ahead of him.
This is no knock on Trout, who's started his career with two unreal years. He is, in fact, the only player from a team that never contended to appear anywhere on my ballots.
So hold the hate, please.
AL MVP
1. Miguel Cabrera, 3B, Tigers: He couldn't do much the last month because he was hurt, costing him a shot at back-to-back Triple Crowns. But he pretty well had the MVP wrapped up by August. His batting percentages are better than anyone else, and way better than anyone on a contender. (Note: the reason his big September last year counted so much is the Tigers needed it, whereas they had things pretty well wrapped up by September this year even if they only wound up winning the division by a game.)
2. Josh Donaldson, 3B, Athletics: His big WAR combined with several great moments which allowed Oakland to pull off its second straight surprise title gives him the nod over Trout and Chris Davis.
3. Mike Trout, OF, Angels: Sure, he may well be the best all-around player in the league. But he didn't play a meaningful game after May.
4. Chris Davis, 1B, Orioles: An Orioles-record 53 home runs kept Baltimore in it until late.
5. Evan Longoria, 3B, Rays: Two-way star is major difference-maker for small-market team.
6. Shane Victorino, OF, Red Sox: Looked like an overpay at $13 milllion per year, but has become an inspirational leader, right field standout and all right-handed-hitting terror.
7. Dustin Pedroia, 2B, Red Sox: Boston's long-time leader had his usual year.
8. Jason Kipnis, 2B, Indians: Fine all-around player who didn't get the pub of all of Cleveland's veteran free-agent pickups.
9. Adrian Beltre, 3B, Rangers: Huge year for infielders, especially third basemen. Terrific all-around player and leader.
10. Robinson Cano, 2B, Yankees: Many will have him higher, but the Yankees' place in the standings cost him here. Winter will be more interesting than summer.
Others: Tigers starter Max Scherzer was superb start to finish. Orioles third baseman Manny Machado was a magician on defense. A's outfielder Coco Crisp inspired a band of kids who became believers. Red Sox DH David Ortiz hasn't lost a thing, outfielder Jacoby Ellsbury was terrific before going down and reliever Koji Uehara was magnificent after taking over the closer role.
AL LVP (Least Valuable): Josh Hamilton, Angels. Turns out Texas is not only a baseball town, it was a much better spot for him.
NL MVP
1. Andrew McCutchen, OF, Pirates: This time, he and the Pirates got it done with a big finish. Had Yadier Molina held up as well in the second half, it would have been a race.
2. Yadier Molina, C, Cardinals: WAR (5.7) doesn't do justice to the most important defensive player in the game (with apologies to the Braves wunderkind shortstop Andrelton Simmons).
3. Matt Carpenter, 2B, Cardinals: He didn't win the job until spring training yet led the league in hits and runs. Yet another great Cardinals find.
4. Hanley Ramirez, SS, Dodgers: When he played, nobody played better. His 5.4 WAR was good for a tie for the 10th-best in the league, yet he played barely more than half the schedule.
5. Paul Goldschmidt, 1B, Diamondbacks: He carried Arizona with an all-around brilliant year, leading the league in RBI by a wide margin, stealing 15 bases and playing a fine first base, but couldn't do it by himself. Had Arizona made the playoffs, he might be the winner.
6. Clayton Kershaw, SP, Dodgers: Ultimately, the Dodgers won with pitching, and nobody does it better. If someone tells me he should win it, I'm OK with it, as I'm still grappling with how much weight to give players over pitchers.
7. Freddie Freeman, 1B, Braves: Terrific and clutch hitter had a big finish.
8. Yasiel Puig, OF, Dodgers: Sparked the slow-starting Dodgers with insane ability and flair.
9. Craig Kimbrel, RP, Braves: The lockdown closer was great comfort for a team without a true ace.
10. Joey Votto,1B, Reds: The league leader with a .435 on-base percentage combined with outfielder Shin-Soo Choo (.423) to give Cincinnati all sorts of scoring chances.
Others: Choo isn't far behind Votto. Simmons was incomparable in the field. Gomez was terrific on both sides of the ball but his crazy-high WAR (8.2, tied with McCucthen) looks like a mirage and the Brewers season was a disaster. Werth was very good for a team that threatened only for a few days. Tulowitzki was almost exactly as good for a team that never threatened after the break.
NL LVP (Least Valuable): B.J. Upton, Braves, OF. Nobody has ever had a worse hit per millions ratio.
AL Cy Young
1. Max Scherzer, SP, Tigers: Even if he wasn't 21-3, his case is probably better than anyone, with a league-best 0.97 WHIP and .583 OPS against and numbers in the top few in just about every other category. The won-loss record doesn't have the importance it used to (credit the new-stat guys) but 21-3 makes a decent tiebreaker if anyone wants to say Hisashi Iwakuma, or someone else was as good.
2. Hisashi Iwakuma, SP, Mariners: He's got a higher WAR than Scherzer by one accounting -- Scherzer's higher on the other. Big finish might help make a case for the hard-core #killthewin guys, but he won't beat Scherzer.
3. Anibal Sanchez, SP, Tigers: He led the league in ERA while living up to his $80 million contract, which isn't so easy to do.
4.Yu Darvish, SP, Rangers: The import led the league in strikeouts and he was dominant at times.
5. Bartolo Colon, SP, A's: He's second in ERA, second in winning percentage and first in miracles. He's light on innings ans strikeouts, so expect Chris Sale to make the top five.
Others: White Sox starter Sale had a brilliant year (except against Cleveland) and could make a case for anywhere from No. 2 to No. 5. It was tempting to find a spot for Red Sox starter Clay Buchholz for his brilliant half a season. Uehara was uhittable for a while, Rangers closer Joe Nathan was necessary and incomparable Yankees closer Mariano Rivera had a great send-off season.
AL Cy Old (Worst Starter): Joe Blanton, Angels SP. It isn't easy to go 2-14 with that offense, post a 6.04 ERA and surrender home runs at the rate he did. Decent pitcher, but not this year.
NL Cy Young
1. Clayton Kershaw, SP, Dodgers: Almost Koufax-like.
2. Jose Fernandez, SP, Marlins: Nobody was better in the second half (1.32 ERA). Brilliant pick by Marlins scouting director Stan Meek at No. 14 in 2011.
3. Matt Harvey, SP, Mets: Harvey games were an event, and rightfully so.
4. Adam Wainwright, SP, Cardinals: He and Cliff Lee had brilliant bookend seasons, piling up innings while posting inhuman strikeout/walk ratios.
5. Cliff Lee, SP, Phillies: Almost exactly as good as Wainwright, but with a much worse team. Rightfully, this would be a tie at No. 4.
Others: Madison Bumgarner was the one great Giants starter. Jordan Zimmerman became the Nationals' ace. Dodgers starter Zack Greinke had a big second half.
NL Cy Old (Worst Starter): Edwin Jackson, Cubs. He complained one game recently about Dale Sveum giving him the early hook, but the way I figure it Sveum was doing him a favor.
AL Rookie of the Year
1. Jose Iglesias, SS, Tigers: Spectacular defender has Gold Gloves in his future and hit better than folks figured, especially in the beginning in Boston.
2. Wil Myers, OF, Rays: The Rays' offense finally took off after he arrived. Chris Archer and Alex Torres are two more Tampa candidates in a year when no rookie qualified for the batting or ERA titles, as Joel Sherman of the New York Post pointed out.
3. Martin Perez, SP, Rangers: Bounced back nicely after a broken arm suffered in spring training to put together a nice little run. Will start game No. 163 for Texas on Monday. Oakland's Dan Starily right there, as well.
NL Rookie of the Year
1. Fernandez, Marlins: Besides everything else, just about unhittable at home.
2. Puig, Dodgers: Sure, he made a few mistakes. But what an impact he made.
3. Shelby Miller, Cardinals SP: Superb season would be worthy of the honor in another year. Same goes for Hyun-Jin Ryu of the Dodgers and Julio Teheran of the Braves, who had practically the same year as Miller. Great year for NL rookies.
AL Manager of the Year
1. John Farrell, Red Sox: Excellent and smooth season went without a hitch, and the GM-manager relationship was a help.
2. Terry Francona, Indians: Ex-Red Sox icon helped turn the Indians into a playoff team thanks to a 10-game winning streak to finish.
3. Bob Melvin, A's: Oakland keeps surprising us. Another great job.
NL Manager of the Year
1. Clint Hurdle, Pirates: Nobody saw the Pirates as a playoff team but them, and Hurdle helped make it happen.
2. Don Mattingly, Dodgers: From 12 games under to a runaway West winner, his steady hand was key.
3. Fredi Gonzalez, Braves: Despite all the injuries, they blew away the allegedly better Nats and won themselves at least one playoff home series.
AL Executive of the Year
1. Ben Cherington, Red Sox: Intentional or not, the strategy to bring in a multitude of mid-range contributors looks brilliant. Great job.
2. Billy Beane, A's: Do we hear Moneyball, the Sequel?
3. Chris Antonetti, Indians: The Ubaldo Jimenez trade looks worthwhile today, Scott Kazmir definitely was and all the Indians turned out better than most of us thought. The Tigers' Dave Dombrowski deserves mention every year.
NL Executive of the Year
1. Neal Huntington, Pirates: Francisco Liriano, Jason Grilli Mark Melancon and Russell Martin were all winning winter moves.
2. Ned Colletti, Dodgers: They spent a lot, but it turns out they mostly spent well. In the end, even Juan Uribe paid dividends.
3. Frank Wren, Braves: The cheapie pickups (David Carpenter, Anthony Varvaro, Jordan Schafer, Evan Gattis among them) helped Atlanta roll to the title. The Cardinals' John Mozeliak did his usual fine job, as well.
The Dodgers and Braves pulled off a whopper on Saturday

Sabathia will reportedly spend a 10th season in the Bronx

Fowler suffered a knee injury at Chicago's Guaranteed Rate Field
The lefty starter is coming off a terrible season

After acquiring Ian Kinsler and Zack Cozart in recent days, the Angels are trending upward

Cozart's coming off a big season as the Reds' shortstop