Baseline Awards: Nuggets rising; Hawks tailing off; the KG Effect
The Baseline Awards review the best and worst of the week that was and update the major award standings weekly.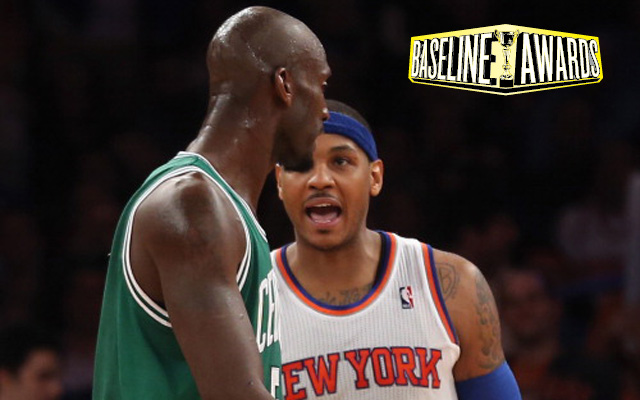 Melo let KG get in his head this week.
(Getty Images)
The Baseline Awards review the best and worst of the week that was and update the major award standings weekly.
The "NBA games are played indoors in January" award for things that are awesome: 
Trade rumors: It's that time. In the past week we've seen Rudy Gay open a floodgate of rumors as teams start to make it know whether they will be buyers, sellers, or abstain at the trade deadline. The market is open.

The Boston-New York rivalry: The KG-Melo episode was precisely what it needed to bring it into a new gear. The rivalrly thrives in baseball, football, hockey, but hasn't been big in basketball in decades. Between the Knicks' rise to power and the events of last Monday between KG and Melo, we have ourselves a new playoff matchup to hope for. Maybe we can get the Nets in a three-way on this one, with all three teams hating one another.

Brooklyn Nets: Speaking of, the Nets have won six straight, and are clobbering teams. Turns out all they needed was a coach who struggled to win with Kevin Durant and company back when they were wee kids. Because that makes sense. We really need to be talking about how good Brook Lopez is more.

Avery Bradley: He was expected to make a difference, but it's been even more than suggested. While not everything can be attributed to Bradley, he's helping the defense by attacking the perimeter and taking pressure off the bigs and he's helping spread the foor and create in transition. He really is a huge difference maker for this team.

Denver Nuggets: When they turn up the pressure, they simply undo teams and then run them blind with their offense. Rolling now that the schedule has adjusted itself.

Lineup of the week: Calderon, Jose - Davis, Ed - DeRozan, DeMar - Fields, Landry - Johnson, Amir: A net 35.5 points per 100 possessions efficiency over three games this week. The Raptors are losing some tough games because of their lack of depth, but these five guys are doing work.

Larry Sanders: Turns out the Larry Sanders Show is a block party. 
Portland's chaos machine: Here's the thing. Portland is not very good. It has three really good starters and two decent role players, with a bench that is abominable. But the Blazers simply make things happen. Bizarre things occur and they convert on them. Even after consecutive losses, this team is dangerous to face until their confidence goes down.
The "I'll meet you at the bus (as long as there are 700 security and police officers in-between us)!" award for "C'mon, man:"

Carmelo Anthony's composure: It's KG, man. There are things NBA players shouldn't say, ever. But Melo can't let him get to him like that. He's too important to the Knicks, and it just lets not only Garnett but the entire city of Boston into his psyche. This is a thing now, you see. It'll be a thing when the Knicks visit Boston later this month, and if the Knicks face the Celtics in the playoffs, it's going to get ugly fast, so fast. 

Dallas Mavericks: The disaster, it has come unraveled. They're fielding questions over whether they have considered or would consider they would trade Dirk Nowitzki. That's what this has come to. 

Harris, Devin - Horford, Al - Korver, Kyle - Smith, Josh - Teague, Jeff: This lineup was minus 26 or the week. They were outscored by 26 points for a combination of top-five rotation guys. So yeah, the Hawks have hit a rough patch.
Jazz pick and roll defense: They have particular trouble when the ball-handler goes away from the pick, but then their bigs get caught trying to overcompensate, and go to far the other way, opening the lane.
Pacers-Knicks: An absolutely brutal game that shows why these two teams are close in the East, but also a bad matchup for good basketball. The Pacers' offense can't produce against a good defense like the Knicks, but their offense also drives down the opponent's scoring, so you get a game in which neither team shot over 40 percent from the field. Let us never speak of this game again.
MVP
*The top three players are obstensibly tied.
1. LeBron James, Heat: The man is shooting 40 percent from 3. How terrifying is that?
2. Kevin Durant, Thunder: So much on his shoulders and he still wants more.
3. Chris Paul, Clippers: Paul has to dial it back to save his body like he has the past four years at some point, right? Right?
4. Carmelo Anthony, Knicks: Letting KG get in your head is not good for the future, Melo.
5. James Harden, Rockets: Puts defense in blenders and makes margaritas out of them.


6th Man of the Year
1. Jarrett Jack, Warriors: Control and execution for a team that needs it with so many young pieces.
2. J.R. Smith, Knicks:  A heinous omission last week. But still ... there are moments you wonder if he's going to J.R. them in the playoffs.
3. Kevin Martin, Thunder: The spot-up shooter they've needed.
4. Jamal Crawford, Clippers: Blip on the radar or coming back to earth?
5. Carl Landry, Warriors: Hustling and making things happen defensively as well.


Defensive Player Of the Year
1. Andre Iguodala, Nuggets: The Nuggets are 13th in defense and Iguodala has locked down nearly every elite wing player they've faced in the last month.
2. Tony Allen, Grizzlies: Rudy Gay would not be expendable if Allen weren't as good.
3. Andrei Kirilenko, Timberwolves: Carries a surprisingly good defensive team on the wing.
4. Nick Collison, Thunder: His block/charge rate must be one of the best in the league. 
5. Tyson Chandler, Knicks: Continues to bury pick and rolls in shallow graves.

Under review: Rookie of the Year (Leader: Damian Lillard), Most Improved Player (Leader: Jrue Holiday)
LaVar Ball formed a pop up shop in New York to sell Big Baller Brand merchandise. The results...

The Cavaliers players took a stand against bullying on social media

The Rockets are gunning for their 10th consecutive win
Victor Oladipo just wants to live his life and enjoy his breakout season with his new team

Keep it right here for all of the news, notes, scores, and highlights from around the Asso...

LeBron has a player option for next season, and is expected to opt out and become a free a...