Power Tankings: And all that Jazz
The Utah Jazz and the Milwaukee Bucks are the two worst teams in the league, but could they have competition soon?
During an NBA season, it's always fun to see two teams separate themselves from the rest of the pack and make you pray they meet up for an epic battle in the NBA playoffs. Whether it's a team from the East and a team from the West doing battle and having us pray for a showdown in the NBA Finals or two titans of one conference setting themselves up for a conference finals contest, we love seeing dominance established throughout a regular season.
We're possibly seeing that with the tanking attempts as well. The Utah Jazz and Milwaukee Bucks have set themselves apart from the rest of the field as the two worst teams in the league. While we won't get to see them battle it out in the final month of the season, their final meeting in the first week of March could have huge lottery implications. By then, we could have mysterious injuries and illnesses that decimate the rosters. We could have the two worst teams on offense find themselves in a 60-54 affair to remember.
There is still so much of the season left as we begin to wrap up the first month of basketball but we've already had two teams separate themselves from the pack this early. 
Here are the Week 5 Power Tankings:
Record: 1-14 (0-4 this week), Net Rating: -14.1 points per 100 possessions
Good news, gang! You finally have a point guard again. Rookie  Trey Burke is back from injury, which means the Jazz can finally start getting organized on the offensive end of the floor. The Jazz are currently the worst offensive team in the NBA. Well, they're the worst defensive team in the NBA. They're just the worst team in the NBA right now and it's not all that close. But getting Burke back should at least begin to fix some of the offensive problems. He's good at dribble penetration and he can create for himself and others. 
In his first three games, Burke has shown some solid ability as he figures out this level. He's not shooting all that well but you expect him to have a little rust. His job is to right the ship offensively and help make Utah more competitive. Unfortunately, his first start of the season came against the Thunder and the Jazz needed a Rudy Gobert explosion of points in order to crack 70 for the game. You read that correctly: "A RUDY GOBERT EXPLOSION OF POINTS!" At this point, the Jazz have to be tanking because no other excuse makes sense. 
Record: 2-10 (0-3 this week), Net Rating: -11.4 points per 100 possessions
There has been some debate about whether or not the Boston Celtics are the second-worst team in the NBA. Matt Moore and I have had this debate multiple times on the Eye on Basketball Podcast, which you can download, subscribe to, and leave a four or five-star review for on iTunes. Matt's contention is that the Celtics simply don't have talent and are easily the second-worst team in the league behind the Jazz right now. I, on the other hand, don't see how it's anybody but the Bucks. They have the second-worst offense, the fourth-worst defense and the second-worst net rating by a long shot. 
They needed 38 points from Caron Butler this weekend just to force overtime against the  Philadelphia 76ers and then got blown out by the Charlotte Bobcats by 24 points the next night. This is a team that shoots well from 3-point range (38.6 percent, 10th in the NBA) and yet their three leading shot takers ( O.J. Mayo , Caron Butler, and Gary Neal ) are a combined 164 of 409 (40 percent) from the field with only Mayo over 40 percent. Even when the injured Larry Sanders returns, I'm not sure how this team is very competitive.
Record: 4-10 (0-3 this week), Net Rating: -8.3 points per 100 possessions
We were keeping our eye on the Cavs last week but now we're in full-fledged Power Tankings mode with this team. The players-only meeting following their embarrassing loss to the Wolves had rumors of Dion Waiters punching Kyrie Irving . Whether those can be substantiated or not, we do know the team didn't respond with an inspired effort, by any means. They played four relatively close games and even took a game from the Wizards in the process. Then they got destroyed by 30 at the hands of the Spurs and it wasn't even that close.
How bad have things gotten? The Spurs were just pranking each other and messing around on the court during this game: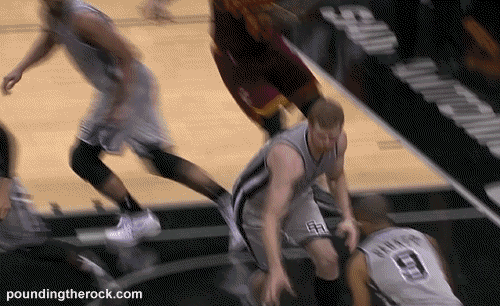 LeBron James definitely wants to save this.
Record: 6-9 (1-3 this week), Net Rating: -5.8 points per 100 possessions
The Sixers are definitely settling into their warm bath of tanking right now, but they're still a little too competitive for our liking here at Power Tankings. Since the 4-2 start, they've gone 2-7 with their two wins coming in overtime against a Rockets team that didn't have star  James Harden and in overtime against the dreadful Bucks. The Sixers needed a well-contested catch-and-shoot fadeaway 3-pointer from the corner by Spencer Hawes to force overtime in that game. It was incredibly fun but it didn't do them any favors against a Bucks team that could be challenging for the most lottery balls.
The Sixers shaved nearly a point off their net rating this week, which is no way to tank. They also waived Kwame Brown and Darius Morris. It's like I don't even know who you are or what you're about anymore, Sam Hinkie. Next five games are at Orlando, home for the Pelicans, at Detroit, home for Orlando, at Charlotte. We'll finally get to see just how serious they are about tanking.
Record: 5-10 (1-3 this week), Net Rating: -6.6 points per 100 possessions
This team is streaking. Literally. They started the season with four straight losses. They followed that up with four straight victories. Then they lost six straight games before they beat the Hawks on Saturday. Their next five games are at Charlotte, home against a Grizzlies team that doesn't have Marc Gasol , home against the disastrous Cavaliers and then a home-and-away with the Bucks. They could actually get a six-game winning streak to neutralize the six-game losing streak. This is entirely feasible. 
I don't know how to calculate the odds of starting off a season that way, but I can't imagine it would be high. The Celtics are a roller coaster of streaks right now. Perhaps that's what happens when Jeff Green , Jared Sullinger  and Jordan Crawford are your three best players 15 games into the season. Rajon Rondo probably can't wait to return to this roster. 
Keeping an eye on:

Chicago Bulls
Record: 6-6 ( Derrick Rose  surgery), Net Rating: -0.3 points per 100 possessions
The Derrick Rose injury a year and a half ago showed us the Bulls have no issue with cutting costs in a time of mourning in order to save a little money. After Rose's surgery put him out for the rest of the season, the Bulls entertaining trading away Luol Deng for a future pick or a prospect isn't out of the question. If that happens, Carlos Boozer becomes your No. 1 option on offense. If that happens, why wouldn't the Bulls start setting themselves up to sneak into this lottery? Tom Thibodeau would never allow it, but at a certain point you're playing either Marquis Teague or Mike James 20 minutes a game. Chicago may not have a choice.
Pull yourselves together!
Brooklyn Nets and New York Knicks , combined Record: 6-19 (combined to go 0-7 this week)
Deron Williams injured his ankle twice in one week. Brook Lopez doesn't seem to walk with a limp at all but he's still not playing. Jason Terry and Andrei Kirilenko are not available to play.  Kevin Garnett and Paul Pierce aren't striking fear into anybody. Jason Kidd's coaching is making Vinny Del Negro look like Gregg Popovich (but that could definitely change after he gets some healthy players to coach). Tyson Chandler and Raymond Felton are out right now. Iman Shumpert had a secret surgery that has management wanting him benched. Woody Allen isn't allowed into the VIP restaurant. 
Things can turn around in New York, right? I can just hear the "Hire Isiah" chants now ... from both fan bases.
The Blazers guard was a guest on the Sirius XM radio show 'Sway in the Morning'

L.A. reached a three-year jersey ad patch deal with Wish, a San Francisco-based e-commerce...

John Paxson doesn't intend to buy Wade out without some sort of compromise from the 3-time...
Lonzo's signature shoes have a sleek, all-black design and will be available in November

Durant recently apologized for tweets criticizing the Thunder and Billy Donovan

Jackson says he has 'no respect' for Durant after KD created fake Twitter pages