2013 NFL Schedule: Best and worst game for each team
What is the best and worst game on each NFL team's 2013 schedule? Let's take a look.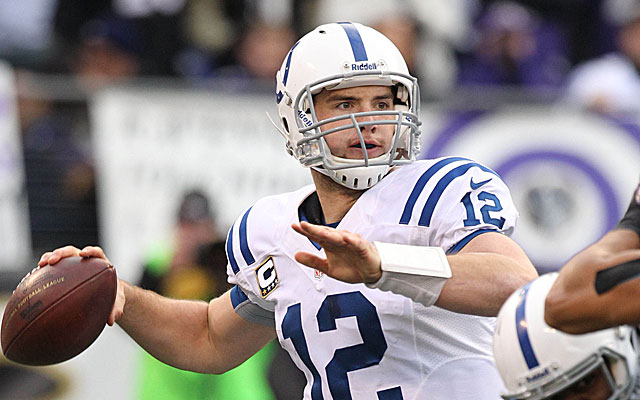 There are some gigs you're always glad to accept. Like, um, not the one where you're in charge of picking the best and worst game for each team on the freshly released 2013 NFL schedule.
Just kidding. It's writing about football. I don't care what time of the day or time of the year it is, it's not something to ever take for granted. Anyway, time to run through the best and worst game for each team. All 32 of them!
The criteria here does not serve the team's interests. I'm sure the Redskins are happy they get to play the Raiders in Oakland because the Raiders stink. That might be their most winnable game. But you know who doesn't like that game? Everyone not on the Redskins roster. Even some of you Redskins fans have to be "meh" about that snoozer.
So the basis for the grading here will be how much the average NFL fan would pay on StubHub to attend a game. There will be dollar signs from $ to $$$$$ and no I won't just pick every time a team plays the Jaguars, Jets or Raiders. Just most of the time. Oh, yeah, I'm also going to do my best not to pick the same game more than once. This should be fun and/or a disaster. Let's roll.
Arizona Cardinals
Best Game: This is a totally random game, but it's one I think could be good based on the fact that the last time these two teams matched up, things got spicy. The Cardinals square off with the Carolina Panthers in Week 5, and I think it's a high-scoring affair that pits former fellow 2011 rookies Cam Newton and Patrick Peterson against each other. $$

Worst Game: Could you see yourself getting excited for the Cardinals-Jaguars game? I could. Ha. Just kidding. Week 11 between those two teams isn't something I'm particularly interested in. Although there's a decent chance someone wins their fantasy matchup that week because Carson Palmer throws for 400 garbage-time yards. Or Blaine Gabbert. I could see starting him in Fantasy. $
Atlanta Falcons
Best Game: Tons of options here, including against the Seahawks and matchups against the Saints. But I'll take Week 16 (Dec. 23) against the 49ers. Gambling on a late-season game being that spicy is tough, but both teams should be successful and fighting for a division title. It doesn't hurt that it's a rematch of the NFC Championship Game. $$$$$
Worst Game: The Jets at home on a Monday night is a mortal lock for me. I don't buy that New York will be any good this year, and while the Jets' defense will create problems for people because Rex Ryan's in charge, if Darrelle Revis gets dealt then Matt Ryan will have a field day. Sneaker for a stinker on primetime. $$
Baltimore Ravens
Best Game: It's hard to pick against a Steelers matchup, but, man, that Broncos game for the opener looks awesome. Ravens fans will be -- rightfully -- salty about their team having to open up its title defense on the road. Elvis Dumervil is making a quick trip back to Denver, and it's a rematch of arguably the best game of the playoffs. $$$$$
Worst Game: Not a whole lot of horrible games on this schedule, but I'm gonna go with the game against the Dolphins for my pick. (The Bills would be a reasonable choice, too.) Unlike a lot of people, I think Miami will disappoint in 2013 and, also unlike a lot of people, I don't think the Ravens are nearly as bad off as people want to act like. $$
Buffalo Bills
Best Game: Week 1 against the Patriots, and it's not even close. This is a classic "Pats are 29-point favorites on the road to start the season and picked by every single person in every single survivor league but suddenly Cordy Glenn is blocking well for Kevin Kolb who finds T.J. Graham deep late and, Oh my God, Mario Williams is playing well and the Bills are sacking Tom Brady what the hell is happening" game. $$$
Worst Game: There are tons of choices here, mainly because it's the Bills we're talking about. (YES, I'M STILL BITTER I PICKED THEM TO MAKE THE PLAYOFFS LAST YEAR.) But there's one that takes the cake, and it's the Jaguars hosting Buffalo. It would be absolutely stunning if either team is anywhere near contention in their respective division by the time this game kicks off. There's always Fantasy and 2014 NFL Draft position, though ... $
Carolina Panthers
Best Game: I neglected to include the Panthers-Patriots game in my list of primetime games I wanted to see, and that was probably dumb. There's a chance Carolina could get blown out at home on Monday Night Football, but there's also a chance we could see a glorious, glorious shootout. Neither team has much in the way of a pass defense (Aqib Talib is the only really above-average player in either secondary at this point) and the combo of Cam Newton and Tom Brady chunking it all over the field is quite enticing. $$$$$
Worst Game: There are some nice games on Carolina's schedule, but it's also a tough schedule. One game that stands out as a potential stinker is a Week 7 matchup against the Rams. It's a home game the Panthers need to win, but it just has the feel of a low-scoring slogfest that makes everyone's eyeballs hurt. Plus, the Panthers could be staring at the Buccaneers on a short week (Thursday) the next week and get caught unprepared. $
Chicago Bears
Best Game: Debated back and forth between the two Monday night games for Chicago but ultimately went with the matchup in Green Bay on Monday night in Week 9. It's Bears-Packers, which means an awesome rivalry. And I'm banking on the revamped Chicago offense making this a secretly awesome primetime shootout. $$$$$
Worst Game: You know, I kind of like the Browns this year, but that doesn't mean I'll even consider using one of my televisions on the Bears-Browns matchup at 1 p.m. in Week 15 with the Bears coming off a short week. $
Cincinnati Bengals
Best Game: No question about it: Week 2 against the Steelers means a chance to tip the scales in the AFC North in a primetime game (stop me if this sounds familiar). The Bengals have some work to do this offseason and really, really need to re-sign Andre Smith and just keep crushing their draft picks. But with Pittsburgh potentially down, this looms as a monster. Oh, and it doesn't hurt that James Harrison just signed with the Bengals, does it? $$$$
Worst Game: I love football on holidays, but gotta be honest here: Bengals-Dolphins on Halloween has major ghoul potential. It's a Thursday night and the NFL Network's done a darn fine job of making a better Thursday schedule this year. Still, gonna go ahead and say this one ends up being a dead man walking. $
Cleveland Browns
Best Game: This might sound crazy, and it's not a big-money, cashcow game, but I'm really interested in the season-opening game against the Dolphins. Both these teams spent big in the offseason and have much higher expectations heading into 2013. Someone's expecations could be derailed early. $$$
Worst Game: Hahaha. Browns at Jets in Week 16. This is that game where we all sit around in April and say "I'd even watch that." $
Dallas Cowboys
Best Game: A number of primetime options to pick from here, but I'm going with the Week 10 game against the Saints in New Orleans. It's a revenge game for Rob Ryan, a prove-it game for two new defenses and major shootout potential that should seriously impact the NFC playoff race. $$$$$
Worst Game: My bosses might not like this because it's on CBS and I will definitely be watching, but Raiders-Cowboys on Thanksgiving? Why don't you just ban stuffing and turkey, NFL? $$
Denver Broncos
Best Game: Peyton Manning and Andrew Luck square off in Indianapolis in a matchup of two AFC playoff teams from last year in a game that is also Peyton's return to Indy for the first time (on the field) since he was released by the Colts? Yes, please. $$$$$
Worst Game: Week 17 in Oakland could be an absolute trainwreck. There's a decent chance the Broncos have already won the division at that point, and I'm not sure what Oakland will be fighting for other than draft position. We could see a lot of Terrelle Pryor here. And that's not good for anyone. $
Detroit Lions
Best Game: Turkey Day against the Packers, without question. What football player Ndamukong Suh will "accidentally" hurt with his foot this year??? Could Evan Dietrich-Smith make a repeat appearance on this historic list? $$$$
Worst Game: Something about a Lions-Browns game in Week 6 just doesn't seem like a thing I want to be watching. There's some enticing Calvin Johnson-Joe Haden action here, and if the Lions don't improve their secondary we could see some big numbers out of Brandon Weeden. But by and large, meh. $
Green Bay Packers
Best Game: The Packers are a fun team to watch, so there's always plenty of games that are worthy of their best game. But Week 1 last year against the 49ers was an outstanding game (even if it said more about San Francisco's defense than it did about Aaron Rodgers and company) and I'm dying to see how Rodgers and crew answer the bell in Week 1 after being embarrassed by Colin Kaepernick in the playoffs last year. $$$$
Worst Game: That Week 7 game against the Browns in Green Bay just doesn't do anything for me, honestly. Sorry, Cleveland. I don't hate you. I promise. $
Houston Texans
Best Game: The Week 3 game in Baltimore has the potential to be a knock-down, drag-out fight between two physical AFC contenders. $$$$
Worst Game: Houston's got a very nice little stretch of Raiders-Jaguars-Patriots-Jaguars that has to, you'd think, end with them coming out 3-1 one way or another. But out of all those games, the Raiders one really stands out to me as a potential trainwreck. If Arian Foster and Ben Tate are healthy and pile up yardage, Matt Schaub will be able to fling it deep to Andre Johnson all day. Bookmark this Week 11 game, survivor league people. $
Indianapolis Colts
Best Game: In Week 5, Andrew Luck and Russell Wilson will meet for the first time. It will be glorious and we'll get to learn a lot about both team's busy offseasons. Will Gosder Cherilus be enough to stop Michael Bennett, Bruce Irvin and Cliff Avril? (Gulp.) And will Erik Walden have figured out the read-option offense? (Double gulp.) An outstanding secondary against Luck should be fun too. $$$$$
Worst Game: Colts and Raiders in Week 1? With all the football going on, how much attention to that game will you be paying if you don't own Luck, Reggie Wayne or T.Y. Hilton in Fantasy? The answer is just about one dollar sign's worth. $
Jacksonville Jaguars
Best Game: The Jaguars head to Seattle in Week 3, and while the Seahawks should be massive favorites, this game's an interesting one because of the Gus Bradley factor. He's going against his old team and both sides should have something to prove. If nothing else, the enthusiasm between Bradley and Pete Carroll when they meet at midfield could create a void in the space-time continuum. Or something. $$
Worst Game: Oh, man. Jags-Raiders as a 4:25 game during the second week of the season. That's some weaksauce scheduling, NFL. Easily the two worst teams in the league as of this moment (but at least they both understand where their rosters sit). Blaine Gabbert! Matt Flynn! Chad Henne! Terrelle Pryor! Geno Smith? Yes, this is a negative sign. -$
Kansas City Chiefs
Best Game: I didn't even have to look at the schedule for this one. Andy Reid returns to Philadelphia in Week 3 to face his old team. The Eagles will be coming into their third game in 11 days. The drama writes itself. $$$$$
Worst Game: Don't ask me why, but Chiefs-Titans in Week 5 is entirely unappealing. Sure Jamaal Charles and Chris Johnson could provide some fireworks on the ground. But something about this gives me the old stink eye. $$
Miami Dolphins
Best Game: Miami's home opener will come in Week 3 against the very talented Falcons. I don't think they can stop Matt Ryan, Julio Jones and Roddy White, and I'd imagine Atlanta is favored. But what could make this interesting is where the Fins stand. If they lose to the Colts and Browns on the road to start the season, the heat will be ON in South Beach with a contender coming to town. And if they win, people will be whipped into a frenzy for the Fins. $$$
Worst Game: Miami is going to go into New Orleans for a primetime game and hang with Drew Brees when they don't really have a secondary because Sean Smith is in Kansas City? There are other uglier games on this schedule, but this one, for being in prime time, could get UGLY. $$
Minnesota Vikings
Best Game: Adrian Peterson shredded the Packers late in the regular season when he put up 210 and 199 yards, respectively, en route to helping the Vikes make the playoffs. So I think everyone would like to see what he does this time around. And then there's this Greg Jennings fella, who spent his whole career in Green Bay before bouncing to Minnesota in free agency. Sunday night Week 8 should be fun. $$$$$
Worst Game: Plenty of potential on the Vikings schedule this year. Unfortunately it's because they're getting the schedule of a team that made the playoffs last year. I think they'll regress some in 2013 and, as a result, the Week 17 game against the Lions, which could very well end up being quite important, won't be as meaningful as we may think. $$
New England Patriots
Best Game: For me, this is a no-brainer pick. The Patriots will welcome the Broncos to New England on November 24 in Week 12. It's a prime-time game, and it's not just Tom Brady vs. Peyton Manning, as if you needed anything else. It's also the return to New England for Wes Welker, the comparison of Welker to Danny Amendola and a high-stakes game for seeding in the AFC. $$$$$
Worst Game: Also a no-brainer: the Week 17 matchup against the Bills. I don't care what offseason strides the rest of the AFC East made or will make. Barring a serious injury or major injuries to Amendola/Rob Gronkowski/Aaron Hernandez (not entirely out of the question ...) the Pats should roll to the division title. Which means this game won't be that meaningful. $
New Orleans Saints
Best Game: Gotta go with the Week 1 marquee 1 p.m. game, right? Atlanta comes to New Orleans for a not-so-friendly divisional matchup, it's Sean Payton's first game back, the first -- and tough -- test for Rob Ryan's defense and could end up being an offensive affair. Falcons-Saints haven't lacked for drama the last few years. $$$$$
Worst Game: New Orleans really has a stacked second-half of the schedule, which should concern Saints fans. But there are some softer spots early on in the year. And the team that seems least likely to keep pace with the Saints in a track meet at home? I'll go with the Bills. I love C.J. Spiller, but Kevin Kolb and Stevie Johnson aren't scoring with Drew Brees. And considering their game in New Orleans is Week 8 and comes after the Saints bye, well, no thank you. $
New York Giants
Best Game: New York's got a STACKED primetime schedule: Five games for Eli Manning, Victor Cruz and the gang. But you know what game isn't on "primetime"? The Manning Bowl -- Eli and Peyton will square off in Week 2. It is on CBS at 4:25, however, so it's not like we're talking low coverage here. The line for this will be fascinating; it's in New York, but will the Giants be favored? I'd guess by one point maybe. Either way, barnstormer of a game. $$$$$
Worst Game: Week 11 is the Raiders in New York, one week after the Giants get their bye. New York's got this thing about giving up easy games at home later in the year (or at least we all think they do?) but this is a potential clunker (think Browns against Giants last year when Cleveland got out early and then eventually blown out). $
New York Jets
Best Game: It's all about Darrelle Revis, baby. If Revis is dealt to the Buccaneers, Week 1 becomes a CRAZY awesome game. $$$$
Worst Game: And if Revis is not dealt to the Buccaneers, well ... $ ... which still wouldn't be the worst game on the Jets schedule because they're playing the Raiders. -$$$
Oakland Raiders
Best Game: Yeeeeeeeaaaaah, so about that. Yeeeeeeaaah. I mean, I guess I'll go with the Week 3 Monday night game against the Broncos in Denver because it's primetime and because, um, yeah that's it. Could totally turn into a blowout and it could be quick. $$
Worst Game: So I realize we've got Jaguars-Raiders, Jets-Raiders, Broncos-Raiders (Week 17 for the Broncos) already on this list. I'm trying to avoid doubling up games; fortunately the Raiders play the Chargers twice this year. Maybe the Bolts will be better than we expect and maybe they'll get Lane Johnson or Eric Fisher or Luke Joeckel and MAYBE Philip Rivers will bounce back. But I have a sneaking suspicion that Week 16 game between these two divisional rivals could just as well fall into a black hole. $
Philadelphia Eagles
Best Game: Everyone's dying to see what Chip Kelly brings to the NFL table in terms of his fast-paced offense, and there won't be a much better look than Week 1 against the Redskins when he busts out his new offense with (likely) Michael Vick under center. Making this an even sexier matchup? The possible return of Robert Griffin III for Washington and the primetime factor. $$$$$
Worst Game: Pretty stacked schedule for the Eagles, so it's hard to find a game that's not great. The Raiders stand out, but I think there's a little spice there given that those two teams are picking No. 3 and No. 4 in the draft. (Also, I'm sick of picking on the Raiders.) Instead, I'll take the Chargers -- yes, it's Philly's home opener, but it's sandwiched between the Skins game and Reid's return to Philadelphia. $$
Pittsburgh Steelers
Best Game: We've already used the Week 2 game against the Bengals -- so the easy choice is the Week 13 pick when the Steelers head to Baltimore for a Sunday night game. Maybe Mike Wallace's return to Pittsburgh the next week could count but come on. Steelers-Ravens. $$$$$
Worst Game: Nothing about the Steelers' opener against the Titans in Pittsburgh is remotely attractive to me. Is there anything attractive to you? $$
St. Louis Rams
Best Game: Call me crazy, but Rams-49ers on Thursday night in Week 4 looks pretty awesome. St. Louis played San Francisco quite well in 2012 and has improved their offensive line this offseason, adding Jake Long to keep Aldon Smith from terrorizing Sam Bradford. They also picked up Jared Cook, and with two picks in the first round in the upcoming draft, could find themselves with a pretty dangerous roster if they can add a wideout. I already smell an upset. $$$
Worst Game: Having praised one NFC West matchup, I'll have to complain about another one: Week 1's game pitting St. Louis against Arizona doesn't do it for me. I don't buy Carson Palmer reviving the Cardinals (although he will be an improvement), and though Larry Fitzgerald matching up against Cortland Finnegan and Janoris Jenkins is cool, this could be an ugly early season afternoon game.
San Diego Chargers
Best Game: In Week 4, the Cowboys and Chargers square off. This is for lovers of schadenfreude only, as neither of these teams have lived up to their talent over the past few years. But someone's got to win the battle of the underachievers, and I'm interested to see who pulls it off. $$$
Worst Game: Perhaps by Week 7 I'll have shrugged off my stereotype of the Bolts (see: above) thanks to Mike McCoy improving the team. Perhaps Ryan Mathews will stay healthy. Perhaps Danario Alexander will be the next great wideout. Perhaps they'll have someone to block for Phillip Rivers. But right now a game in Jacksonville reeks of a road favorite that botches a great shot for a conference win. $
San Francisco 49ers
Best Game: The only reason I'm not going Week 2 here (at Seattle) is alphabetical and the home-game setup. So the 49ers get the Week 14 grudge match in San Francisco against the Hawks that's sure to have a major impact on the NFC West race. $$$$$
Worst Game: 49ers-Titans in Week 7 has the feel of a blowout to me. It's in Tennessee, but it's at 4:05 and even with the Titans adding Andy Levitre and possibly Jonathan Cooper or Chance Warmack in the draft doesn't convince me that Chris Johnson can run against Navorro Bowman and Patrick Willis. $
Seattle Seahawks
Best Game: Not making it past Week 2 before I see the neon lights of Seahawks-49ers. Colin Kaepernick against Russell Wilson and maybe the read option will be mentioned? Who knows! The NFC Arms Race has been built around these two teams and the sooner we see them in prime time, the better off we all are. We get that in Week 2 in Seattle on a Sunday night. $$$$$
Worst Game: Not really a bad game on this schedule, honestly. I will say, however, that I don't like the Buccaneers traveling west to Seattle. Remember when decent teams (hello, Dallas) came to Seattle last year and got destroyed. I could see the Bucs getting destroyed by the Seahawks in a laugher here. $
Tampa Bay Buccaneers
Best Game: We've handled the Revis situation already. The trip to New England is tempting. But I'm kind of partial to the Panthers coming to Tampa in Week 8 for a Thursday night game. That's not a perfect primetime affair, but it will be heavily watched and we'll have a better idea where Josh Freeman stands at that point. If the Revis deal does happen, him vs. Steve Smith would be fun to see. And Cam Newton provides a little star power. This could be a shootout. $$$
Worst Game: You know that I actually looked at the schedule and thought "HAHAHAHAHAHAH who would watch Dolphins at Buccaneers" and then laughed some more? It was less funny when I realized that it's a Monday Night Football game. What? Why? $$
Tennessee Titans
Best Game: This ... is not a great schedule. Actually, it's not bad for the Titans, who could steal some games this year if Jake Locker can improve. Looking at this list, there's probably not a game I'd really pay for, but if Andrew Luck was coming to town on a primetime game, perhaps I'd pull trigger. So, Week 11 on a Thursday it is. $
Worst Game: We'd have so many choices, but it feels like most of these are already used. Since Jets-Titans in prime time was unquestionably the worst game of 2012 (even if it had an amazingly Mark Sanchez-ian finish), I'll pick Jets-Titans in Week 4 as a game I wouldn't watch if you paid me. $$
Washington Redskins
Best Game: I want the full-blown Robert Griffin III experience when I'm talking about the Redskins. And that means I'm taking the December 1, Week 13 game against the Giants on NBC. Redskins fans, provided the season goes the way they hope, will be AMPED for this game. And it should be part of a hairy finish in the NFC East. $$$$$
Worst Game: Not to pick on the Raiders or anything, but I'm just not digging Redskins-Raiders in Week 4. I'm sorry, we're 4,000 words in. I don't need a reason to hate this game other than it just being the Raiders. $
After a report emerged quoting Irving saying, 'I have made a call,' the Cowboy took to Twi...

Washington is banged-up heading into a divisional showdown with Philadelphia

Kenny Britt might be on the chopping block after his latest blunder
Sending money to help with hometown education isn't anything new for the NFL veteran

Here's every official injury designation for each NFL team for Week 7

Last year's Jets were a disaster, but this year's version has been extremely competitive