Agent's Take: Examining where the Oakland Raiders go from here
GM Reggie McKenzie has gotten the Raiders out of salary-cap hell, but his lack of success in the draft and free agency has put his job in peril.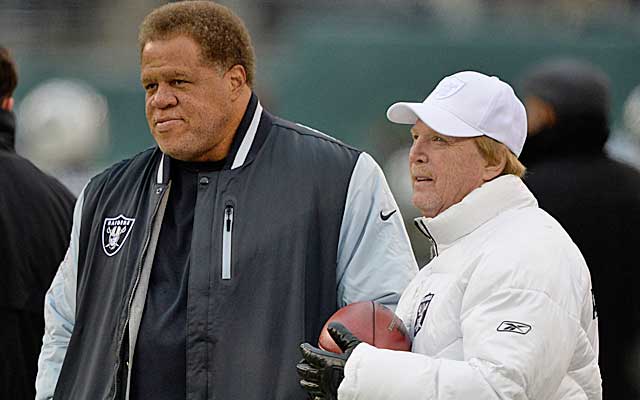 Oakland Raiders owner Mark Davis preached patience when he hired Reggie McKenzie as general manager in January 2012 to oversee one of the NFL's most difficult rebuilding projects in recent history. Back-to-back 4-12 records in McKenzie's first two seasons while watching the Indianapolis Colts and Kansas City Chiefs go from 2-14 records to the playoffs seemed to have tested Davis' patience.
Davis declaring there weren't any more built-in excuses for losing during the offseason raised expectations for the 2014 season. Dennis Allen was fired heading into the bye week after an 0-4 start to the season with offensive line coach Tony Sparano being named interim head coach. Allen's firing puts McKenzie under the microscope; Davis must decide whether McKenzie is the right person to lead the Raiders back to respectability.
Deconstruction
McKenzie, who was the Green Bay Packers' director of football operations before being hired as general manager, has excelled in the deconstruction phase of the rebuilding process. He inherited a salary-cap mess that couldn't be fixed in one season due to the previous regime's habit of overpaying players without any long-term vision.
McKenzie's tenure began with the Raiders having over $154 million committed toward the $120.6 million salary cap and a little more than $3 million of cap room to carry over from the 2011 season. In order to reduce cap obligations by approximately $31 million to comply with cap rules at the start of the 2012 league year, McKenzie restructured (Carson Palmer, Richard Seymour, etc.) and terminated several contracts (Stanford Routt, Kamerion Wimbley, etc.). The Raiders had the third-highest amount of dead money (cap charges for players no longer on the roster) in 2012 at slightly over $28 million.
Routt and Wimbley were paid $5 million and $6.5 million by the Raiders in 2012 because their contracts contained guarantees without offsets. An offset clause would have allowed the Raiders to reduce the guaranteed money owed to them when released by the amount of the new deals they received from the Chiefs (Routt) and Tennessee Titans (Wimbley). Without an offset, the players received salary from the Raiders in addition to the full salary from their contracts with new teams.
The Raiders had in excess of $55 million in dead money during 2013, which is unheard of, while McKenzie completed his two-year process of cleaning up the cap by continuing a roster purge. (That's 43.6 percent of their adjusted salary cap of $127.187 million devoted to dead money.) Oakland's five highest-paid players (by average yearly salary) in 2012 weren't with the team in 2013. Losing these players left the Raiders with one of NFL's least talented rosters.
The upside of the roster purge was the Raiders had the NFL's most cap room at the start of free agency this year with slightly more than $59 million.
Draft picks
McKenzie wasn't able to fully implement his rebuilding plan initially because of cap issues and a lack of early draft picks. Multiple trades before McKenzie was hired left the Raiders with only fifth- and sixth-round picks in the 2012 NFL Draft until they were awarded compensatory picks in the third, fourth and fifth rounds. None of the players selected in 2012 has made much of an impact.
Unlike in 2012, McKenzie had a full complement of picks in the 2013 draft. The Raiders initially had the third overall selection until McKenzie traded down. He acquired the 12th overall pick, which was used to select cornerback D.J. Hayden, and a 2013 second-round pick from the Miami Dolphins in exchange for the third pick.
McKenzie was criticized in some circles for not receiving fair value in the trade. By comparison, the Cleveland Browns received 2015 first- and fourth-round picks from the Buffalo Bills to move down five spots in the first round to the ninth pick in the 2014 draft.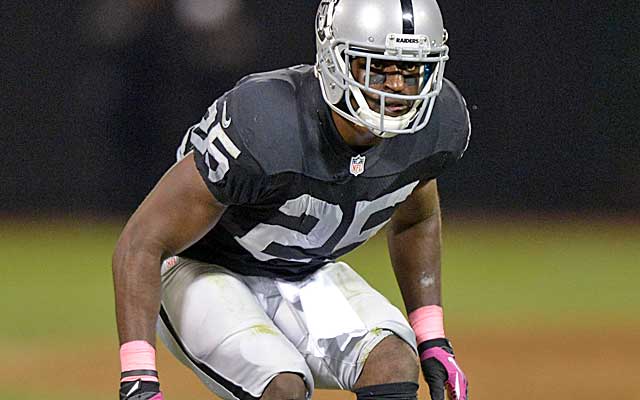 Early returns on McKenzie's 2013 draft class aren't favorable, especially when comparing his actual early choices to the players still available when those selections were made.
Hayden struggled in eight games as a rookie before landing on injured reserve with a groin injury. He is missing at least the first six games this season after being put on the Physically Unable to Perform list in the preseason with a foot injury. Sheldon Richardson, the 2013 defensive rookie of the year, and defensive tackle Star Lotulelei were taken 13th and 14th respectively by New York Jets and Carolina Panthers. Second-round pick Menelik Watson was limited to five games with injuries as a rookie and couldn't beat out Khalif Barnes at right tackle this year. Before the 2013 draft, the Raiders hosted linebacker Kiko Alonso for a visit. Alonso, the Pro Football Writers Association's 2013 Defensive Rookie of the Year, was taken four picks after Watson by the Buffalo Bills with the 46th overall pick.
Third-round pick Sio Moore has been the bright spot of the 2013 draft class at outside linebacker. Tight end Mychal Rivera, who was taken in the sixth round, is also a solid contributor.
The 2014 draft class is paying immediate dividends. Outside linebacker Khalil Mack, the fifth overall pick, could be a Defensive Rookie of the Year candidate. Second-round pick Derek Carr (36th overall) somewhat surprisingly won the starting quarterback job with an impressive preseason. Third-round pick Gabe Jackson has held his own at left guard.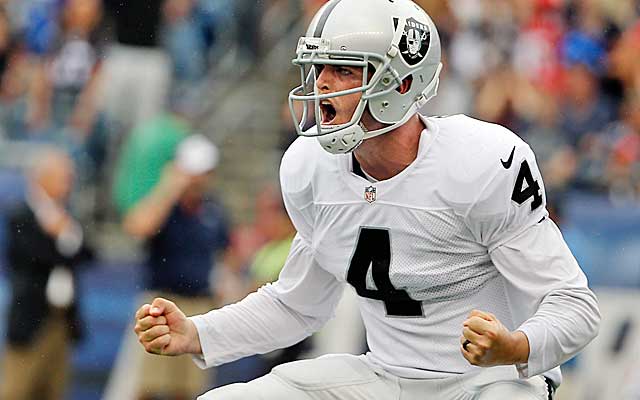 It appears as if McKenzie landed foundational players at premium positions (quarterback and pass rusher) in this year's draft. The Raiders are headed for another high draft pick, potentially the first overall pick, unless Sparano can get more out of the roster than Allen did.
Quarterback
McKenzie's handling of Oakland's quarterback issues is troubling. He made multiple mistakes trying to fix the position before drafting Carr, who was reportedly a pre-draft favorite of the owner. Palmer's refusal to take a $3 million pay cut from his $13 million salary prompted a 2013 pre-draft trade to the Arizona Cardinals (with a 2013 seventh-round pick) for a 2013 sixth-round pick and a 2014 seventh-round pick. Acquiring Matt Flynn from the Seattle Seahawks for a 2014 fifth-round pick and a conditional 2015 pick right after moving Palmer was a disaster.
Compounding the problem, McKenzie increased Flynn's 2013 salary from $5.25 million to $6.5 million while also guaranteeing it in two contract restructurings to create desperately needed cap room. Flynn couldn't beat out Terrelle Pryor for the starting job in the preseason and was released after five games. He made a little more than $6 million from the Raiders in 2013 for his brief stay with the team.
A 2013 fourth-round pick was used on Tyler Wilson. He was considered a potential quarterback of the future when drafted, but spent most of the season on Oakland's practice squad before the Titans signed him to their 53-man roster late in the year. He is currently out of the NFL. Undrafted Matt McGloin, who was signed primarily as a training camp arm, shared starting quarterback duties with Pryor.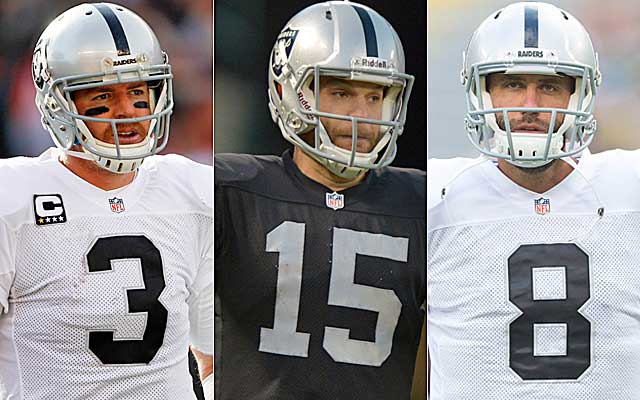 Matt Schaub was supposed to provide stability when he was acquired from the Houston Texans in the offseason for a 2014 sixth-round pick. Instead, it has been a repeat of the Flynn situation with the 33-year-old becoming a high-priced backup. Schaub is making a fully guaranteed $8 million in 2014, the first year of a $13.5 million, two-year deal (worth a maximum of $19.5 million through incentives) that was renegotiated as a part of the trade.
Free agency
McKenzie finally had the financial flexibility to put his stamp on the Raiders in the offseason after limited cap space forced him to be a bargain shopper during free agency in previous years. His moves in free agency have left a lot to be desired. McKenzie let defensive end Lamarr Houston and offensive tackle Jared Veldheer become free agents without making a concerted effort to retain them. Running back Darren McFadden was re-signed over Rashad Jennings, who led the team in rushing last year and is currently fifth in the NFL with 79.2 rushing yards per game.
As Oakland's big free-agency acquisition, Roger Saffold was supposed to anchor the offensive line. The Raiders pulled out of a five-year, $42.5 million deal (with $21.5 million fully guaranteed) after a physical by the team doctors revealed a torn labrum with a recommendation of immediate shoulder surgery. Saffold had passed his exit physical with the St. Louis Rams at the end of the 2013 season. Since the Raiders were receiving heavy criticism in league circles for overpaying Saffold, there is a sentiment that the ridicule played a part in cancelling the deal. There are conflicting reports about whether McKenzie or Davis made the final decision on Saffold.
The Raiders were active in the early stages of free agency after the Saffold fiasco by signing 11 players from other teams. Most of the players are on at least their third NFL contract (Tarell Brown, James Jones, Antonio Smith, Justin Tuck), have injury concerns (Maurice Jones-Drew) were unwanted by their former teams (Donald Penn, LaMarr Woodley) or are considered declining players (Kevin Boothe, Carlos Rogers). The average age of the players at the start of the 2014 regular season was 30.2 years. The players, who have seven Super Bowl rings among them, were expected to help change the losing culture in Oakland. Seven or eight wins seemed to be the ceiling, provided a majority of these older acquisitions lived up to expectations, which hasn't been the case. Jones and Penn have been the best of the bunch.
McKenzie utilized a "pay as you go" structure with all of his signings, except with Austin Howard's five-year, $30 million contract (includes $14.8 million in guarantees). A player's cash and salary-cap numbers are the same in each contract year because he is receiving salary guarantees instead of a signing bonus under the "pay as you go" model. McKenzie structured the deals so the guarantees typically consist of 2014 base salary or roster bonuses. Since there isn't any signing-bonus proration, the Raiders won't have any dead money if a player is released after this season. Outside of Howard, all of the deals were three years or less in length and most don't average more than $5 million per year. This approach ensures that the Raiders will not have the salary-cap problems of the previous regime.
Outlook
McKenzie's mixed drafting history, handling of the quarterback situation and free-agency approach this year are causes for concern. Regardless of whether Davis hires a coach with star power (Jon Gruden, Jim Harbaugh or Mike Holmgren) and gives him complete control of the organization or retains McKenzie, the Raiders are in excellent shape with the 2015 cap. There is $83.31 million in 2015 cap obligations with 37 players under contract while the top 51 cap numbers count on the cap during the offseason. The Raiders are also $9.898 million under the cap right now, which can be carried over to 2015.
Assuming Oakland's five restricted free agents and three exclusive rights players are given tenders, and practice squad players are signed to futures contracts to fill out the remainder of the top 51, the cap obligations will increase to $96.39 million. The Raiders would have approximately $57.5 million of cap room heading into 2015 free agency if the cap rises to $144 million (a similar percentage increase as this year).
Boothe, Jones-Drew, Schaub and Woodley, who are under contract next year, seem expendable. Releasing them would increase the cap room to approximately $70.5 million.
The Raiders will have 10 unrestricted free agents after the season, with center Stefan Wisniewski as the only one who could be considered a core player. It might make sense for the Raiders to place a transition tag on Wisniewski for approximately $10.8 million if necessary, like the Browns did with Alex Mack, given the abundance of cap room, even though he is a center.
It might also be necessary for the Raiders to express a willingness to overpay with the "pay as you go" contract approach McKenzie has adopted to get the attention of marquee free agents. My experience as an agent was players, especially ones who haven't made significant money by NFL standards on their rookie contract, would choose money over winning more often than not. The 2015 free agent class could be deeper than other recent free agent classes even with Dez Bryant, Justin Houston and Demaryius Thomas expected to receive franchise tags or re-sign with their own teams. Perennial All-Pro defensive tackle Ndamukong Suh could be an intriguing option. Offering Suh a contract comparable to J.J. Watt's in guarantees ($51,876,385) and average salary ($16,666,667 per year) but with better cash flow should get his attention.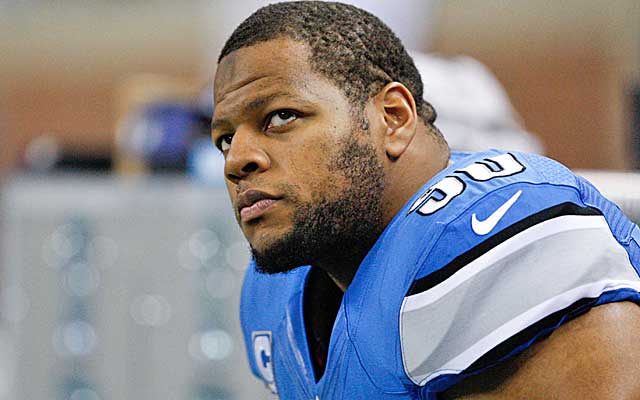 It's unlikely that the San Francisco 49ers will franchise wide receiver Michael Crabtree for close to $13 million. Second franchise tags for outside linebacker Brian Orakpo and defensive end Greg Hardy for $13.476 million and $15,739,200 seem remote. Demarco Murray could be available if the Dallas Cowboys hold the devaluing of running backs against him in contract negotiations.
Cornerback possibilities include Chris Harris and Byron Maxwell because of the presence of a high priced cornerback on the Denver Broncos (Aqib Talib) and Seattle Seahawks (Richard Sherman) respectively. The flexibility to revamp the roster in 2017 without adverse cap consequences could be maintained because of the lack of dead money if free agent acquisitions didn't perform up to expectations.
It should be noted that winning free agency hasn't been translating into playoff berths recently. Unlike the Philadelphia Eagles and Miami Dolphins, who had playoff aspirations in 2011 and 2013, the Raiders would be looking to free agency to help put them on the road to respectability.
---
Joel Corry is a former sports agent who helped found Premier Sports & Entertainment, a sports management firm that represents professional athletes and coaches. Before his tenure at Premier, Joel worked for Management Plus Enterprises, which represented Shaquille O'Neal, Hakeem Olajuwon and Ronnie Lott.
You can follow him on Twitter: @corryjoel
You can email him at jccorry@gmail.com 
Pick Six Newsletter
Get the day's big stories + fun stuff you love like mock drafts, picks and power rankings.
Please check the opt-in box to acknowledge that you would like to subscribe.
Thanks for signing up!
Keep an eye on your inbox for the latest sports news.
Sorry!
There was an error processing your subscription.
It seems not even Bill Belichick is immune to a little bit of anxiety

Everything you need to know about this weekend's conference title game -- and how to tune...

Dallas is potentially facing a dilemma, as signing the 2016 fourth-round QB to an extension...
Fitzgerald said that Kingsbury has a 'future right now'

SportsLine's advanced computer model is loving the Under in Saturday's AFC Championship Ga...

Robert Kraft gave his quarterback the ultimate compliment during a recent interview