Eagles Observations: Cooper rehab, recovery weighed by effectiveness?
Riley Cooper's acceptance as a viable member of the Eagles probably is more connected to his contributions on the field, rather than ability to get along.
• 5 min read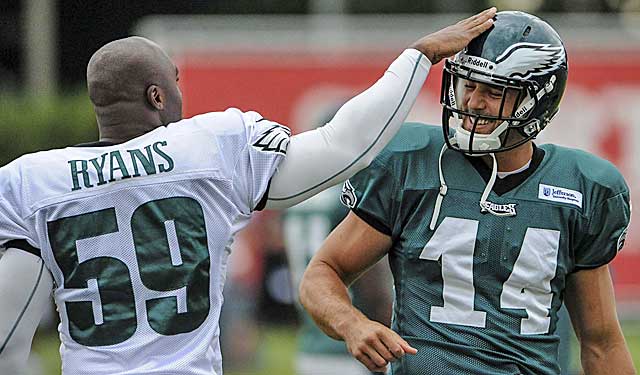 PHILADELPHIA -- Call me a cynic -- although I think realist is a better term -- but expect the success or failure of Eagles wideout Riley Cooper's "rehab and recovery" from a racial slur to be dictated by his production. However hurt and embarrassed the Eagles might be, they are also desperate for receiving help as new coach Chip Kelly installs this offense, and with Jeremy Maclin and Arrelious Benn already gone for the season, Riley's value could not be higher.
He has looked better at practice since coming back from his brief hiatus, and though the examination of his body language and interaction with teammates remains a top priority at each session, I expect this will become less of an issue should Cooper prove an adequate fill-in for Maclin.
And should he falter, drop balls and seem to be targeted by opposing plays, and should this offense falter, then suddenly Cooper becomes expendable and someone who could be made an example of, even post haste.
That the reality of the business of football.
(Talking to people who around the Eagles' contingent at this now-infamous Chesney concert, they don't believe the situation was born of racism as much as it was seven-plus hours of power-drinking prior to the concert, shot-gunning beers and the like, and then Cooper's ego getting bruised when a group of his teammates immediately got whisked backstage and he was momentarily left out.)
Things seemed to be largely back to order for Cooper on Wednesday, in his interactions with fans and teammates.
• Everyone is so focused on the Eagles' new passing attack, they're missing the point that this likely will be a prominently run-heavy team. The offensive line is stout and rebuilt, the Eagles look particularly effective running inside-zone plays, they have explosive backs -- led by LeSean McCoy -- and with their defense quite likely to be among the league's worst in some key categories again in 2013, well, they damn well better control the ball when they can.
Kelly knows how to adjust to what he has and he won't be trying to force-feed a replication of the Oregon offense in Week 1 here. Expect him to play to his strengths, and that's old-school ground-and-pound.
• Vick envisions DeSean Jackson being even more heavily involved than he's been in the past, which seems even more obvious now given the injuries at receiver (Kelly says the team may look at a few free agents to round out the roster there). Vick said he could see the ball going to Jackson "30 percent of the time," or more.
• Watching Patriots QB Tom Brady operate remains a thing of beauty. Julian Edelman kept showing up big in the middle of the field, in some of the high traffic areas Wes Welker used to navigate. Danny Amendola is obviously going to get a lot of balls off a shifts and motions.
• Pats receiver Aaron Dobson, a rookie our of Marshall, has had some struggles of late, but was targeted deep several times and showed speed if not always the ability to come down with the football.
• If Philly's defense is going to make any progress, recent draft picks Vinny Curry and Brandon Graham need to make something happen. They'll get an abundance of reps in preseason games. Outside linebacker Connor Barwin, who has 3-4 experience from Houston, didn't look all that comfortable when asked to drop back into zone coverage in Wednesday's session, and the team's overall transition to the 3-4 I suspect will take ample time. (The Eagles are quietly high on end Clifton Geathers and I wouldn't be shocked if they added a few years to his deal at some point).
In general, when the Patriots spread the ball around to the array of talented running backs in the short passing game, the Eagles' linebacker's deficiencies flared up.
• The Eagles signed corner Cary Williams, who helped the Ravens win a Super Bowl, hoping he could upgrade their brutal secondary. I don't see it. He remains hobbled by injury and his antics are already grating on some. The Ravens knew he could be incredibly difficult to deal with and a locker room issue, and let him walk. I wonder if he makes it through the season here.
Overall, I don't see much reason for hope with this secondary. I'm not even going to factor in how Brady carved them up, because he would do that to anyone in a controlled setting such as this. Brandon Boykin has been their best corner so far, but he's much more suited to the slot and his lack of size on the outside led to balls being completed over his head today. Receivers were running behind safeties with far too much regularity, and, also without a dominant pass rush, this looks like a poor combination.
"We have some things we can improve on," corner Curtis Marsh said in the understatement of the day.
• Other college coaches who have made the jump to the NFL have tended to take preseason games a little more seriously, treat them a little more like the real deal and run more than the most vanilla offerings we generally see in these exhibitions. Kelly may well do the same, and I wouldn't blame him a bit. Engendering some goodwill and excitement, cultivating his roster and generating some quick buy-in from his players all makes sense.
Kelly said he will adjust his plans for the preseason opener on the fly, wanting to get adequate looks at various position groups, some of which are decidedly more top-heavy than others.
• The Eagles will try to look into the spate of ACL injuries, to see if its more than just a fluke, Kelly said.
• Patriots coach Bill Belichick said he and Kelly made a joint decision to scrap the loud music that usually blares during practice, instead making sure both teams knew where to be on each field and focusing on communication. "I don't think it's that big of a deal one way or the other," Belichick said.
• These teams will work out together again, with a focus on special situations, Belichick said. Belichick and Kelly share a bond through John's Hopkins University; Kelly once coached there and Belichick is close with Hopkins lacrosse coach Dave Pietrimala and regular attends lacrosse games on the Baltimore campus in the spring.
Shazier's season might be over, but he still wants to help his team

The young head coach took the blame after a heartbreaking loss to the Eagles

Our computer model simulated every Week 15 NFL game 10,000 times with very surprising resu...
Britt is going from the worst team in football to a Super Bowl contender

With three weeks to go in the regular season, the MVP race is wide open

The Eagles are sticking with Nick Foles