Offseason Progress Report: Midsummer power rankings
Over the past week we've been looking at the progress made (or not made) by every team in the NHL on a division-by-division basis, so why not put together a midsummer power ranking to see where each team currently sits.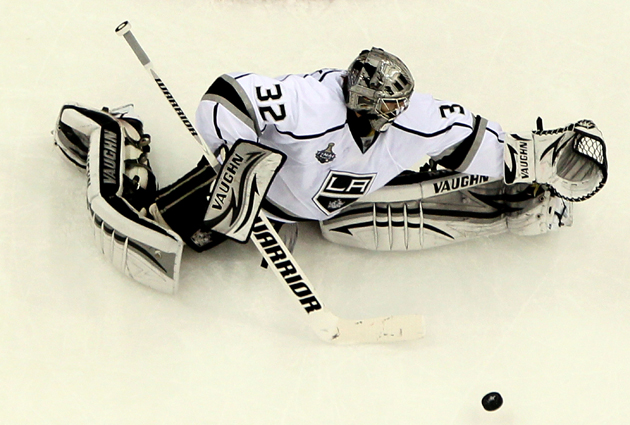 Jonathan Quick and the Kings come in at No. 1 on our mid-summer power rankings. (Getty Images)
Over the past week we've been looking at the progress made (or not made) by every team in the NHL on a division-by-division basis. We're going to wrap it all up on Friday by putting  together a midsummer power ranking to get an idea where each team currently sits.
Rankings, of course, are simply based on the rosters as they sit at this current time and with still a couple of months before the (scheduled ... and hopeful) start of the season there is still time for teams to improve (or get worse). Just over the past 36 hours we saw a potential change that could impact two teams in a big way as the Flyers signed restricted free agent defenseman Shea Weber to a 14-year offer sheet.
If the Predators choose not to match and the Flyers come away with a No. 1 defenseman it certainly changes the outlook of their team and summer, and it would definitely have the exact opposite impact on Nashville.
The Kings, as the defending Stanley Cup champions, come in at the top of our rankings at the present time for a couple of reasons. First of all, they're the defending champs and just rolled through some of the best teams in the NHL in just 20 playoff games. But also because they've done nothing to make themselves any worse this summer and will be returning a roster that is packed with All-Star talent.

1. Los Angeles Los Angeles Kings -- "The same team they were at the end of the postseason, and that is one of the best teams in the NHL. Even with no other major moves they will still be a force during the 2012-13 season. They won't be as dominant as they were during their 20-game playoff run, but we should expect them to be closer to the team they were over the final four months of the season than the team they were over the first two months of the season." -- Pacific Division Progress Report




2. Vancouver Vancouver Canucks -- "The Presidents' Trophy winning team managed to snag one of the top defenders in free agency ( Jason Garrison ) and even managed to get him on a bit of a discount when compared to the rest of the market. Garrison is more than just a booming slap shot from the point, he's also a quality all-around defender. Don't expect him to score 16 goals again like he did this past season, but that shouldn't subtract too much from his overall value." -- Northwest Division Progress Report



3. St. Louis St. Louis Blues -- "I don't know that we should expect Brian Elliott and Jaroslav Halak to play as well as they did last season in net, but assuming they don't see too much of a regression, and the team in front of them is able to control the puck and limit opposing chances well as they did this season the Blues could once again be one of the top teams in the NHL." -- Central Division Progress Report
4. Philadelphia Philadelphia Flyers (assuming they end up with Shea Weber *) -- The Flyers looked like they had taken a bit of a step back this offseason, but if they end up getting Shea Weber away from the Nashville Nashville Predators that would obviously change things quite a bit.

5. New York New York Rangers -- A very quiet offseason so far in New York, but they're still returning a strong defense and Henrik Lundqvist . Arron Asham is the most intriguing move of the summer. Not so much for what he brings to the team, but because he can now say that he's played for every team in the Atlantic Division.

6. Boston Boston Bruins -- The biggest story to come out of Boston this offseason has been the future of goaltender Tim Thomas and whether he's going to play this upcoming season (it appears he's not). The Bruins already have his replacement in house with Tuukka Rask , and he has already been their 1B goalie for the past few seasons and would have been the unquestioned starter on most other teams around the league that didn't already have the best goalie in the league playing ahead of him." -- Northeast Division Progress Report



7. Pittsburgh Pittsburgh Penguins -- So far this offseason the Penguins have lost Jordan Staal , Zbynek Michalek and Steve Sullivan and only have Brandon Sutter coming into replace them. Still time to add more, but they've taken a step back so far this summer.

8. Detroit Detroit Red Wings -- "They can overcome the loss of a guy like Jiri Hudler rather easily I think, but Nicklas Lidstrom is an entirely different issue, especially if they're counting on players from within the farm system ( Brendan Smith , for example). When you add in a guy like Brad Stuart leaving as well the Red Wings defense is going to have a very different look next season. And it's not a better one." -- Central Division Progress Report

9. Chicago Chicago Blackhawks -- "Goaltending is still a question mark, but at least the team didn't do anything stupid this offseason like trade a guy like Patrick Kane ." -- Central Division Progress Report



10. San Jose San Jose Sharks -- "The only real additions were the return of Brad Stuart, a surprising four-year contract for Adam Burish , and the hiring of Larry Robinson as an assistant. The Sharks are coming off their worst regular season performance (points wise) since 2002-03, but there were some signs last season that they might have been a bit better than their seventh place finish in the Western Conference (like their strong possession numbers)." -- Pacific Division Progress Report

11. Washington Washington Capitals -- "I like the additions of Ribeiro and the low-risk addition of Wolski, but Alexander Semin, assuming he doesn't return, could be a big loss. I still think the Capitals are the best team in the division and while they probably aren't going to return to their 110-point performances of the past few years it should be interesting to see what sort of hockey new coach Adam Oates has them playing." -- Southeast Division Progress Report

12. New Jersey New Jersey Devils -- "It's kind of hard for them to not be worse with the losses of Parise and even Alexei Ponikarovsky . Brodeur played great in the playoffs, and we seem to ask this question every year at this point, but does he have another strong full season in him?" -- Atlantic Division Progress Report

13. Ottawa Ottawa Senators (if Daniel Alfredsson Returns) -- "They're about the same, with one possible situation that could throw everything out of whack: Daniel Alfredsson decides to not return. The long-time captain still hasn't made up his mind about playing next season, though the Senators do seem to be optimistic that he will return for at least one more year. He may be 40 years old, but he can still play." -- Northeast Division Progress Report

14. Tampa Bay Tampa Bay Lightning --  If they can get even league-average goaltending from Anders Lindback it would make a huge difference (a league-average save percentage last season could have been a 50-goal swing for them) and gives them an opportunity to compete for what should be a very winnable division. -- Southeast Division Progress Report


15. Minnesota Minnesota Wild -- "They're better. How much better remains to be seen, but they are no doubt an improved team. There's always risk with 13-year contracts like the ones given to Parise and Suter, but the Wild should at the very least be in serious contention for a playoff spot which is a step in the right direction for a team that's missed the postseason four years in a row." -- Northwest Division Progress Report

16. Dallas Dallas Stars -- "I don't know how much of an upgrade they're going to get going from Mike Ribeiro (traded to Washington at the draft) to Derek Roy , but adding Roy, Jagr and Whitney to a top-six that already includes Jamie Benn and Loui Eriksson should give them two pretty potent scoring lines up front. It should also help (especially the addition of Whitney) to improve what was a league-worst power play last season." -- Pacific Division Progress Report

17. Florida Florida Panthers -- "They have some outstanding young talent coming up through the pipeline (Jonathan Huberdeau, Jakub Markstrom, Nick Bjugstad) and there should be excitement for the not-to-distant future and where the organization is headed -- but I'm not sure that time is this year, even after their first playoff season in more than a decade. The main reasons: I'm not sure how sustainable it is to keep racking up points in shootouts and overtime losses at the pace the Panthers did last year, and the division as a whole looks to be a bit better this season." -- Southeast Division Progress Report

18. Carolina Carolina Hurricanes -- "Brandon Sutter is a good player, and Bryan Allen is a big loss on the blue line, but Jordan Staal is a huge addition and gives the Hurricanes a strong trio of forwards to build around including his older brother Eric and youngster Jeff Skinner . They have some young talent on the blue line, but the defense still seems to be a bit of a question mark." -- Southeast Division Progress Report

19. Anaheim Anaheim Ducks -- "They're Better. At least until/if they trade Bobby Ryan . Last year's roster showed considerable improvement after replacing Randy Carlyle with Bruce Boudreau behind the bench. They needed to address their defense and were able to do that by adding Allen and Souray in free agency with pretty decent contracts (at least compared to what free agent defensemen were getting on the open market)." -- Pacific Division Progress Report


20. Calgary Calgary Flames -- "They're slightly better. But enough to end their current playoff drought? Probably not. And will Wideman and Hudler improve them enough to justify nearly $10 million in cap hits between the two of them? Hudler isn't going to see the type of linemates he saw in Detroit, and while Wideman can produce some points, most of them come on the power play and his defensive game is a bit suspect." -- Northwest Division Progress Report

21. Colorado Colorado Avalanche -- "The big addition in Colorado this summer was bringing in P.A. Parenteau as a free agent from the New York New York Islanders . His production over the past two years compares very favorably to some of the other free agents that signed this summer, but the biggest question is how much of that was due to playing on a line with John Tavares and Matt Moulson ?" -- Northwest Division Progress Report

22. Buffalo Buffalo Sabres -- "This offseason has been a lot quieter for Buffalo when compared to the spending spree that took place last summer. The biggest move was the trade that sent Derek Roy to the Dallas Stars in exchange for Steve Ott and Adam Pardy. Ott isn't the player that Roy is offensively, but he does bring some toughess, a bit of an edge, and some versatility (he can play center and wing) to the Buffalo lineup. How well that translates to additional wins on the ice remains to be seen." -- Northeast Division Progress Report

23. Nashville Predators (if they lose Shea Weber) -- If they don't match the offer sheet for Shea Weber it could be an ugly season defensively in Nashville. It wasn't that great last year with him.



24. Phoenix Arizona Coyotes -- "Going from Ray Whitney to Steve Sullivan is a pretty big drop in production, and there remains a chance they could lose their captain -- and still one of their best players -- Shane Doan. I like the chance they took on David Moss as he's a guy that's always had strong underlying numbers, but he's always been bothered by injuries. It's a solid low risk move. They brought back Zbynek Michalek without having to give up anything off the NHL roster and he'll be coming back to the city -- and team -- where he played his best hockey." -- Pacific Division Progress Report

25. Winnipeg Winnipeg Jets -- "In Olli Jokinen the Jets added what was perhaps the best center in a weak group of free agents at the position. The Flames used him almost exclusively against other teams' top lines last season and received some mixed results. A one-year deal for Alexei Ponikarovsky at less than $2 million is a solid addition as he had some strong underlying numbers in New Jersey last season and finished the season with 14 goals and 19 assists in 82 games." -- Southeast Division Progress Report

26. Toronto Toronto Maple Leafs -- "Still the same, maybe a little better, but not enough to end what is now the longest playoff drought in the NHL.Goaltending absolutely wrecked this team last season and as of now they're looking at a duo of James Reimer and Ben Scrivens starting the season. Though I suppose letting Jonas Gustavsson go (and actually getting a draft pick for his free-agent rights) is a form of addition by subtraction. Some really good forwards on this team, a couple of really interesting young defensemen (Carl Gunnarsson, Jake Gardiner) but some big question marks in net." -- Northeast Division Progress Report

27. New York Islanders -- They still have some good young players (John Tavares, Matt Moulson, Frans Nielsen ), but they're in the wrong division to make any sort of noise in the playoff race. -- Atlantic Division Progress Report



28. Edmonton Edmonton Oilers -- "Nail Yakupov certainly makes them more entertaining (and interesting) and gives them more offensive punch. Justin Schultz fills a significantly bigger need than Yakupov and he's probably going to play a pretty big role for a guy that has yet to play a game in the NHL." -- Northwest Division Progress Report

29. Montreal Montreal Canadiens -- "The NHL's Murphy's Law team this past season -- where everything that could possibly go wrong found a way to go wrong. This team was a complete circus more often than not and finished with its worst record since 2002-03. Their offseason had some good (giving Carey Price a long-term deal), some questionable (signing Brandon Prust to a rather large contract) and some potentially bad (bringing back Michel Therrien for a second stint behind the bench)." -- Northeast Division Progress Report

30. Columbus Columbus Blue Jackets -- "This still isn't a very good team, but until the inevitable Nash trade finally happens the Blue Jackets might be a slightly better team next season simply by default. Seriously. For no other reason than there is nowhere else to go but up." -- Central Division Progress Report
For more hockey news, rumors and analysis, follow @EyeOnHockey and @agretz on Twitter and like us on Facebook.

NHL players are still disappointed they won't be going to skate in PyeongChang

With Artemi Panarin in the mix and a Vezina winner headlining the defense, Columbus can be...

The league's crackdown on faceoff infractions and slashing penalties isn't without some cr...
Joffrey Lupul spent last season on long-term IR but seems to be saying he's healthy

Early playoff trouble has been evident, but the Wild tout an offense capable of making another...

Why walk with skate guards when you can rollerskate instead?