SEC: Team-by-team preview
Is there reason to doubt Bama in the SEC West? No. But in the East, Jerry Hinnen asks how Steve Spurrier keeps doing it when he should not.
Capsule looks at each SEC team, in predicted order of finish:

1. Alabama: So is there any reason not to pick the Tide to repeat as SEC West champions? Forget the schedule -- they get byes before both Texas A&M and LSU and draw Kentucky as their rotating East opponent. (Safe to say the SEC schedule-makers have repaid the Tide whatever debt they incurred for 2010's flurry of opponents-off-a-bye-week in full. Or twice over.) Also forget looking at the roster -- AJ McCarron, T.J. Yeldon and Amari Cooper comprise the best QB/RB/WR "triplets" in the FBS, and the defense is more stacked than either of the Tide's crystal football-winners of 2009 and 2012. The Tide's lack of a viable backup for McCarron might be an Achilles heel ... but it's a hell whose blind side is being protected by Cyrus Kouandjio, who might be the best left tackle in the country. In short: unless you think Johnny Football and Co. can ambush the Tide a second time in a game Nick Saban has admitted the Tide started preparing for in spring camp, you don't think anyone else can win the West. And from here, that seems a very odd thing to think.

2. Ole Miss : In case you're wondering: Yes, I can hear the snickering from here. But don't be surprised if Hugh Freeze has the last laugh, as his Rebels have the best offensive-defensive balance of any team in the West outside of Tuscaloosa. An experienced Bo Wallace, a deep and talented line, All-SEC candidate Donte Moncrief at wideout and Freeze's creative coaching should equal an explosive attack; adding five-stars Robert Nkemdiche and Tony Conner to a defense that returns 10 talented starters (including freshman All-American Denzel Nkemdiche) should equal a unit even better than the offense. The Rebels might not have second all to themselves -- the guess here is a three-way tie between Ole Miss and the two teams below them at 6-2 -- but with both the Aggies and Bayou Bengals coming to Oxford, they have the best shot at winning the tiebreak.

3: LSU: As much credit as Nick Saban gets for his plug-and-play success with the Tide, it should be noted that Les Miles might be his equal. Yes, the Tigers' defense lost All-Americans and first-round picks left and right to the 2013 NFL Draft, but it still has John Chavis at the controls, a terrifying defensive tackle tandem in Ego Ferguson and Anthony Johnson, Craig Loston at safety, and Lamin Barrow at linebacker. It ain't going anywhere. The question, as always, is if the LSU offense will finally start going anywhere. Jeremy Hill's absence would sting (especially if Kenny Hilliard can't recapture his 2011 form), and how quickly Cam Cameron can readapt to the college game remains a question mark. But Zach Mettenberger and a crew of stellar targets should give Cameron the tools necessary to keep LSU in the West's top tier.

4. Texas A&M: How can your humble blogger both pick the Aggies to win 10 games and simultaneously place them fourth in the SEC West? As mentioned, there won't be any surprise here if the top four teams in the West all finish with two SEC losses or fewer -- but where a potential tiebreak is concerned, A&M must travel to both the teams listed above them here. And three Aggie losses won't be a shock, either, given that the front seven has lost major playmakers in Damontre Moore, Spencer Nealy and Sean Porter and could struggle to generate the big plays that fueled so much of its success in 2012. Offseason 17-ring circus or no offseason 17-ring circus, Johnny Manziel is going to be Johnny Manziel, the offensive line is loaded, and both the running back and receiving units rank among the best in the country. Points won't be a problem. But opponents' points could easily be enough of one to knock the Aggies down a rung from their 2012 perch.

5. Auburn: So can Nick Marshall complete passes or not? That might be the question that decides Auburn's season, as the much-hyped junior-college transfer (and former Georgia defensive back) comes with all the athleticism necessary to make Gus Malzahn's offense hum ... and the jumbo-zed red flag of throwing 20 interceptions in only 11 JUCO games. Ellis Johnson and arguably the nation's best defensive line recruiting class have arrived to lift the defense from the depths, and there's a solid running game to build around thanks to tailback Tre Mason and a veteran offensive line. If Marshall -- or Kiehl Frazier, a massive disappointment in 2012 -- can move the ball through the air with even occasional consistency, Auburn could enjoy a phoenix-like turnaround from last season's misery. But for now, the Tigers will likely have to settle for being the best of the West's second tier.

6. Arkansas: The good news for Bret Bielema: The Hogs will live up to their nickname on the lines of scrimmage, where center Travis Swanson leads a talented offensive line and end Chris Smith a deep and experienced defensive line. The bad news: there's little but question marks behind those lines, with the likes of Tyler Wilson, Cobi Hamilton and Dennis Johnson all gone from the offense and the pass defense ranking in the FBS triple-digits in both yards and QB rating allowed. If either Jonathan Williams or five-star true freshman Alex Collins can give Bielema a threat at tailback, the Razorbacks' running game could vault them back over the .500 mark. But a brutal schedule (how's "at Rutgers, vs. Texas A&M, at Florida, vs. South Carolina, at Alabama" over five straight weeks?) means there might be one or two question marks too many.

7. Mississippi State: It's not that the Bulldogs really will be that much worse than they've been for their past three bowl-bound seasons; Tyler Russell should be much-improved in his second season as a full-time starter, all five starters return to a powerful offensive line, and end Denico Autry and linebacker Benardrick McKinney give the front seven an All-SEC-caliber one-two punch. It's that Auburn and Arkansas should be much improved under new management (not to mention their Egg Bowl rivals' resurgence) and that last season's home date with Tennessee has become a road date at South Carolina. All in all, the Bulldogs could face as many as seven .500-or-better SEC teams in 2013 -- and in 2012, they lost their four games against such teams by an average of 23 points.

1. South Carolina: Yes, yes, Jadeveon Clowney is all that and the proverbial bag of chips. (He should also arrive at camp energized by his well-received cameo as one of the skyscraping monsters in "Pacific Rim"). But on paper, the Gamecocks still just shouldn't have the top-to-bottom talent to beat out the four-star-laden likes of Florida and Georgia. Too bad for the Gators and Bulldogs that Spurrier continues to do things like turn part-time basketball player Bruce Ellington into an outstanding all-around playmaking threat, to turn Connor Shaw into an all-conquering poor-man's Cam Newton dual threat (within the friendly confines of Williams-Brice Stadium, anyway), to turn a collection of overlooked three-star recruits into one of the SEC's steadiest secondaries. That wizardry would have yielded Spurrier an SEC East title each of the last two seasons if his SEC West crossover schedules hadn't been so difficult*, but this year it's both Florida and Georgia taking on LSU while the Gamecocks draw Mississippi State. The OBC should be heading back to the ATL.
*That said, having to face Arkansas in 2011 wouldn't have made any difference to the Gamecocks if they'd held serve at home against a middling Auburn team Georgia would go on to beat 45-7. Instead Stephen Garcia melted down in his final game as the Gamecock starter, Carolina lost to the Tigers 16-13, and Richt's team went to Atlanta.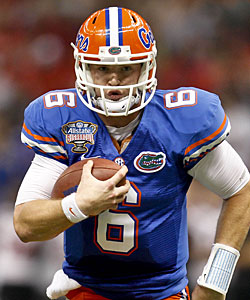 2. Florida: Much digital ink has been spilled over the struggles of Jeff Driskel and the Florida passing game, and there's no doubt both Driskel and his receivers will have to take a substantial step forward for the Gators to live up to expectations. But the offense's hiccups shouldn't obscure the fact that the Gators should boast the best defense in the division, and the best in the SEC not coached by Nick Saban. Dominique Easley anchors a line still stacked with the bluest of blue chips and Antonio Morrison could emerge as an All-SEC linebacker if he can stop barking at police dogs, but the secondary is the true standout unit; Marcus Roberson, Cody Riggs and Jaylen Watkins might give the Gators the best set of defensive backs in the league by their lonesome, and that's before considering five-star true freshman Vernon Hargeaves at corner or high-ceiling sophomore Brian Poole at safety. With that kind of defense, breakout tailback Matt Jones, and an offensive line as stout as the Gators', who needs a passing game?

3. Georgia: It feels like we've seen this movie before, haven't we? Mark Richt leads a team into the season with a Heisman candidate at quarterback, an embarrassment of riches at the skill positions, one of the nation's most experienced offensive lines, and the attendant national championship hype ... and winds up, say, 9-3. The problem with the hype is that it conveniently ignores some major holes on defense, starting with a front seven that gave up an average of 200 yards in five games against ranked competition last season and just said good-bye to four different draft picks. The young Bulldogs have talent -- keep an eye on true freshman safety Tray Matthews an sophomore pass rusher Jordan Jenkins -- but they won't have any time to learn on the job, given that three of Georgia's first four games come against Clemson, South Carolina and LSU. Aaron Murray and Co. will keep lighting up scoreboards, but it remains to be seen if that will be enough.

4. Vanderbilt: There's no better testament to James Franklin's miracle-working than this: The Commodores could make a third straight bowl for the first time in school history ... and be vaguely disappointed. With Texas A&M and Ole Miss on the crossover schedule and the Tennessee game in Knoxville, even getting to three SEC wins would be an accomplishment. But Franklin shouldn't be underestimated (again), not with the best receiving tandem in the SEC in Jordan Matthews and Chris Boyd, with offensive tackles (Wesley Johnson and Andrew Johnson) that rank among the top bookends in the SEC, with four senior starters in a secondary that's quietly been one of the league's best for years. Winning nine games again seems like a tall task; with Franklin still at the helm, continuing to establish the Commodores as a middle-class SEC program with upward mobility seems all-but-inevitable.

5. Tennessee: Such is the cutthroat nature of the nation's toughest conference that even a program as storied and proud as the Volunteers' could suddenly find itself having posted losing seasons in four of the past five years ... and a mediocre 7-6 mark in that one exception. The Vols still had more than enough talent to make bowl games with coaching that even amounted to "competent," and however disappointed Vol fans initially might have been in the hire of Butch Jones, no one will accuse him of not being competent. If he's anything more than that, a senior-laden offensive line, star MLB A.J. Johnson, and a talented pair of tailbacks in Marlin Lane and Raijon Neal could yield the Vols' best season since 2007. Of course, the unfortunate truth is that even that's not saying much.

6. Missouri: Gary Pinkel has been in Columbia for 12 of the most successful seasons in the Tigers' mostly forgettable history, and entering 2012 had won eight or more games for six straight seasons. But that 2012 season proved such a disaster -- and the Tigers' recruiting of late has proven so uninspiring -- that he nonetheless enters 2013 on what might be he hottest seat in the SEC. There seems little doubt that the Tigers will be much-improved this fall, with James Franklin and his offensive line due for far better health, Henry Josey potentially giving the backfield a much-needed home-run threat, and an underrated back seven led by corner E.J. Gaines is once again ready to, well, go underrated. But the loss of star tackle Sheldon Richardson is a massive one for a defensive line that was pushed around in 2012, the schedule is unforgiving (how much would the Tigers prefer Arkansas to Texas A&M as an annual crossover opponent at this juncture?) and it remains to be seen if Pinkel and new coordinator Josh Henson can coax Franklin and some under-performing wideouts into becoming an efficient passing game. Improved or no, anything more than a postseason berth seems out of reach.

7. Kentucky: Has any coaching hire ever signaled a more drastic turnaround in fan enthusiasm than Mark Stoops going to Lexington? After the Wildcat faithful tuned out the final dull (and, frankly, depressing) seasons of the Phillips tenure, Stoops brought in a record crowd for the spring game and has fans bouncing off the walls with his series of victories on the recruiting trail. It's likely Stoops will have to wait at least one more year for those positive steps to translate into more than four or five wins, but not a given -- sophomore quarterback Max Smith has the potential to thrive in Neal Brown's up-tempo spread (and Jalen Whitlow might even if Smith doesn't), the defensive line is big and experienced, and there's four games on the SEC slate (at Mississippi State, vs. Missouri, at Vandy, vs. Tennessee) that shape up as "winnable, if you squint." The roster still isn't deep enough to expect anything other than the East cellar, but for the first time in years, it will be interesting to watch the Wildcats try to claw their way out of it.
Olson has a lot of the tools offensive coordinators want in a quarterback

The Tigers have a wealth of talent at their biggest position

Pineiro received the award for stopping an attack the morning of Oct. 15, 2017
The first opening weekend lines for college football in 2018 have been posted

A year-end wrap-up of college football statistics you need to know from 2017

Stanford produces apps and Super Bowl participants