2014 team preview: Chicago Cubs
Are the Cubs in for yet another fifth-place finish and 90-plus loss season? Let's preview the North Siders.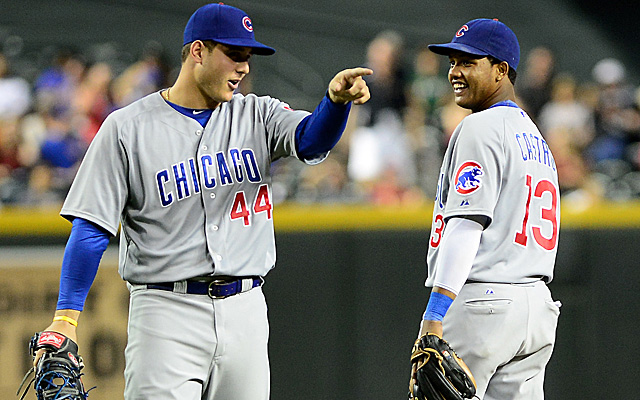 More: Cubs likes, dislikes | Cubs over/unders | All Team Previews | Spring Training
For the fourth straight season, the Chicago Cubs finished fifth in the NL Central in 2013. They improved by five games, going 66-96, but it still marked the worst two-year stretch in franchise history, and manager Dale Sveum was shown the door.
Part of Sveum's problem was the regression of youngsters Starlin Castro and Anthony Rizzo . New manager Rick Renteria is known for his development and communication skills with young players. He'll be tasked with bringing along those two players and others as the Cubs look to move the rebuilding project toward a turnaround. The target isn't this season, though, so North Siders would be advised to brace themselves for another poor season.
Probable lineup
1. Starlin Castro, SS
2. Luis Valbuena , 3B
3. Anthony Rizzo, 1B
4. Nate Schierholtz , RF
5. Junior Lake , LF
6. Ryan Sweeney , CF
7. Welington Castillo , C
8. Darwin Barney , 2B
Bench - C George Kottaras , IF Donnie Murphy , IF/OF Emilio Bonifacio , OF Justin Ruggiano , OF Ryan Kalish
As to be expected with a team in the midst of a massive rebuild, there are lots of spare parts at play here, so much of this is fluid. Expect Ruggiano to get lots of looks as a platoon-mate for Schierholtz and/or Sweeney at times. Mike Olt could figure prominently at third -- maybe even take the everyday starter job at some point. Bonifacio could see time in several different spots, too. Chris Coghlan , Casper Wells and some highly-touted prospects (we'll get to them) may also be in the mix at some point.
Probable rotation
1. RHP Jeff Samardzija
2. LHP Travis Wood
3. RHP Edwin Jackson
4. RHP Jason Hammel
5. RHP Carlos Villanueva
Once Jake Arrieta is recovered from his spring injury, the likelihood is that Villanueva -- an outstanding swing-man -- goes back to the bullpen. James McDonald, Chris Rusin and Tsuyoshi Wada are others who will likely get starts at some point this season. Keep an eye on youngster Kyle Hendricks, too, who will start at Triple-A.
Probable bullpen
Closer - RHP Jose Veras
Setup men - RHP Pedro Strop , LHP James Russell
Middle men - LHP Wesley Wright , RHP Blake Parker , RHP Alberto Cabrera
Long man - RHP Hector Rondon
The bullpen ranked 13th of 15 NL teams in ERA last season and blew 26 saves, a figure that trailed only the Diamondbacks. Kevin Gregg , Carlos Marmol and others who are departed were responsible for the majority of those, though. Strop was very good once acquired (along with Arrieta) for Scott Feldman , Russell has shown that he can be very good and Wright can have good success against lefties.
When Veras closed for the Astros last season, prior to a trade to Detroit, he converted 19 of 22 chances with a 2.93 ERA, 1.00 WHIP and 44 strikeouts in 43 innings. He has a shot to solidify the back-end here of what could be a pleasantly surprising 'pen.
Under-the-radar offseason transaction
Jason Hammel is the Cubs' attempt at another Scott Feldman signing. Feldman was signed on a one-year, cheap deal and after a good first half netted Arrieta and Strop in a trade. Hammel, 31, was 8-6 with a 3.43 ERA (123 ERA+) and 1.24 WHIP for a playoff team in 2012. He was hampered by knee injuries and then last season had a down year as elbow issues plagued him. He was 7-8 with a 4.97 ERA (85 ERA+) and 1.46 WHIP in 139 1/3 innings.
What if the 6-foot-6 right-hander begins this season as he did 2012? He was 8-2 with a 2.61 ERA and 87 strikeouts in 89 2/3 innings through 14 starts for the Orioles back then. That could mean a package similar to the Feldman move for the Cubs in a late June or early July trade. It's worth the $6 million to find out.
Fantasy impact prospect: Mike Olt

"According to both Baseball America and MLB.com, Olt was a top 25 prospect heading into last season (and top 50 the year before). But he finished the 2013 season with a .201 batting average (in Double- and Triple-A), hitting just 15 home runs over 373 at-bats. This was after a 2012 in which Olt hit .288 with 28 home runs and a .977 OPS in Double-A. Most of Olt's problems last year can be traced back to a concussion he suffered in the Dominican Winter League before the season -- he experienced sustained vision problems, which are reportedly corrected now. Olt isn't expected to be named the starting third baseman out of spring training (Luis Valbuena should see the most playing time initially), but if he can show the Cubs' front office the vision issues are behind him and get back to his 2012 self, Olt should be up with Chicago by mid-June." - Nando Di Fino [Full Cubs team fantasy preview]
Biggest strength
The young position players, many of whom won't even be Chicago Cubs to begin the season. Rizzo and Castro are part of the planned core for the future turnaround and each should bounce-back to different degrees this year (Rizzo is much more likely to bounce back for a variety of reasons). Castillo likely fits the bill here. Lake and Olt might. And then there are highly-touted prospects like Javier Baez and Kris Bryant who could be stars on down to possible above-average (or more, in some cases) players like Albert Almora, Jorge Soler , Arismendy Alcantara , Christian Villanueva , Dan Vogelbach and more. Some prospects flop, of course, but the Cubs have enough premium talent among position players to foresee a pretty damn good lineup coming soon.
Biggest weakness
Big-league ready talent. At least half the opening day lineup will be comprised of players who should be platoon players, bench players or even not on the roster of some of the better teams in the majors. The back-end of the rotation right now is scraps while Samardzija, Wood and Jackson would be a nice 3-4-5 for a contender -- or maybe a 2-3-4. Instead they are 1-2-3. The bullpen might not be bad, but it lacks a high upside. In all, it's a team that simply isn't very talented ... yet.
Outlook
It's much easier said than done, but Cubs fans have to continue to trust the process. In a few years, the Theo Epstein/Jed Hoyer administration has built the Cubs' farm system from mediocre into one of the very best in baseball. Some of the future core has already arrived, some will arrive this year (I fully expect to see Baez sometime in late June and Alcantara may be ready soon as well) and some will arrive next season.
As for 2014, the Cubs are headed for another fifth place finish in the NL Central -- now last place, since the Astros flipped to the AL -- and will again trade off some veteran pieces in July. Might Samardzija be one of them? That'll be an interesting storyline. The Cubs continue to say all the right things about him, but the fact is he's 29, not 24 or 25. By the time he hits free agency, he'll be entering his 31-year-old season. Is it really that paramount to the organization's future success to extend him?
In and of itself, that's a topic for another day. In this space, we're talking about the 2014 Cubs' on-field performance. Expect fewer than 75 wins, but more than last year's 66. More important than that total, however, is the progress of Rizzo, Castro, Castillo, Lake, Olt, (probably) Baez and (maybe) Alcantara under first-year tutor Renteria. If he does well with this group, it bodes well for success with the Almora/Soler group.
---
Coming Wednesday: Previewing the Milwaukee Brewers