How Broncos got here: Losing McDaniels, drafts, landing Manning
The Broncos reach Super Bowl XLVIII on the heels of the ill-fated Josh McDaniels regime, drafting wisely, John Elway's leadership ... and landing No. 18.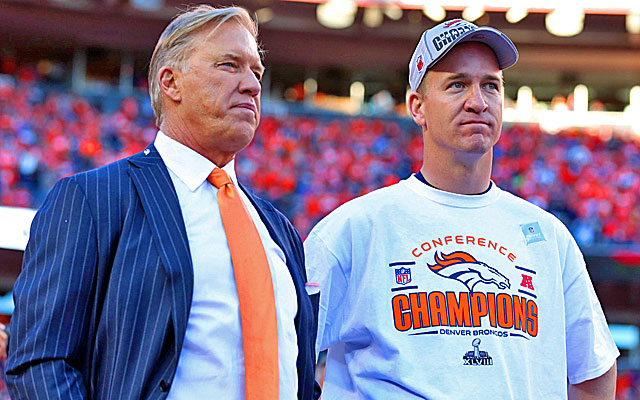 More SB coverage: XLVIII odds | Expert picks | Weather updates | Latest news
The Denver Broncos are making their seventh trip to the Super Bowl, which puts them only behind the Dallas Cowboys and Pittsburgh Steelers for the most Super Bowl appearances. Here's how these Broncos, in line to become the ninth franchise with at least three Super Bowl victories, were built.
Josh McDaniels' Impact
A late-season collapse in 2008, when the Broncos lost their final three games to finish 8-8 and miss the playoffs for the third straight year, prompted owner Pat Bowlen to fire head coach Mike Shanahan after 14 years. New England Patriots offensive coordinator Josh McDaniels became one of the youngest head coaches in NFL history as Shanahan's successor. Surprisingly, Bowlen gave McDaniels, then 32, complete control over football operations. He got off on the wrong foot by alienating quarterback Jay Cutler, who learned McDaniels had discussions with the Patriots to acquire Matt Cassel in a three-team trade that would have sent Cutler to the Tampa Bay Buccaneers. Upset by the rumor and his treatment by the organization, Cutler demanded a trade. The Broncos accommodated, sending him and a 2009 fifth-round pick to the Chicago Bears for Kyle Orton, a 2009 first-round pick (18th overall), a 2009 third-round pick and a 2010 first-round pick.
After a 6-0 start as head coach, it was downhill for McDaniels. The Broncos lost eight of their final 10 in 2009. He clashed with Pro Bowl wide receiver Brandon Marshall as his Bill Belichick imitation wore thin in the locker room. Marshall was dealt to the Miami Dolphins after the season for 2010 and '11 second-round draft choices. McDaniels was fired 12 games into the 2010 season after the Broncos started 3-9 record. He was 11-17 as Denver's head coach.
McDaniels' fingerprints are on Denver's current roster. His 2009 draft class produced starting running back Knowshon Moreno (12th overall pick) and defensive end Robert Ayers, who was taken 18th overall with one of the picks from the Cutler deal. The 2010 class, McDaniels' final draft, paid more dividends. Wide receivers Demaryius Thomas and Eric Decker were taken in the first and third rounds. Zane Beadles was selected in the second round. He has started nearly every game of his career at left guard and earned a Pro Bowl spot last season. McDaniels also took a gamble by trading up to the 25th overall pick to select Tim Tebow.
McDaniels had his share of draft blunders. One in particular could come back to haunt the Broncos in Super Bowl XLVIII. He traded a 2010 first-round pick to the Seattle Seahawks for a 2009 second-round pick to select undersized cornerback Alphonso Smith. Seattle took All-Pro safety Earl Thomas (14th overall) with the pick they got from Denver. Smith was such a disappointment as a rookie that he was traded to the Detroit Lions following the season for tight end Dan Gronkowski, a 2009 seventh-round pick.
The John Elway Factor
John Elway was hired in January 2011 as executive vice president of football operations after the McDaniels experiment failed. Elway's first order of business was finding a head coach. After setting his sights on luring Jim Harbaugh away from Stanford, Elway hired John Fox, who had a 78-74 record with the Carolina Panthers, including the franchise's only Super Bowl appearance.
Hiring Elway was viewed with some skepticism because of his lack of NFL front-office experience and considering the poor track record of Hall of Fame players running teams. Initially, Elway leaned on general manager Brian Xanders, who left the organization after the 2012 NFL Draft, and other members of the front office while he got up to speed. His experience as co-owner of the Arena Football League's Colorado Crush, where he was heavily involved in running the club's football and business operations, helped him become a quick study. He became the de facto general manager after Xanders' departure. Former agent Mike Sullivan, who ran Octagon's football division for more than a decade, was hired to manage the salary cap and negotiate player contracts after Elway's first year in charge.
Elway's first draft as head of the Broncos was viewed as a success. Defensive Rookie of the Year Von Miller was taken with the second overall pick. Free safety Rahim Moore and right tackle Orlando Franklin were taken in the second round. Tight end Julius Thomas, a former college basketball player with limited football experience, was selected in the fourth round.
Elway drew the ire of Broncos fans in his inaugural season with his refusal to declare Tebow the quarterback of the future during the height of Tebowmania. Even though Tebow led the Broncos to the AFC West title and an upset victory over the Pittsburgh Steelers in an AFC wild-card game, Elway thought Tebow lacked the skills to produce a championship.
The most important acquisition of Elway's tenure is Peyton Manning. He took a calculated risk in signing Manning to a five-year, $96 million contract when there was uncertainty over whether Manning would return to form after multiple neck surgeries. Elway's ability to relate to Manning as a quarterback with success late in his career was instrumental in him choosing the Broncos over the San Francisco 49ers, who appeared to be a more Super Bowl-ready team.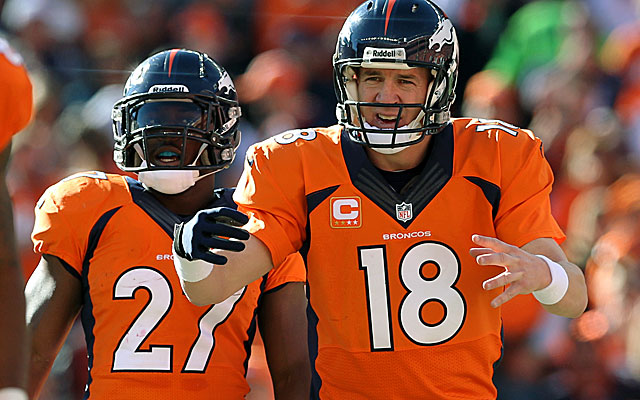 The Peyton Manning Effect
Manning, arguably in the midst of the best two-year stretch of his 16-year career, instantly transformed the Broncos into Super Bowl contenders. Denver has secured home-field advantage in the AFC playoffs each season and has a league-leading 26 wins the past two seasons.
The Broncos went from a run-oriented team that heavily relied on the read option under Tebow to a top-five offense in Manning's first year. Thomas and Decker evolved into 1 of 3 NFL receiving tandems with both receivers gaining more than 1,000 yards. The four-time NFL MVP's presence also was a primary reason Wes Welker joined the Broncos after talks to remain with the Patriots stalled. Welker turned down more money from another team to sign a two-year, $12 million contract to play for a contender.
The addition of Welker and the emergence of Thomas at tight end helped turn Denver into the most prolific offensive attack in NFL history. The Broncos set single-season NFL records for points scored (606) and net passing yards (5,444). Their 7,317 yards of total offense is the second-best single-season mark ever.
Roster building, player contracts and salary cap
The Broncos are in a win-now mode because of Manning's small championship window. Fourteen players on Denver's roster are age 30 or older. The Broncos also have their share of home-grown talent. Thirty-six of the 64 players (56.25 percent) under contract for this season were drafted or originally signed as undrafted free agents by the club.
Denver has bolstered its roster by being active in free agency. In addition to Manning, six more Super Bowl starters are free-agent acquisitions, including five (Welker, G Louis Vasquez, DT Terrance Knighton, DE/LB Shaun Phillips and CB Dominique Rodgers-Cromartie) from Denver's mini-spending spree in the offseason. Vasquez was the highest-priced acquisition. He signed a four-year, $23.5 million contract ($13M guaranteed).
The majority of their free-agent signings have been short-term deals containing moderate salaries where some contracts contain incentives. The Broncos were able to overcome the loss of defensive end Elvis Dumervil, released because of a paperwork snafu on his renegotiated contract that reduced his 2013 salary from $12 million to $8 million, by landing Phillips. He posted 10 sacks in the regular season after signing a one-year, $1 million deal with an additional $2 million in incentives based on sacks.
The Broncos do not make extensive use of minimum salary benefit contracts (the player receives his league minimum base salary and a maximum of $65,000 as a signing bonus with these one-year deals. The player's base salary counts on the cap at the minimum salary for players with two years of service -- $555,000 for this season -- instead of at his actual base salary). The Broncos only have two players with minimum salary benefit contracts this season.
The Broncos are able to take this approach and accumulate quality depth to overcome injuries because only three players (Manning, cornerback Champ Bailey and offensive tackle Ryan Clady) are among the highest-paid players at their positions with large 2013 cap numbers. Manning has the NFL's third-highest cap figure this season at $17.5 million. Bailey's $10.75 million cap number ranks fourth among cornerbacks. Clady signed a five-year, $52.5 million deal (with $33 million in guarantees and an additional $5 million in base salary escalators) in July as Denver's franchise player. The former All-Pro tackle's $12.6 million cap number is the highest for offensive linemen this year.
Clady was lost for the season after two games with a Lisfranc foot injury. Chris Clark has filled in capably for him. He ranked in the top 10 for left tackles in Pro Football Focus' passing block efficiency metric. In addition to Clady, four defensive starters, including Miller, have suffered season-ending injuries.
---
Joel Corry is a former sports agent who helped found Premier Sports & Entertainment, a sports management firm that represents professional athletes and coaches. Before his tenure at Premier, Joel worked for Management Plus Enterprises, which represented Shaquille O'Neal, Hakeem Olajuwon and Ronnie Lott.
You can follow him on Twitter: @corryjoel
You can email him at jccorry@gmail.com
The Pro Football Hall of Fame is one step closer to announcing the Class of 2018

Grab some turkey and get ready for this NFC North showdown

SportsLine's top NFL and college football experts pick a 4-team parlay that pays 10/1
After an epic collapse against the Saints, the Redskins are hoping to right the ship

Brice Irvin is not a happy camper right now

Linda Del Rio is not happy with the president