Seattle Seahawks 2014 offseason preview
With the 2013 season officially in the books, the Eye on Football staff is looking ahead to the offseason for all 32 NFL teams. Next up: The Seattle Seahawks.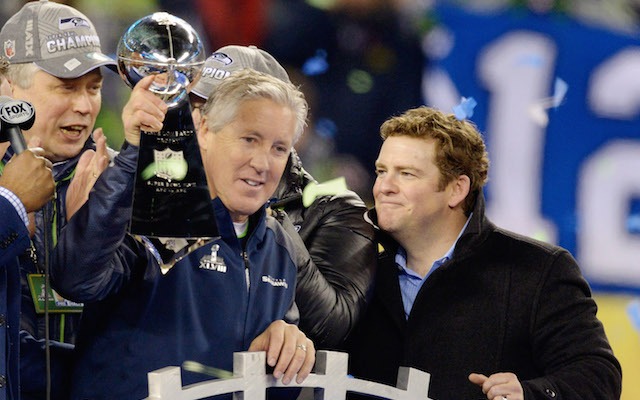 With the 2013 season officially in the books the Eye on Football staff is looking ahead to the offseason for all 32 NFL teams. Next up: The Seattle Seahawks. 
Super Bowl XLVIII was awarded to New York on May 26, 2010, and it's almost as if on that day, Pete Carroll and John Schneider said, "Let's build a team to win that Super Bowl" because that's pretty much exactly what they did. 
Carroll and Schneider have been running the show in Seattle since 2010 and the Seahawks have gotten progressively better each year since. Part of the Seahawks success is that Carroll and Schneider always seem to be on the same page, unlike certain other general manager-coaching duos in the NFC West. 
For instance, both Carroll and Schneider love to make personnel moves, and do it all the time. From January 2010 through January 2014, the Seahawks made 1,105 roster moves, according to the Wall Street Journal. That's 141 more than the New England Patriots, the next closest team. 
A lot of those personnel moves come in the off-season, so lets take a look at what's in store for the Seahawks in the upcoming months. Before that though, lets take a quick look at the Seahawks 2013 season. 
What went right
The real question here is what didn't go right for the Seahawks this season. Seattle finished with a 13-3 record for only the second time in franchise history and won the team's first Super Bowl ever.
What really went right though was the Seahawks' ability to come back in 2013. In Week 4, Seattle came back from a 20-3 halftime deficit to beat the Texans in overtime. Then in Week 9, the Seahawks overcame a 24-7 third-quarter deficit to beat the Buccaneers. If the they had lost those two games, they wouldn't have had home-field advantage in the playoffs and making it to the Super Bowl would have been more difficult. 
Both of those comebacks epitomized what the Seahawks were about this season. Against the Texans, Seattle used touchdowns by Richard Sherman and Marshawn Lynch to come back. Against the Bucs, the Seahawks used a Russell Wilson touchdown run and touchdown pass to come back. 
What went wrong
About the only thing that went wrong in 2013 for the Seahawks was a Week 16 home loss to the Cardinals. The 17-10 loss came on Dec. 22. Before that the Seahawks hadn't lost at home since December 2011.
The only other thing that went wrong for Seattle was Malcolm Smith's postgame press conference at the Super Bowl, but that wasn't the Seahawks fault. 
MVP 
Russell Wilson. You could make a case for Richard Sherman here. You could make a case for Marshawn Lynch. You could make a case for Earl Thomas. But the MVP has to be Wilson. If you watched the Seahawks the entire season, you saw the offensive line struggle at times, but thanks to Wilson's mobility and athleticism, the offense was still able to function. If you want to know what makes Wilson so great, it's plays like this from the NFC championship game. With the Seahawks trailing 10-0, Wilson kept this second quarter play alive and hit Doug Baldwin for a 51-yard gain. 
LVP
Guards J.R. Sweezy and James Carpenter. Let's be honest, picking the Seahawks Least Valuable Player from 2013 is liking trying to decide who the ugliest girl is on the cover of this year's swimsuit issue. It's almost a conversation not worth having -- I mean seriously, look at this cover.
If the cover's going to look like this, Sports Illustrated should have a 50th anniversary swimsuit issue every year pic.twitter.com/9s8C2mV5qy

— John Breech (@johnbreech) February 14, 2014
However, since I have to name an LVP, I'm going with Sweezy and Carpenter. Russell Wilson was sacked 44 times in 2013 and that sounds like a lot because it is. Only Ryan Tannehill (58) and Joe Flacco (48) were sacked more last season. Although the offensive line struggled earlier in the season, the good news is that Carroll stuck with his group and the line seemed to improve as the season wore on. 
Carroll said they have really '"committed" to G JR Sweezy when asked about struggles on the offensive line.

— Liz Mathews 710 ESPN (@Liz_Mathews) October 30, 2013
What has happened since the season ended
The Seahawks have spent most of the offseason celebrating their Super Bowl win, but now they're getting ready for 2014. That started on Feb. 28 when the team released Red Bryant and Sidney Rice. The two moves will free up almost $13 million in cap space.
Seattle won't have to worry about Marshawn Lynch's DUI case anymore. The Seahawks running back entered a plea of not guilty to a lesser charge of reckless driving. Lynch's lawyer said the he doesn't expect his client to be suspended for any amount of time.
One other thing has happened since the season ended: We now know all of Russell Wilson's future plans. Wilson wants to own a professional sports franchise, although it's unclear if he wants to do that before or after he appears on Dancing with the Stars. 
Impending free agents
Seattle has a total of 15 players set to be unrestricted free agents on March 11. 
Seahawks general manager John Schneider has made it clear the team wants to keep Golden Tate, "Golden knows where we stand, how much we love him and how much we want him on this team," Schneider said at the NFL Combine.
Apparently the love is mutual because Tate said in February that he would give the team a discount. NFL teams love discounts, but not every player is giving them out. Take Michael Bennett for instance, "There is no such thing as discount," Bennett said in mid-February. "This isn't Costco, this isn't Walmart. This is real life."
Here's the complete list of the Seahawks unrestricted free agents: DE Michael Bennett, CB Brandon Browner, TE Kellen Davis, OT Breno Giacomini, K Steven Hauschka, QB Tarvaris Jackson, S Chris Maragos, TE Anthony McCoy, DT Tony McDaniel, DT Clinton McDonald, OT Paul McQuistan, FB Michael Robinson, LB O'Brien Schofield, WR Golden Tate, CB Walter Thurmond.
Free-agency game plan
The Seahawks are almost $18 million under the cap, so money shouldn't be a problem for the defending Super Bowl champions. The Seahawks first priorities should be Bennett and Tate. After that, Schneider should get on the phone with Steven Hauschka's agent because that's a relationship that seems to be working out well for everyone. Hauschka has hit 57 of 62 field- goals attempts during the past two seasons.
If the Seahawks don't re-sign Bennett, CBSSports.com senior NFL columnist Pete Prisco thinks the team should think about targeting Vikings defensive end Jared Allen. 
Draft game plan
The best thing about not having any gaping holes is that the Seahawks can do what they do best in this year's draft -- and that's take the best player available. The Seahawks front office was pretty much laughed at after the 2012 draft, but that seemed to work out for everyone in Seattle.
The Seahawks could definitely go wide receiver with the 32nd overall pick, but a lot will also depend on what happens between now and May 8. If Chris Clemons or Zach Miller end up becoming cap casualties, Seattle could be looking for tight ends or defensive linemen in the draft's earlier rounds.  
So who will the Seahawks select with the final pick of the first round in the 2014 NFL Draft? CBSSports.com senior NFL columnist Pete Prisco has the Seahawks going with Oregon State wide receiver Brandin Cooks. NFLDraftScout.com's Dane Brugler and Rob Rang have the Seahawks taking UCLA guard Xavier Su'a-Filo and Minnesota defensive tackle ReShede Hageman in their mock drafts.
Then there's CBS Sports NFL Insider Pat Kirwan, who envisions the Seahawks trading out of the first round. 
Also, the Seahawks might want to think about drafting San Diego State running back Adam Muema at some point because he seems pretty convinced that's going to happen. From Muema's instagram: 
Ridiculously early prediction for 2014
The Seahawks are going to be good in 2014, and the crazy thing here is that they might be better than 2013. This is a team that hasn't lost a game by more than seven points over the past two seasons. That means that Seattle has been in a position to win every game it has played in since the beginning of the 2012 season. Basically, in two seasons, no team in the NFL has been able to figure out the Seahawks, and it's hard to see that happening in 2014. The worst case scenario for this team next season seems like a wild-card. That's a worst case scenario that every other team in the NFL would love to have.
Predicted record: 13-3
If you want to try to predict the Seahawks record, remember to use Skittles because apparently that's what school children in Seattle are doing these days. 
How 5th graders in Seattle learn math. pic.twitter.com/OLcbZ1P96c

— Nick Wingfield (@nickwingfield) February 5, 2014
Breaking down why the underdogs are very dangerous against the Patriots

All of the information you need to know about the 2018 Super Bowl

Here's all the details you need to know on watching Super Bowl LII between the Patriots and...
No one wants to give the Eagles any respect

Here's a look at the NFL's entire postseason schedule for 2018

Here's everything you need to know about Super Bowl LII