As the summer months bring the news cycle to slow churn, college football fans get a chance to breath and reset our brains for the upcoming season. With less than two months until media days begin and only 100 days (including Tuesday) until teams hit the field, here are 100 items that should fire you up for the unpredictable madness to come this fall.
The Stories (5)
1. Ohio State is the most recognizable team in the entire sport
Is there another team in the country, outside of TCU, that has as many key pieces of its roster returning for 2015? The Buckeyes are going to have a Big-Three-Miami-Heat-level of coverage and buzz with every game demanding the attention of the entire college football world. By late October we'll have a better idea of who else can share that rarified air, but until teams hit the field in September we cannot say, definitively, that any other team in the country looks as title-ready as the Buckeyes.
2. Oregon and Florida State move on without their Heisman winners
Vernon Adams (Ducks) and Everett Golson (Seminoles) will arrive on campus this summer, though there is no guarantee in either case that the starting quarterback for 2015 is not already on the roster. FSU has a lot to replace up front on offense and Oregon will be green on the back end of its defense -- even moving Charles Nelson to the secondary to address that issue. My hunch is that 2015 will be a great example of how well-built each of these programs has become during this era of rapid inflation in the college football arms race.
3. The SEC East will be relevant as Missouri eyes a third straight division title
No squad since Steve Spurrier's Florida teams has reached the SEC Championship Game three years in a row. Can Missouri do it again? Tennessee is trending up and Georgia has arguably the best group of running backs and linebackers in the country, though there are concerns elsewhere on the roster. The Tigers have been doubted and discounted for the last two seasons only to prove everyone wrong. Bonus SEC storyline: the week-by-week analysis of Arkansas now that the Hogs are on breakthrough watch in the SEC West.
4. Which conference gets left out?
The Big 12's omission from the first College Football Playoff had on immediate fallout (the introduction of a tiebreaker to determine a champion) and reminded college football fans of the FOMO (fear of missing out) that will come with getting left out of the final four. Baylor and TCU were two of the best teams in the country last season but missing out on the CFP somehow led to a rush to judgement on the state of the Big 12. As much as everyone wants to see their team get in, 2015 will have as much speculation about which of the Power Five will be left out.
5. Adjusting to social media drawing back the curtain
I think this is less of a 2015 story than an evolving one, but the recent coverage of allegations against Tim Beckman has brought the topic back to the foreground: players are getting more of a say in how the story of college football is told. If a player has comments on a game posted to his Twitter or Instagram account, it can carry as much (or more) weight than what a coach says at the podium. Some coaches ask their teams to get off social media during the season while others seem to self-regulate their use -- or at least the content posted. Other coaches embrace the responsibility as a learning tool for the future. Players can beat reporters and SID's to stories if they want to and I wonder if we see any of them use that power this fall.
Title Contenders (8)
6. Ohio State: Not much more explanation necessary. Complacency could be a killer, but I'll bet that the dominant speed and athleticism we saw in 2014 postseason will be back on display come September.
7. Alabama: Recruiting the best talent in the country on an annual basis, with Nick Saban on the sideline, makes Alabama the easiest addition to any contenders list as double-digit wins seem guaranteed.
8. TCU: Much like Ohio State, it's one of the few teams with way more "knowns" than "unknowns." Departures at linebacker and in the defensive backfield are concerning, but not enough to doubt Gary Patterson.
9. Auburn: I can't stop going back-and-forth on whether Auburn will be overhyped or underrated by the time the season starts, but I'm positive they will be good enough to beat Alabama in the Iron Bowl. (Not guaranteeing a victory, just saying the Tigers will be good enough, if healthy.)
10. Florida State: Jimbo Fisher is so excited about the arrival of Golson and what the quarterback's versatile skill set can bring to the FSU offense, I wouldn't be surprised if he hits 400 words per minute at the ACC Football Kickoff (Tomahawk Nation's Bud Elliott previously reported Fisher hit "upwards of 350" at the ACC title game).
11. USC: The Trojans' schedule, which includes a date with Oregon in addition to the Pac-12 South grind, is the reason to discount USC's chances to make the playoff. With all the talent on this roster, USC is in a position to make a Ohio State-esque postseason run as long as it's not eliminated from the conversation by mid-November.
12. Baylor: Seth Russell doesn't have to be Bryce Petty for the Bears to reach the playoff. Not with Spencer Drango leading a big and experienced offensive line -- every starter is 300+ pounds and a junior or senior -- and one of the best wide receiver groups in the country. The margin for error is thin in the Big 12, but at least we now have an official tiebreaker for the league and get Baylor-TCU at the end of the season.
13. Notre Dame: Over the past two seasons, injuries and youth have been excuses for why a Notre Dame team apparently loaded with talent has fallen just short of the 10-win mark. Each year those excuses were valid, but with academic scandals and quarterback controversies in the rearview, it is time for the Irish to make another run.
Dark Horse Picks / Longshots (12)
Odds via @BovadaLV
14. Clemson -- 22/1
15. Oregon -- 22/1
16. Georgia -- 25/1
17. Michigan State -- 25/1
18. Oklahoma -- 25/1
19. LSU -- 28/1
20. UCLA -- 28/1
21. Texas A&M -- 40/1
22. Tennessee -- 50/1
23. Arizona State -- 66/1
24. Oklahoma State -- 66/1
25. Georgia Tech -- 100/1
New Faces, New Places (14)
26. Gary Andersen, Oregon State: Andersen had the shocker of the offseason by jumping from Wisconsin to Oregon State. Fans will tune in to see whether he gets buyer's remorse.
27. David Beaty, Kansas: The rebuilding process in Lawrence will be longer than Cheick Diallo's wingspan.
28. Mike Bobo, Colorado State: After a long run with Mark Richt, Bobo finally steps out on his own as the Rams strive for a third straight bowl appearance for the first time in more than a decade.
29. Neal Brown, Troy: A well-respected offensive mind, Brown's high-octane style might be what it takes to rejuvenate Troy football.
30. Paul Chryst, Wisconsin: The Big Ten West is there for the taking. Chryst has the horses and a good chance to make a splash in his first year back in Madison.
31. Jim Harbaugh, Michigan: Harbaugh's presence and personality have made Michigan one of the most relevant teams in the country without even playing a game yet.
32. Tom Herman, Houston: One-third of the offensive revolution in The American. Urban Meyer's assistants have a great track record and the Cougars have a roster that can compete for a league title.
33. Lance Leipold, Buffalo: It's hard to say how this stat might translate at the FBS level but the former D-III standout has won 109 of his 115 games as head coach.
34. Jim McElwain, Florida: McElwain's first season might be rough due to an inexplicably short supply of offensive linemen, but in the long run, he should get the Gators' offense rolling again.
35. Philip Montgomery, Tulsa: After 16 years on Art Briles' staff, Montgomery gets to show his chops in a winnable league.
36. Chad Morris, SMU: The Mustangs are further from title contention in The American than Houston or Tulsa, but Morris has reconnected with high school coaches in Texas and seems confident about the future.
37. Pat Narduzzi, Pittsburgh: The Panthers are set on offense with James Conner and Tyler Boyd. That makes the defense, Narduzzi's specialty, a unit under the microscope this fall.
38. Mike Riley, Nebraska: Nebraska fans and Bo Pelini had the rocky relationship you knew would end eventually. Riley is the "good guy" to get them back on their feet.
39. Tony Sanchez, UNLV: The hire of the Bishop Gorman High School coach was the most intriguing of the offseason.
Teams in New (or No) Conferences (3)
40. Charlotte -- FCS Independent to Conference USA
41. Navy -- Independent to The American
42. UAB -- Conference USA to program closed
Bonus: Appalachian State and Georgia Southern now eligible for the postseason.
Heisman Favorites (16)
Odds via @BovadaLV
43. Ezekiel Elliott, RB, Ohio State -- 6/1
44. Leonard Fournette, RB, LSU -- 15/2
45. Trevone Boykin, QB, TCU -- 8/1
46. Nick Chubb, RB, Georgia -- 8/1
47. Dak Prescott, QB, Mississippi State -- 8/1
48. Cardale Jones, QB, Ohio State -- 12/1
49. Cody Kessler, QB, USC -- 12/1
50. Everett Golson, QB, Florida State -- 14/1
51. Derrick Henry, RB, Alabama -- 16/1
52. Paul Perkins, RB, UCLA -- 18/1
53. Connor Cook, QB, Michigan State -- 20/1
54. Jeremy Johnson, QB, Auburn -- 20/1
55. Samaje Perine, RB, Oklahoma -- 20/1
56. Deshaun Watson, QB, Clemson -- 20/1
57. Braxton Miller, QB, Ohio State -- 25/1
58. J.T. Barrett, QB, Ohio State -- 28/1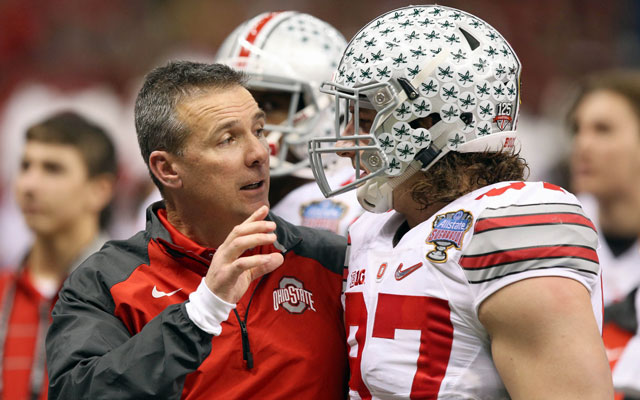 Don't Get Caught Sleeping … (30)
59. Joey Bosa, DE, Ohio State: If you haven't already started identifying No. 97 on every snap then I just don't know what to say other than ::shrug emoji::
60. Tyler Boyd, WR, Pittsburgh: One half of arguably the best two-man offensive tandem in the ACC and will be an NFL-bound player eventually thanks to his skills catching passes and returning kicks.
61. Jacoby Brissett, QB, NC State: At his best (see: Florida State game last season), Brissett looks like one of the most dominant individual players in the country. It will take consistent brilliance to top FSU and Clemson in the ACC Atlantic.
62. Shilique Calhoun, DE, Michigan State: Michigan State's defense lost Pat Narduzzi but returns its most important defensive lineman. With Malik McDowell emerging as an impact player, Calhoun will have another dominant year.
63. Corey Clement, RB, Wisconsin: "No hard feelings" here after the former Pitt commit is reunited with Chryst in Madison. Clement will continue the Badgers' run of 1,000-yard rushers.
64. James Conner, RB, Pittsburgh: Conner finished 2014 as a Top 10 rusher in terms of attempts, yards and rushing touchdowns (26, also an ACC single season record).
65. Dalvin Cook, RB, Florida State: Injuries and struggles in the passing game made Cook a key player for FSU at the end of the regular season. The rising sophomore responded with 321 yards on 55 carries combined in close wins against Florida and Georgia Tech.
66. Su'a Cravens, OLB, USC: From the outside linebacker position, Cravens emerged as one of the most versatile defenders in the country. He led the Trojans in tackles for loss and interceptions last season and now is the most important defensive player with Leonard Williams gone.
67. D.J. Foster, RB/WR, Arizona State: Like Cravens, Foster's value to his team has increased thanks to his versatility. Last year he was the only player in the country with 1,000 rushing yards and over 600 receiving yards.
68. Royce Freeman, RB, Oregon: The 6-foot, 230-pound Freeman gave Oregon a presence it had been missing in Mariota's first two seasons. After becoming the first freshman 1,000-yard rusher in school history, there are high expectations for the Imperial, California, native in 2015.
69. Leonard Floyd, LB, Georgia: The Bulldogs might have the best group of linebackers in the country, and that position is a reason to like UGA in the SEC East. While Lorenzo Carter and Jordan Jenkins are both dominant players that demand your attention, Floyd is the team's defensive MVP and the one to get highlighted here.
70. Jared Goff, QB, California: Only a handful of players have chucked the rock more than Goff over the last two seasons in a true trial by fire situation for rising junior. Goff improved his passer rating, completion percentage and TD-to-INT ratio last year. With a little help from his defense Goff could lead Cal to a surprising finish in the Pac-12 North.
71. Christian Hackenberg, QB, Penn State: NFL teams know Hackenberg has the potential to be a franchise player, but we won't see his ceiling in State College unless the offensive line improves from its 2014 showing.
72. Vernon Hargreaves III, CB, Florida: An All-American pick as a freshman here at CBS Sports and undoubtedly one of the most gifted cornerbacks in the SEC.
73. Taysom Hill, QB, BYU: If Hill can stay healthy, he's likely a 1,000-yard rusher and BYU is flirting with a 10-win season come November.
74. Jalen Hurd, RB, Tennessee: Go ahead and group Josh Dobbs in here with Hurd, as Tennessee's offensive backfield has the potential to steal the show in what many expect to be a big year for the Vols.
75. Myles Jack, LB, UCLA: It feels like Jack has been in college football forever and he's only a rising junior. While the offensive snaps are fun, it is his instinctive and versatile play at linebacker that brings the most value to the Bruins.
76. Brad Kaaya, QB, Miami: The ACC Offensive Rookie of the Year is going to be the face of a pressure-packed season for Miami football. Fans want results and Kaaya, growing more comfortable and confident by the day, has to be the one to deliver.
77. Shawn Oakman, DE, Baylor: The next great example of the strides we have made in terms of human athleticism. "Freak" doesn't even begin to describe Oakman. Just watch this.
78. Jalen Ramsey, DB, Florida State: The football and track star has 28 career starts in two seasons for FSU and has the versatility to play any position in the defensive backfield. Watch enough Seminoles football and you'll find yourself saying, "Oh there's Ramsey again" over and over.
79. A'Shawn Robinson, DL, Alabama: Robinson has played nose tackle, defensive tackle and five-technique defensive end, excelling at every position. At 6-4, 316 pounds, Robinson leads what is expected to be one of the best defensive fronts in the country.
80. Mason Rudolph, QB, Oklahoma State: Meeting the Backstreet Boys in Israel gets you some offseason recognition, but here is an on-field nod to Rudolph after leading a young Cowboys team to a strong finish after five straight Big 12 losses nearly bounced them from the postseason.
81. Jaylon Smith, LB, Notre Dame: Smith has started in all 26 games since arriving on campus, excelling at basically every position he's been asked to play. Do not sleep on Jaylon Smith. If you sleep on Jaylon Smith, he will come and take your cookies.
82. Ronnie Stanley, OT, Notre Dame: Stanley could have gone pro after last season but his return gives the Irish a reliable anchor on the end of its offensive line.
83. Eric Striker, LB, Oklahoma: Oklahoma's most dangerous pass rusher can get to the quarterback from defensive end, linebacker or any other position on the field.
84. Justin Thomas, QB, Georgia Tech: The Yellow Jackets has to replace most of their top rushers, but the expectations of another ACC Coastal title have not been replaced thanks to Thomas' presence under center. He runs the flexbone option like an All-ACC point guard and kills defenses through the air when they overload the box.
85. Laquon Treadwell, WR, Ole Miss: According to Fox Sports' Bruce Feldman, Treadwell is faster than he was before the injury. Few wide receivers in the SEC cause headaches for defensive coordinators quite like the 6-foot-2, 230-pound wideout.
86. Nick Wilson, RB, Arizona: Wilson was a home-run-hitting kind of running back as a freshman in 2014, leading the Pac-12 with seven runs of 30+ yards and finishing with over 1,300 yards on the season. Don't expect a sophomore slump from him or Anu Solomon.
87. Scooby Wright, LB, Arizona: It seems unfair that we get another year of  Wright in college football after he his 2014 performance. He is one of the most disruptive defenders in the country and will continue to terrorize Pac-12 quarterbacks in 2015.
88. Malik Zaire, QB, Notre Dame: With Golson off to FSU, Zaire has the spotlight to himself in South Bend. His live arm and confident swagger were on display in spring practice, and luckily there is experience all over the roster to help the first-year starter.
Most Anticipated Games (12)
89. Ohio State at Virginia Tech (Sept. 7)
90. Oregon at Michigan State (Sept. 12)
91. UCLA at Arizona (Sept. 26)
92. Alabama at Georgia (Oct. 3)
93. Notre Dame at Clemson (Oct. 3)
94. Oklahoma vs. Texas (Oct. 10)
95. Michigan State at Michigan (Oct. 17)
96. Florida State at Clemson (Nov. 7)
97. USC at Oregon (Nov. 21)
98. Baylor at TCU (Nov. 27)
99. Ohio State at Michigan (Nov. 28)
100. Alabama at Auburn (Nov. 28)